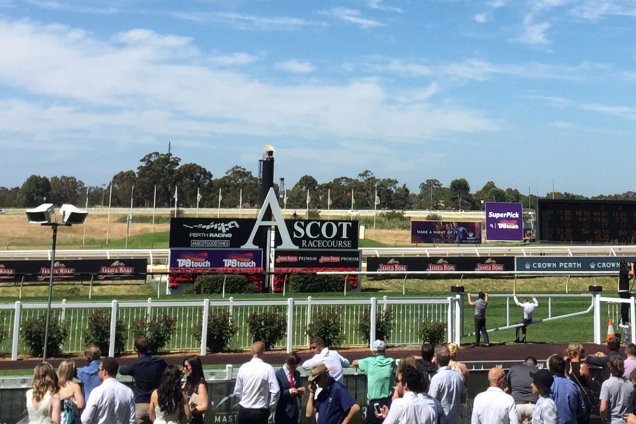 There are plenty of hopes in this Listed race and many of them run again from the race two weeks ago over the 1000m.
Dig Deep was one of them and the Karrakatta Plate winner did well despite finishing 7th.
He was back last for much of the race which was no surprise but the finish was a positive. Given that he had no room, it could have been even better.
With the barrier served up he may need to be in the same spot but will be charging the last bit.
The Deep Field gelding was so good to us back in April that we should go again on him at the big odds again.
The race prior sees a very competitive sprint in a 1MW event and we are taking a filly to run a race here in the form of Rocky Path.
The 3yo won very well three runs ago at 1200m then placed before taking on too hard a task in the 3yo Classic but wasn't beaten all that far.
With the weight, hoping they roll the dice and try to sit a lot closer here. It will mean she won't have to have expend as much getting home.
Thinking we do better than the odds on offer at present.
BEST FROM THE WEST
EACH WAY PLAY (1): Race 8 #1 Dig Deep @ $11.00
EACH WAY PLAY (2): Race 7 #13 Rocky Path @ $5.00

D'Orsogna-Belgravia Stakes (LR)
Age: 3yo Type: OPEN
FP
Silk
Horse, Age & Sex
Sire & Dam
Jockey
Trainer
SP
WT

1st

2. JERICHO MISSILE (AUS) 3yo G


SMART MISSILE (AUS) - ONECATSTOOMANY (AUS)

PAUL HARVEY
D R HARRISON
$17.00
59.0kg
D R Harrison, Mrs J B Harrison, A Oreb, J Oreb, A J Haines, P J Haines, Ms L J Britton, M Di Lena, R J O'Malley, G J Ryan, O C Kiddie, B Smith, B J Johnston, D W Bales, P S Beros, G D Bunting, Mrs Ml Donovan, Gr Donovan & C E Sullivan

2nd

11. SPECIAL CHOICE (AUS) 3yo F


REDOUTE'S CHOICE (AUS) - SPECIAL RESERVE (NZ)

WILLIAM PIKE
G & A WILLIAMS
$3.50
53.0kg
Peters Investments Pty Ltd Syndicate (Mgr: R J & Mrs S L Peters)

3rd

1. DIG DEEP (AUS) 3yo G


DEEP FIELD (AUS) - LUCKY ANA (NZ)

JARRAD NOSKE
DANIEL & BEN PEARCE
$10.00
59.0kg
C S Pearce, N P Ryde, P A Whittleton, T D Forrest, M Di Lena, Ms D J Greaves, R C Peterson, K G Hughes, Mrs L M Hughes, M D Bai, Ms P Sullivan, M C Desa, A L Ladner, M J McGee, M McGee, D D J R (D R Miller), Wild Scene (J Riseborough), Pearce Racing (D Pearce) & The Kings Men (T Leighton)
4th
4. WAR SAINT (AUS) 3yo C


WAR CHANT (USA) - AMBERS HALO (AUS)

STEVEN PARNHAM
NEVILLE PARNHAM
$26.00
55.0kg
5th
9. CELEBRITY QUEEN (AUS) 3yo F


REDOUTE'S CHOICE (AUS) - CELEBRITY MISS (AUS)

SHAUN MCGRUDDY
G & A WILLIAMS
$4.75
53.0kg
6th
10. PLATINUM BULLET (AUS) 3yo F


SHOOTING TO WIN (AUS) - RAID (NZ)

PETER KNUCKEY
SIMON A MILLER
$8.00
53.0kg
7th
5. BOGART (AUS) 3yo G


REDOUTE'S CHOICE (AUS) - AVANTE (AUS)

CLINT JOHNSTON-PORTER
G & A WILLIAMS
$101.00
55.0kg
8th
7. MISS WEST COAST (AUS) 3yo F


SAFEGUARD (AUS) - COAST TO THE POST (AUS)

JADE MC NAUGHT
T M ANDREWS
$3.50
54.5kg
9th
3. DIVIDE THE SEA (AUS) 3yo G


MOSHE (AUS) - RACHINE (NZ)

BRAD PARNHAM
T M ANDREWS
$41.00
55.0kg
10th
6. SPECIALISM (AUS) 3yo F


SAFEGUARD (AUS) - CLARECASTLE (AUS)

CRAIG STAPLES
P H JORDAN
$21.00
54.5kg
11th
8. MISS TYCOON (AUS) 3yo F


WRITTEN TYCOON (AUS) - BEE ALI (AUS)

CHRIS PARNHAM
NEVILLE PARNHAM
$41.00
54.5kg