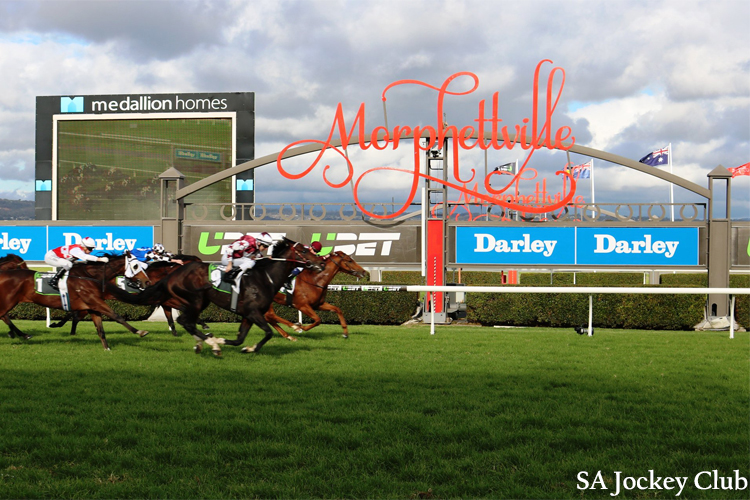 We'll head to the last where Despacito takes on the girls again following a win two weeks ago.
She got back in that race over 1200m and powered late to score.
Now from a BM75 into the BM80 Viddora Series Final, she races a lot of mares going well but still only has 55.5kg and draws a soft barrier.
All she needs to do is get out in time and that finish will take holding out.
It's not really a strong day in general so in taking a horse with top weight and no claim, it might be fraught with danger but we do that in the race prior for the each way play.
That said, Pass The Glass worked home well first up this course and distance and is a value hope.
She takes on the boys here but was racing in Open handicaps around South Australia last time in.
From this draw, she won't need to get as far back and if there is enough tempo, can finish it off with gusto.
SAY FROM SA
BET OF THE DAY: Race 8 #4 Despacito @ $2.80
EACH WAY PLAY: Race 7 #1 Pass The Glass @ $6.00

Aami Viddora Series Final-Bm80
Age: 4yo and up Sex: M WT: 54.0kg Type: BM80
FP
Silk
Horse, Age & Sex
Sire & Dam
Jockey
Trainer
SP
WT

1st

7. RAINMOTH (AUS) 5yo M


BARBADOS (AUS) - MISS DAEA (AUS)

JAKE TOEROEK
R & C JOLLY
$6.00
54.0kg
A B Newman, Mrs K D Newman, D A Crook, B G Skinner, D Cave, L Allen & Go You Deema (Mgr: J S Turci)

2nd

3. FLOP (AUS) 5yo M


STRYKER (AUS) - JAALIPPY (AUS)

TEAGAN VOORHAM
GORDON RICHARDS
$13.00
55.0kg
M D Sheehan, T A Hams, D J Hams, G C W Dubois, B G Branford, G J Fitzgerald, Mrs M D Mullan, S E Macleod, B M Lynch, D G Bascomb & Great Flinders Thorougbreds (Mgr: C M Fitzgerald )

3rd

6. ENOUGH SWAGGER (AUS) 4yo M


LOVE CONQUERS ALL (AUS) - BIG BUTTONS (NZ)

ERAN BOYD
DAN CLARKEN & OOPY MACGILLIVRAY
$12.00
54.0kg
D J Clarken, Mrs J A Macgillivray, M P Michalanney, A B Prior, D S Doecke, S G Williams, W Abbott, J C Boxall, J A Chay, I R Ferguson, S P Minge, I R Johnson, D J Griffiths, D C Gilbertson, H T Lines, P B Makin, J I Harper, R J Clark & R S Dix
4th
2. BAYOU (AUS) 4yo M


SEPOY (AUS) - BACCHANAL WOMAN (AUS)

W LAU
R & C JOLLY
$5.00
55.0kg
5th
8. CONCONI (AUS) 5yo M


BIANCONI (USA) - SEA CONQUEST (AUS)

KAYLA CROWTHER
EMMA HUBBARD
$41.00
52.0kg
6th
9. MISS MOSH (AUS) 6yo M


MOSHE (AUS) - VINCITRICE (AUS)

TODD PANNELL
MS S JAENSCH
$9.00
54.5kg
7th
1. NIPPERKIN (AUS) 6yo M


ARTIE SCHILLER (USA) - PIPKIN (AUS)

PAUL GATT
BARRY BROOK
$17.00
59.0kg
8th
5. CARLALUISA (AUS) 4yo M


REBEL RAIDER (AUS) - MISS SATCHMO (AUS)

RAQUEL CLARK
LEON MACDONALD & ANDREW GLUYAS
$6.00
54.5kg
9th
4. DESPACITO (AUS) 4yo M


ALL AMERICAN (AUS) - BALSAMICO (AUS)

BAREND VORSTER
T & C MCEVOY
$3.50
55.5kg
10th
10. LIBERTY'S GIFT (AUS) 5yo M


STATUE OF LIBERTY (USA) - OUR POLLY (AUS)

DOM TOURNEUR
STEPHEN THEODORE
$151.00
54.0kg
11th
11. SNOWBROOK (AUS) 6yo M


HINCHINBROOK (AUS) - SNOW QUEEN (AUS)

GEORGINA CARTWRIGHT
ANTHONY WEBSTER
$151.00
52.0kg