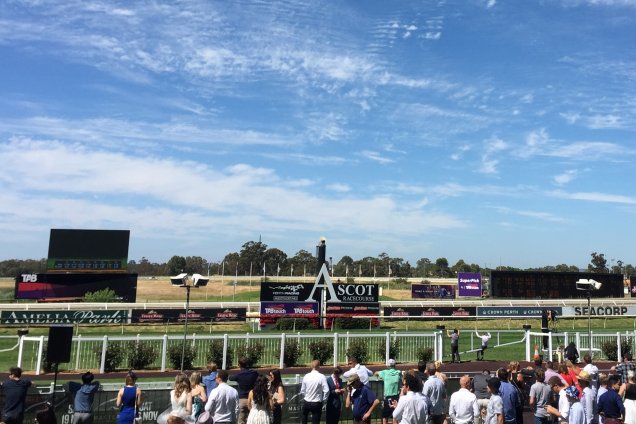 So we'll ignore that race and head elsewhere for a better price.
In the 1000m 1MW sprint, Double Jeopardy finds a very winnable race and can take his first one since arriving from Melbourne.
He didn't finish them off last year but after the break has trialled up very very nicely indeed and he could well have turned the corner.
The 3kg claim sets him up very well and this field isn't full of winners anyway so he's not one by himself there.
Onto the Old Comrade Stakes where Western Temple will be some value now second up.
He went through the grades last campaign and then resumed in the Grandstand Cup battling into fourth.
Going much better second up historically, he will want the mile and gets someone called William Pike again.
Punters will back a few here and we might even get better odds on the day.
BEST FROM THE WEST
BET OF THE DAY: Race 4 #2 Double Jeopardy @ $3.50
EACH WAY PLAY: Race 7 #8 Western Temple @ $6.00

Amelia Park Beef (Rs1mw)
Age: 3yo and up WT: 55.5kg Type: 1MW
FP
Silk
Horse, Age & Sex
Sire & Dam
Jockey
Trainer
SP
WT

1st

12. KRAMDEN (AUS) 6yo G


HUSSON LIGHTNING (AUS) - HEART WISPA (AUS)

BEAUX BANOVIC-EDWARDS
DENIS COUPER
$15.00
53.0kg
B E Pope, C W Matthews, M G Bowden & Mrs P D Rusden

2nd

2. DOUBLE JEOPARDY (AUS) 5yo G


EXCEED AND EXCEL (AUS) - NEDIYM'S GLOW (AUS)

CHRIS GRAHAM
DANIEL & BEN PEARCE
$6.00
57.5kg
Hesket Bloodstock, Pearce Racing, R C Peterson, N B Whatmore, G L Montague, Mrs L J Montague, W E Martin, Mrs S J Martin, N S Petrides, R P Whyte (Jnr), S C Litton, T C Reed, A Bunter, Ms K Tudor, Mrs C Gurney, Mrs D R Abel, B Waterhouse, Mrs C M Waterhouse, P Waterhouse & Mrs S M Waterhouse

3rd

11. SHE'S VITAL (AUS) 5yo M


VITAL EQUINE (IRE) - LADY YASMIN (AUS)

JERRY NOSKE
FENELLA MARTIN
$21.00
56.5kg
Ms F M Martin
4th
7. WARFISH (AUS) 3yo G


TIME FOR WAR (AUS) - LITTLE BLACK FISH (AUS)

PATRICK CARBERY
S & J CASEY
$6.00
57.5kg
5th
5. BEDOUIN BELLE (AUS) 4yo M


PATRONIZE (AUS) - BEDOUIN LASS (AUS)

WILLIAM PIKE
LOU & DION LUCIANI
$4.00
59.0kg
6th
4. ROUTE EIGHTY EIGHT (AUS) 5yo M


WRITTEN TYCOON (AUS) - LADY FRERE (AUS)

CLINT JOHNSTON-PORTER
LINDSEY SMITH
$16.00
59.5kg
7th
10. PARISA (AUS) 5yo M


PATRONIZE (AUS) - ACADEMY ROYALE (AUS)

STEVEN PARNHAM
CLIFFORD GREEN
$61.00
56.5kg
8th
14. ORANGE STRUDEL (AUS) 6yo M


ALFRED NOBEL (IRE) - STRUDEL (AUS)

RENEE FORREST
PAULA WAGG
$26.00
55.5kg
9th
1. AY TEE EMM (AUS) 4yo G


DASH FOR CASH (AUS) - CITY MAGIC (AUS)

JASON WHITING
GREG CAVE
$9.00
60.5kg
10th
3. RAPISARDA (AUS) 5yo G


PLANET FIVE (USA) - KIMIQUE (AUS)

BRODIE KIRBY
TAMEEKA BROWN
$15.00
59.5kg
11th
9. CHISANO (AUS) 5yo M


ROGANO (AUS) - MARIACHIS (AUS)

JASON BROWN
JIM P TAYLOR
$21.00
56.5kg
12th
8. SOLARIZE (AUS) 4yo G


PATRONIZE (AUS) - SUNRISE OVER SEA (AUS)

MS K YUILL
HOLLY LOCKE
$9.00
57.0kg
13th
13. CRISTAL DANE (AUS) 4yo M


PATRONIZE (AUS) - BLACK DANE (AUS)

J AZZOPARDI
SHARON MILLER
$31.00
55.5kg
14th
6. TO RISE AGAIN (AUS) 4yo G


BLACKFRIARS (AUS) - TRANSIT REEF (AUS)

JORDAN TURNER
C H WEBSTER
$21.00
58.0kg