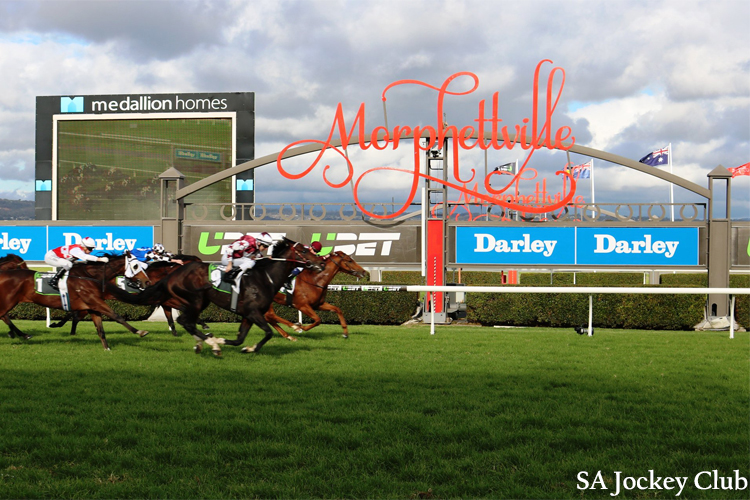 And after a few weeks off, heading back there on a true rail could enhance a horse's chances if they can take up a position.
With that in mind, we'll go to that Oaklands Plate and suggest Foxgossip will build on his victory last week.
So far he ran into Cherry Tortoni on debut then was off the map second time around at Ballarat before scoring at Sale.
Love that he is backing up on a similar surface from a lovely draw. They can lead as they did to win or take a sit.
Fitness is letting him race closer and that is only a positive thing, especially in younger horses.
In the race before we see another travelling Victorian heading to South Australia. While that hasn't been so well enamoured recently, from a racing viewpoint it is generally a good thing.
Mike Moroney has Bianco Nuovo over a middle distance and gets the leading rider in Todd Pannell.
Now that the 5yo is fitter and at the right trip, he's a big chance on the soft going.
He led all the way two back at Ballarat and then may not have liked the synthetic surface.
Hoping Pannell will push forward take it up or be right with them. These races over this sort of journey in recent weeks have been won by those saving ground or up with the leaders.
SAY FROM SA
EACH WAY PLAY (1): Race 5 #1 Foxgossip @ $8.00
EACH WAY PLAY (2): Race 4 #3 Bianco Nuovo @ $10.00

Schweppes Oaklands Plate (LR)
Age: 2yo Type: OPEN
FP
Silk
Horse, Age & Sex
Sire & Dam
Jockey
Trainer
SP
WT

1st

8. INSTANT CELEBRITY (AUS) 2yo F


NOT A SINGLE DOUBT (AUS) - CELEBRITY GIRL (AUS)

KAYLA CROWTHER
PHILLIP STOKES
$4.00
54.0kg
T J Robertson & Mrs E A Robertson

2nd

5. THE BRUMBY (AUS) 2yo G


SPIRIT OF BOOM (AUS) - RHIANNONS GIRL (AUS)

R J HURDLE
T & C MCEVOY
$10.00
56.0kg
PIPELINER BLOODSTOCK (W MITCHELL), TEAM MCDONNELL (J MCDONNELL), CLEAN SPLIT (C ZOTTI), BARTHOLOMEUSZ RACING (D BARTHOLOMEUSZ), J & MRS A MCDONNELL, D W HEHIR, J B WOHLERS, D T CROOK, F ZOTTI, M MAMMONE, P TREACY, N HUTCHINS, W J FLEET, K MORLAND, D M ANDERSON, D WOOD, P FRY, A SANDERS & M CAMPBELL

3rd

9. ANOTHER AWARD (AUS) 2yo F


SHAMUS AWARD (AUS) - EL MILAGRO (AUS)

JASON HOLDER
LEON MACDONALD & ANDREW GLUYAS
$12.00
54.0kg
R B Satchell, Mrs L F Satchell, T E Satchell, A J Hehir, D W Rasheed, S C S Watts, Mrs S Mezzini, Mrs A Caruso, L V Valente, P D Page, Mrs L M McLoud, Beers And Skittles (Mgr: T P McAuliffe) & Slainte Racing No 2 (Mgr: A J Hehir)
4th
3. THE KRONE (AUS) 2yo G


DISSIDENT (AUS) - DANISH DOLLAR (AUS)

PAUL GATT
T & C MCEVOY
$21.00
56.0kg
5th
10. DIAMONDS (AUS) 2yo F


RICH ENUFF (AUS) - BALSAMICO (AUS)

DOM TOURNEUR
RYAN BALFOUR
$31.00
54.0kg
6th
4. KAHAYLAAN (AUS) 2yo C


PRIDE OF DUBAI (AUS) - MAGIC NERA (AUS)

BAREND VORSTER
T & C MCEVOY
$5.00
56.0kg
7th
7. MAYAMEEN (AUS) 2yo F


MULAAZEM (AUS) - MAYSOON (AUS)

KARL ZECHNER
T & C MCEVOY
$17.00
54.0kg
8th
12. GRACIEBIRD (AUS) 2yo F


SAFEGUARD (AUS) - GRACIE MAY (AUS)

JAKE TOEROEK
R & C JOLLY
$26.00
54.0kg
9th
11. WHO RUNS THE WORLD (AUS) 2yo F


ZOUSTAR (AUS) - THURLOW (AUS)

SAIRYN FAWKE
T & C MCEVOY
$41.00
54.0kg
10th
1. FOXGOSSIP (AUS) 2yo G


FOXWEDGE (AUS) - GOSSAMER (AUS)

JESSICA EATON
MATT LAURIE
$5.50
56.0kg
11th
2. SUPER STRIKER (AUS) 2yo G


REBEL RAIDER (AUS) - RAJA LANE (AUS)

TODD PANNELL
LEON MACDONALD & ANDREW GLUYAS
$6.50
56.0kg