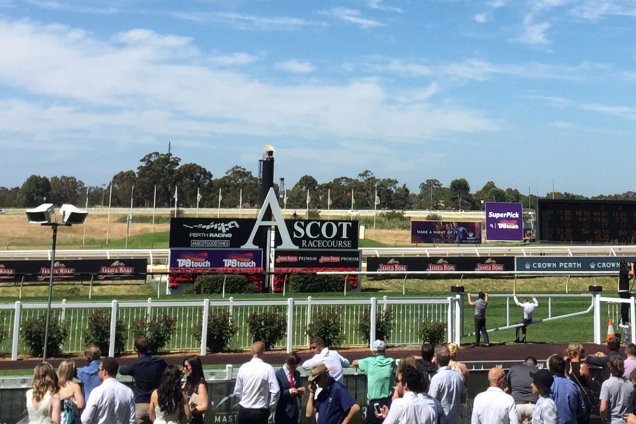 The Perth 3yo Classic is the highlight of the day and it includes a raft of young horses with wins in nice races.
One of them is the close relation to Arcadia Queen as Arcadia Grace heads to the races for the second time.
She only won a 1000m Northam maiden jumping from the inside but drove through and held a decent position.
From there she only got a run from the 200m mark but once through she sprinted like Usain Bolt with her ears pricked.
In this company, with many more good horses running, they will go faster and that should mean it's easier for her to get the necessary gaps.
Pike naturally sticks with her and sitting down on the limit, she might just explode away again.
There is another good 1000m race earlier where some fast horses are engaged.
Even though she is now a 5yo mare, Miss Conteki has some very strong factors in her favour.
While her overall record is excellent, it is even better at Ascot with seven starts producing six wins.
Five of her career wins are at this distance and she is unbeaten in three goes resuming.
As long as the track is not affected by rain nor overly leaderish, you can expect her to be rattling home here.
BEST FROM THE WEST
BET OF THE DAY (1): Race 8 #2 Miss Conteki @ $3.00
BET OF THE DAY (2): Race 9 #13 Arcadia Grace @ $3.10

Crown Perth - 3yo Classic
Age: 3yo Type: OPEN
FP
Silk
Horse, Age & Sex
Sire & Dam
Jockey
Trainer
SP
WT

1st

5. LIWA (AUS) 3yo F


MULAAZEM (AUS) - SBOOG (AUS)

PATRICK CARBERY
SIMON A MILLER
$31.00
55.0kg
Emirates Park (Mgr: N A H Lootah)

2nd

3. SPIN THE KNIFE (AUS) 3yo G


SNIPPETSON (AUS) - ZANY LADY (AUS)

PAUL HARVEY
LUKE FERNIE
$3.50
56.5kg
P Fisher & B F Arthur

3rd

11. PONYO (AUS) 3yo F


YOUR SONG (AUS) - PANYA (AUS)

JADE MC NAUGHT
TODD HARVEY
$17.00
53.0kg
Miss K Fleay, Miss E Hooper, Ms K Hooper, Mrs G K Hooper, Mrs K L Bukauskas, Ms L Mott, Mrs S M Niall, Miss C Poliwka, Mrs P Poliwka, R D Lear, Mrs A M Davies, Mrs S M Motteram, W Peake, W M Jolly, Mrs A Jolly, Mrs C R Niall, Dr B M Lynch, Ms J A Wilson & Mrs K Tompsett
4th
4. RUTHLESS TYCOON (AUS) 3yo G


WRITTEN TYCOON (AUS) - PRECIOUS MOMENT (AUS)

SHAUN MCGRUDDY
STEPHEN MILLER
$17.00
56.0kg
5th
9. SNIPAROOCHY (AUS) 3yo F


SNIPPETSON (AUS) - MAMAROOCHY (AUS)

JASON BROWN
STEPHEN MILLER
$21.00
54.0kg
6th
10. PAT'S GOT SASS (AUS) 3yo F


PATRONIZE (AUS) - SASSY FLYER (AUS)

J AZZOPARDI
D R HARRISON
$9.00
53.0kg
7th
13. ARCADIA GRACE (NZ) 3yo F


HINCHINBROOK (AUS) - ARCADIA DREAM (AUS)

WILLIAM PIKE
G & A WILLIAMS
$3.00
53.0kg
8th
7. FLYING MISSILE (AUS) 3yo F


CABLE BAY (IRE) - MAGNUS MISSILE (AUS)

CHRIS PARNHAM
NEVILLE PARNHAM
$5.00
54.5kg
9th
12. DESERT VIXEN (AUS) 3yo F


ROMMEL (AUS) - KYLEENA (AUS)

PETER KNUCKEY
SIMON A MILLER
$31.00
53.0kg
10th
1. HE'S GOLD (AUS) 3yo G


ROGANO (AUS) - RUE DE MARENGO (AUS)

BRAD RAWILLER
TED MARTINOVICH
$151.00
58.0kg
11th
2. HOI AN (AUS) 3yo F


LONGMA (AUS) - M'LADY HALLOWELL (AUS)

SHAUN O'DONNELL
ROY ROGERS
$61.00
57.0kg
12th
8. PIXIE CHIX (AUS) 3yo F


ROMMEL (AUS) - SNOW PIXIE (AUS)

MS K YUILL
D R HARRISON
$61.00
54.0kg
13th
6. HEAVENLY WATERS (AUS) 3yo F


HEADWATER (AUS) - SERAFINA (AUS)

LUCY F WARWICK
ROY ROGERS
$101.00
55.0kg