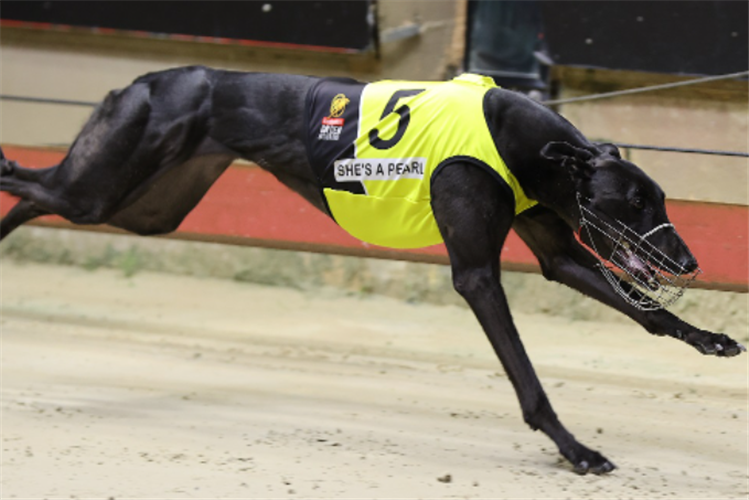 Since it's inception in 2018, the race has continued to gain momentum and has no doubt taken the interest and acknowledgment of greyhound racing to new heights.
With the recent retirement of Tommy Shelby and other high-profile greyhounds the sport was crying out for a new superstar. Off the back of her emphatic Group One Golden Easter Egg win at Wentworth Park just weeks ago, She's A Pearl is the short-priced favourite to win the million dollar race and cement her name in history.
Her last six starts all at Wentworth Park have seen her win by a combined total of 29 lengths and last start set a blistering time of 29.30 on what was considered a slow track. Speaking to Peter Sims during the week who broke in and educated She's A Pearl, he stated that as a pup when pre-educated at Temora she clearly showed she was something special.
"She ran a final break in time that most pups just can't do," Peter said. "I always believed she was going to be something special."
With 21 wins from 31 starts and 6 minor placings so far, her possibilities are endless.
In what is a star-studded line up she will face tough opposition from the ever reliable Good Odds Cash trained by Frank Hurst and of course kennel mate Coast Model.
Saturday night also sees the running of the Group 3 Gold Cup final over 720metres featuring the clash of stars Super Estrella and Zipping Kansas in what is being dubbed a match race.
The Masters Meteor for greyhounds over four years old also features with a first prize of $100,000. It will see the final run of Wentworth Park superstar Sunburnt Highway as he tries going back-to-back in the race he won last year. Not a dry eye will be at Wentworth Park if he happens to pull off the feat as the dog has become a fan favourite and changed the lives of its owners, the Richardson family.
My tips for the night are as follows:
Race 6 Masters Meteor Final
1 Fire Legend
4 Sunburnt Highway
3 Kooringa Lucy
Race 7 Gold Cup Final -
5 Zipping Kansas
6 Super Estrella
1 Holistic Key
Race 8 Million Dollar Chase -
4 She's A Pearl
5 Good Odd's Cash
8 Doonan
A Group One, three Group Three's, a Maiden final and a Master's Meteor final, it's fair to say Wentworth Park this Saturday night has something for everyone.
Let's hope She's A Pearl can add her name to the honour roll of The Million Dollar Chase, joining the likes of Good Odds Harada and inaugural winner Mystic Riot.