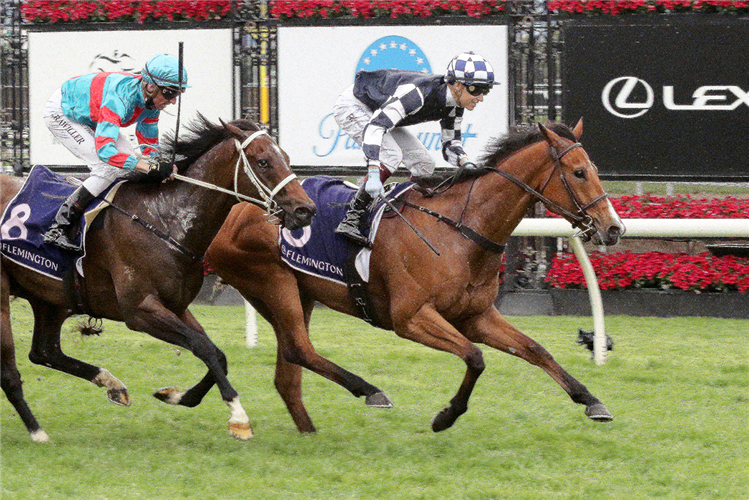 Of course, there is absolutely nothing wrong with common. To rattle on like an old bugger briefly... It does seem these days there is a rush to label everything the the GOAT; every event the biggest and best yet. FOMO-riddled folks rush to events just to say 'I was there when...'
"Even the common articles made for daily use become endowed with beauty when they are loved." - Soetsu Yanagi.
Caulfield's card on Saturday is common. But I love common Caulfield meetings on cold days in May and a couple of winners will make this a beautiful card.
The first of those will hopefully come up in race five which is a good sprint with more than one interesting runner but only one that really interests us - It'Sourtime.
A scratchy getaway left It'sourtime with too much to do first up, closing strongly behind the highly regarded Extreme Warrior and walking away looking every bit as good as that one on the day.
That followed a peak before going for a break in a Standish where he split Halvorsen (since placed in the William Reid) and The Astrologist (since placed in a Newmarket) in a fast overall time set up by a good pace. There was no fluking that and the fresh run said he is ready to replicate it.
If he can replicate it then it will be a stretch for these to match him. Starry Legend won well last week and would have some shot. Ranting is back a gelding which is interesting and the horse from the States, Sound Machine, is a bit of an unknown with a couple of ratings that look like they should fit right in but prices bigger than 2/1 are big enough to back It'sourtime to have their measure.
Two races later we get another look at Uncle Bryn who looks up to bigger and better things based on his strong win at Sale. He has an even better rating back in the UK, and clearly he has settled right in, so it will be no easy task knocking him off but he comes up nice and short in the early betting against a couple good enough to keep him right on his toes.
Skyman is one of those, back with a very sharp effort in the Victoria Handicap, and he will surely find his race this campaign after running well all through the spring without finding one. But it is his stablemate Aramayo, who did nothing much in the Victoria Handicap, who gets the nod as our each way play with prices up around $18.00 appealing for one that was good enough to run second in the Epsom just four runs back and had filled the same place behind Zaaki in the Tramway prior.
He has been nowhere near that in a couple this time around but the first was on a heavy and the latest looks just a stepping stone run to set him straight again having escaped the big wet up in Sydney. At the odds a return to form looks well worth chancing.
THE MELBOURNE MAIL
Bet Of The Day: Race 5 #3 It'sourtime @ $3.20
Each Way Play: Race 7 #2 Aramayo @ $18.00