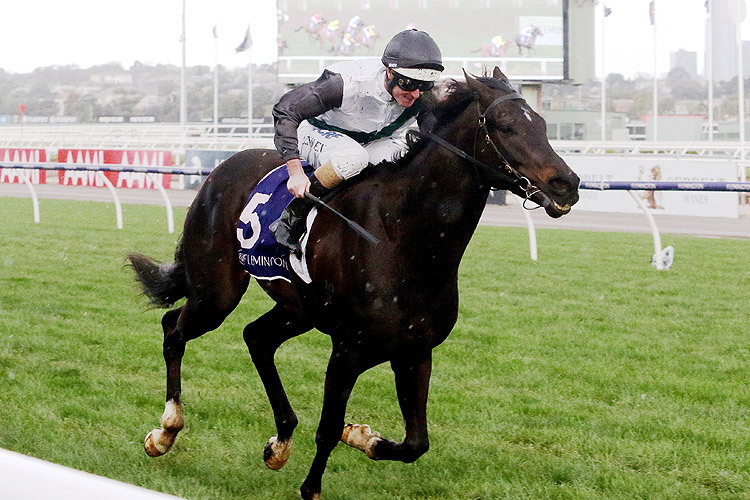 Fresh-up from last in the Doncaster Mile (Gr 1, 1600m) at Randwick four months ago, So Si Bon caused an upset here to add win three (second stakes) to his 38 race record.
The entire field headed for the stand side of the course with So Si Bon easing to be just back of midfield when they settled.
Still midfield at the crossing he improved from the 400m to be in behind the pace, he found a gap at the 300m and drove up to second at the 200m.
He caught the leader approaching the 100m then pulled clear, away by a convincing length at the post.
Malibu Style sat second at the crossing, co-led at the 400m, took over from the 300m but was caught near the 100m, the first two having the finish themselves.
A nice effort from the favourite Sesar who from second last at the 400m and flashed into third right on the line while Seaburge finished quite well from midfield to take fourth.

FP
Silk
Horse, Age & Sex
Sire & Dam
Jockey
Trainer
SP
WT

1st

5. SO SI BON (AUS) 6yo G


SO YOU THINK (NZ) - BLACK MINX (NZ)

LUKE NOLEN
D & B HAYES & T DABERNIG
$21.00
55.5kg
H A Petrie, Mrs N Stamatis, N J Polglaze, Mrs A N Polglaze, P S Zeccola, M Curry, J Wilson, Mrs J Daffey, J Stamatis, D A Wilson, L Gowers, J Baranello & K Daffey

2nd

2. MALIBU STYLE (AUS) 8yo G


MAGNUS (AUS) - ORIGAMI (AUS)

DAMIAN LANE
NEVILLE PARNHAM
$6.00
57.5kg
N D Parnham, Mrs C A Parnham, M J Fagan, R C Pearson, I L White, Mrs K A White & S Thompson

3rd

4. SESAR (AUS) 4yo H


SEBRING (AUS) - SARTHEMARE (AUS)

DWAYNE DUNN
MICHAEL & WAYNE & JOHN HAWKES
$4.25
55.5kg
Aquis Farm (Mgr: S McGrath), Proven Thoroughbreds (Mgr: A Walter), Team McDonnell (Mgr: J McDonnell), H Goddard, Est C J Boyd, S J Roberts, W D Glass, Mrs A McDonnell, J C Parry, Mrs G Parry, Mrs P A Goddard, S J McLay, B D Playford, Mrs E A Ferrier, B M Husband, M Reilly, W Wilkins & Mrs C Wilkins
4th
9. SEABURGE (AUS) 6yo G


SEBRING (AUS) - POLSKA (AUS)

LACHLAN KING
D & B HAYES & T DABERNIG
$101.00
54.0kg
5th
7. MILWAUKEE (AUS) 6yo G


FASTNET ROCK (AUS) - HUMMINGBIRD (AUS)

DAMIEN OLIVER
MICHAEL MORONEY
$5.50
55.0kg
6th
1. MATERIAL MAN (AUS) 8yo G


VITAL EQUINE (IRE) - DEL LIRIO (AUS)

RHYS MCLEOD
P G CAREY
$21.00
59.0kg
7th
6. OOHOOD (AUS) 4yo M


I AM INVINCIBLE (AUS) - BELLA SUNDAY (AUS)

LUKE CURRIE
TONY MCEVOY
$16.00
55.0kg
8th
8. REYKJAVIK (AUS) 5yo H


ARTIE SCHILLER (USA) - GIBRALTAR STORM (AUS)

LINDA MEECH
LINDSEY SMITH
$6.50
54.0kg
9th
15. MR MONEY BAGS (AUS) 5yo G


WRITTEN TYCOON (AUS) - BIGGIETUPAC (AUS)

BEAU MERTENS
ROBBIE GRIFFITHS
$81.00
54.0kg
10th
3. ICONOCLASM (AUS) 5yo H


TOORAK TOFF (AUS) - GOLD LOTTEY (AUS)

BRETT PREBBLE
DANNY O'BRIEN
$13.00
55.5kg
11th
13. YOU MAKE ME SMILE (AUS) 5yo G


SO YOU THINK (NZ) - BIANCA JEWEL (AUS)

ZAC B SPAIN
JASON COYLE
$9.00
54.0kg
12th
10. HOLY BLADE (AUS) 5yo G


I AM INVINCIBLE (AUS) - AMPHRITITE (AUS)

JYE MC NEIL
PETER & PAUL SNOWDEN
$26.00
54.0kg
13th
11. TRIBAL WISDOM (AUS) 6yo G


MAKFI (GB) - PLATINUM PASSION (AUS)

MICHAEL DEE
MICHAEL MORONEY
$41.00
54.0kg
14th
14. TRUE EXCELSIOR (NZ) 5yo M


EXCEED AND EXCEL (AUS) - SPECIAL DIAMOND (NZ)

STEPHEN BASTER
Leon & Troy Corstens
$51.00
54.0kg