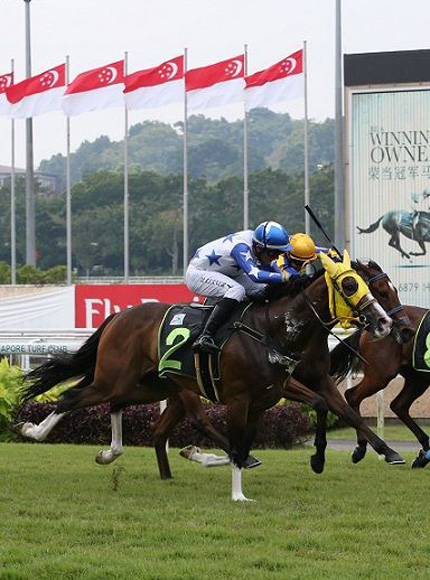 Contrary to the Japanese-bred Harbinger four-year-old's first three Kranji starts where he dropped at the rear, he was ridden a lot more positive to be closer to the speed this time around, even if it was more by default.
With none of the quicker beginners seemingly keen to take up the running, jockey Marc Lerner found himself landing in that role as he came across to sit outside leader Champagne Finale (Vlad Duric).
Once the French rider gave Glory Shine the go-ahead cue at the top of the straight, the 9-1 shot collared Champagne Finale to poke his head in front. Montoya (Patrick Moloney) did surge his way through, but did himself no favours by shifting out, proving hard to assist.
Glory Shine went on to post his first win by half-a-length from Montoya with Champagne Finale in third place, separated by an identical margin. The winning time was 1min 36.08secs for the mile on the Short Course of the $20,000 Open Maiden race.
"This horse (Glory Shine) was not really ready, he just needed some experience first," said Lerner.
"The plan was not really to lead, but as they were all looking at each other in the first part of the race, I decided to press forward.
"He was on a proper distance today and he was quite okay."
Takaoka said he had not mapped out anything specific for the Cassis Oolong Stable-owned gelding, but now that first win was out of the way, he might extend his trips.
He just wished Glory Shine was not afflicted with a challenge that many people with girthy issues would consider a gift – he can't gain weight.
"This horse needs more ground, 1600m to 1800m. We had some confidence he would run better today," said the Japanese handler.
"He's a small horse. I wish he was bigger, but it's difficult for him to gain weight.
"He ran in Class 4 twice, and his finish wasn't too bad. I think he can win in Class 4 one day."