It was the first treble for the Frenchman since moving to Kranji in September. Lerner scored earlier on Glory Shine in Race 2 (see earlier report) before doubling the dose two races later with Matsuribayashi in the $50,000 Class 4 race over 2000m, wrapping up the excellent day at the office with Star Jack in the main race of the day, the $70,000 Class 3 race, also over 2000m.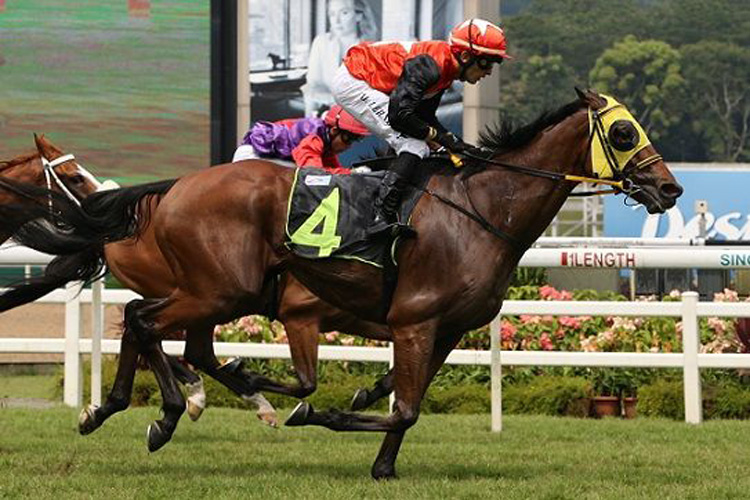 All three winners were prepared by trainer Hideyuki Takaoka, his main patron since the start of the 2019 season.
The former German-based jockey, who next month will have completed one year at Kranji, was rubbed out for four meetings for careless riding aboard – by coincidence - Star Jack on June 28.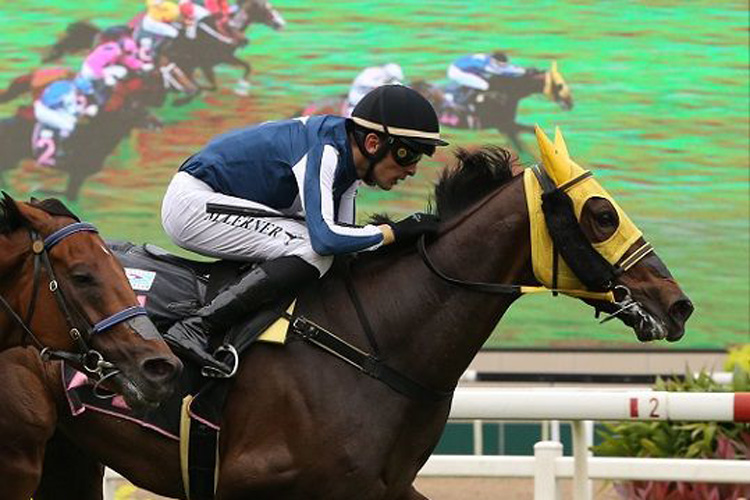 After he made his comeback on Singapore Derby on July 21, he has been seldom left out of the winner's circle.
He kicked off his juggernaut with a riding double aboard the Takaoka-trained Angel Halo and pick-up ride Hephaestus for John O'Hara on July 28, and hasn't fired blanks since – one winner apiece at the next two meetings, Makanani and Caribbean Lady (both Takaoka's) and Friday's bonanza for a haul of seven winners since his return, and an overall score of 22 winners.
"Things are going well for me. I hope it stays that way," said the son of Argentinian-French trainer Carlos Lerner.
"I told (racing presenter) Luke (Marlow on TV show Track Talk) that I was confident with Matsuribayashi and Star Jack.
"Matsuribayashi was not lucky at his last start while Star Jack got beaten by two better horses and in a weaker field today, he ran well. Mr Takaoka's horses are coming back in form."
Lerner's winning streak has certainly been a boon for the Japanese handler as well – six winners in the space of two weeks, but typical of the man of few words he is, heaping praise on his riders is not his style.
Still, one could sense the perfect chemistry between the two men, a Gallic-Nippon connection which was already an emerging force when Olivier Placais rode for Takaoka last year, including winning the Group 1 Emirates Singapore Derby with Jupiter Gold.
"Marc's riding well for me? Okay, if you say so," was Takaoka's deadpan statement.
"But seriously, he rode all three winners very well today. He's a good jockey.
"Last year, I had Olivier, but after Olivier left, I took Marc on board. Maybe it's a French thing, I don't know.
"We took a while to click. He made a few mistakes, but he knows the horses and my training system better now."
Takaoka could certainly not find too many faults with Lerner's handling, especially with the middle and last pin of his riding treble where the US-trained jockey had to dig deep into his bag of tricks.
Star Jack, who was sent out as the $17 favourite, looked headed for an easy win when he was peeled out for his run, but danger loomed when King's Speech (Simon Kok Wei Hoong) started to motor home on the outside.
Riding in a style that is essentially French, but with shades of English at times, especially that rhythmic bumping into the saddle in a close finish, Lerner maintained the Jungle Pocket five-year-old's equilibrium all the way to the line to hold King's Speech at bay by half-a-length. The winning time was 2min 2.55secs for the 2000m on the Short Course.
Three races earlier, he had to again earn every cent of his riding fee to get Matsurabayashi ($18) home.
Indeed, as the 10-horse field eased into a sauntering pace down the back, the Japanese-bred five-year-old by Matsurida Gogh went around runners to take closer order.
By the 500m mark, the previous three-time winner on Polytrack was only three lengths off the leader Mr Bacharach (John Powell). Flowing on from the momentum gathered on the outskirts, he eventually finished over the top of his rivals to overcome Value Of Justice (Iskandar Rosman) by half-a-length with Ace Harbour (A'Isisuhairi Kasim) third another half-length away.
The winning time was 2min 3.88secs for the 2000m on the Short Course.
"Matsuribayashi had no luck at his last start. He was pushed out wide and we had to ignore that run," said Lerner.
"The advantage he had today was the small field. He was not too far off the leaders, and when the pace slackened off, we were able to improve on the outside."
Takaoka concurred that the smallness of the field made for traffic problems less likely.
"The small field helped him today. He won on Polytrack three times and today, he showed he can go on turf, too," said Takaoka.
"As for Star Jack, it was a weaker field today, and we know he can stay as he's by Jungle Pocket."
Matsuribayashi has now taken his record to four wins and five placings from 30 starts for prizemoney in excess of $130,000 for the Star Racing No 4 Stable while Star Jack now boasts three wins and six placings from 14 starts for prizemoney around the $180,000 mark for the Star Jack Stable.
The red-letter day for Lerner was, however, soured later in the Stewards' room when he received a four-day ban for careless riding on Glory Shine. He was found guilty of shifting in at the 1100m and causing interference (see Stewards' report).