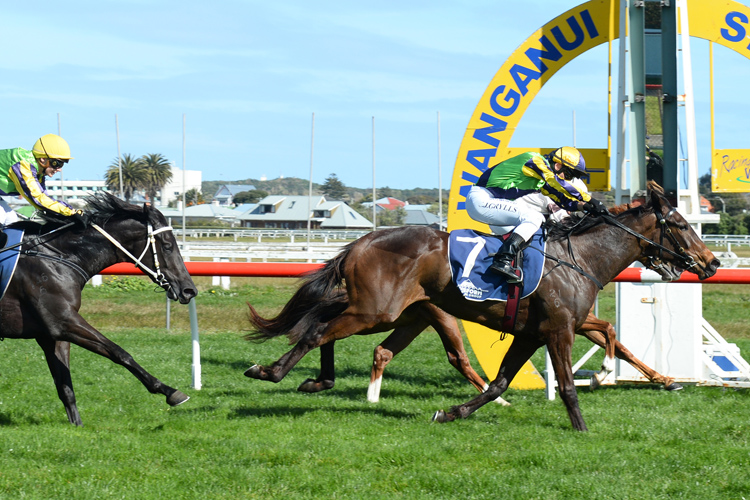 An unlucky second on debut six weeks ago, Riva Capri held on gamely over the last 100m here for her maiden win (over six previous winners).

She settled fourth (rails) and kept the leaders in view past the 800m, inching closer at the 500m.

Nearing the straight entrance she moved away from the fence and into the straight was presented with a perfect split then slipped through to challenge.

Levelling up with the new leader at the 250m she took a narrow lead and looked to kick clear but had to dig deep to the line, holding very well to get the nod by a half head.

Trifolium sat second to the 500m, co led turning in then took over and was not caught until the 250m.

When passed she fought back well, trying hard all the way to the line. Sorrentina was eighth yet close turning in, pulled five deep into the straight then ran on fairly without looking to catch the first two while She's A Lady faded slightly after making a brief bid from the 300m.


FP
Silk
Horse, Age & Sex
Sire & Dam
Jockey
Trainer
SP
WT

1st

7. RIVA CAPRI (NZ) 3yo F


ATLANTE (AUS) - CHAPARELLA (NZ)

CRAIG GRYLLS
GUY LOWRY & GRANT CULLEN
$26.00
56.5kg
L PETAGNA

2nd

3. TRIFOLIUM (AUS) 3yo F


KRUPT (AUS) - IN THE CLOVER (AUS)

LISA ALLPRESS
FRASER AURET
$4.00
56.5kg
M & F Fearon, M & P Pinfold, P D & V J Rolls, Redbank North, R Bright, M W Pickford, R T C Stud, Majestic Coffee Lovers Syndicate, J C G McDermott, B R & M A Marshall

3rd

9. SORRENTINA (NZ) 3yo F


SAVABEEL (AUS) - RUSH (NZ)

DANIELLE JOHNSON
STEPHEN MARSH
$17.00
56.5kg
L PETAGNA
4th
2. SHE'S A LADY (NZ) 3yo F


SWISS ACE (AUS) - PANTOMIME (NZ)

MATTHEW CAMERON
MURRAY BAKER & ANDREW FORSMAN
$3.50
56.5kg
5th
5. MISS SWEET PEE (NZ) 3yo F


MOSSMAN (AUS) - MONOLITH MISS (AUS)

ROBERT HANNAM
FRASER AURET
$13.00
56.5kg
6th
6. SWEET CLEMENTINE (NZ) 3yo F


SWEET ORANGE (USA) - WEALTH STAR (NZ)

A CALDER
RICHARD COLLETT
$8.50
56.5kg
7th
1. FLAUNTING (NZ) 3yo F


SHOWCASING (GB) - ACAPELA (NZ)

SAM SPRATT
DAVID GREENE
$3.50
56.5kg
8th
8. DUBAI'S MOKO (NZ) 3yo F


KEEPER (AUS) - DUBAI BELLE (NZ)

LYNSEY SATHERLEY
CHRISSY A BAMBRY
$61.00
56.5kg
9th
4. GLAMOUR (NZ) 3yo F


PINS (AUS) - BLUSH (NZ)

R J MYERS
B THURLOW
$17.00
56.5kg