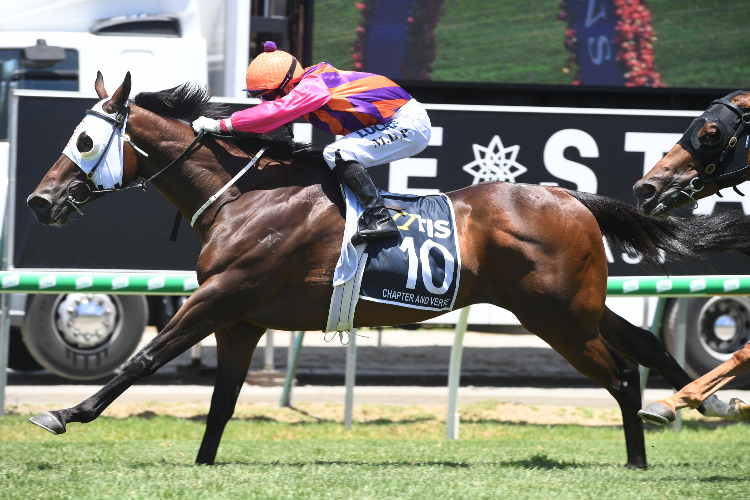 The promising Chapter And Verse staged a really good effort in winning here, his sixth win (nine placings) from 19 starts and his first at stakes level. He settled as expected near the tail of the field, tracking a quick early tempo, before switching deeper rounding the home turn.
But he was still conceding the leader about eight lengths as he straightened and he then stormed home to grab victory by the barest of margins. Outback Barbie settled midfield, commenced her bid (deep) on straightening, challenged at the 100m and then fought gamely for a very close second.
Boomsara went forward from his wide barrier (15), settled in fifth place (wide out), moved up on turning for home, challenged at the 100m and fought gamely for third in a very good first-up performance after a difficult trip.
Pennino raced in third place on the rails, got through to challenge the leader (I'm A Rippa) at the 200m and then battled on well for (0.4 lengths) fourth in a sound run at his second run back with Crack Me Up running on well under this top weight (60kg) for a close-up fifth in a smart first-up effort.

FP
Silk
Horse, Age & Sex
Sire & Dam
Jockey
Trainer
SP
WT

1st

10. CHAPTER AND VERSE (AUS) 5yo G


ROTHESAY (AUS) - MCFLY (AUS)

MARK DU PLESSIS
DESLEIGH FORSTER
$6.50
54.0kg
D M Forbes, N C Mayne, Mrs C M Mayne, M J Maloney, A V Vitanza, Ms M T Collier, R J Vickers, M J Vickers, J W Geddes, L Day & N Day

2nd

7. OUTBACK BARBIE (AUS) 4yo M


SPIRIT OF BOOM (AUS) - PURE PURRFECTION (AUS)

JIM BYRNE
TONY GOLLAN
$4.75
55.0kg
A J Acton & Mrs J C Acton

3rd

4. BOOMSARA (AUS) 4yo G


SPIRIT OF BOOM (AUS) - PASSARA (AUS)

BRAD STEWART
CHRIS MUNCE
$15.00
56.0kg
Mrs N Crimmins, R J Lette, G P Sinclair, P M Hoare, B A Henschell, T L Edwards, J P Lavelle, Mrs B H Gibbs, S C Cassady, A M Firth, Mrs L Berwick, Mrs M Lindemann & R Lindemann, Payne Family Racing, Forte Racing, Eureka Stud, Kathyce Racing
4th
16. PENNINO (AUS) 4yo M


EASY ROCKING (AUS) - ALPHA GIRL (AUS)

R FRADD
DARRYL HANSEN
$10.00
54.0kg
5th
1. CRACK ME UP (NZ) 6yo G


MOSSMAN (AUS) - CHUCKLE (AUS)

RYAN MALONEY
A J & T EDMONDS
$51.00
60.0kg
6th
3. I'M A RIPPA (AUS) 6yo G


LOVE CONQUERS ALL (AUS) - DERIPPA (AUS)

JAKE BAYLISS
TONY GOLLAN
$4.75
58.0kg
7th
6. MONSIEUR GUSTAVE (AUS) 7yo G


AL MAHER (AUS) - SAIGON MOONLIGHT (NZ)

MICHAEL HELLYER
DARRYL HANSEN
$61.00
56.0kg
8th
15. SHARPE HUSSLER (AUS) 8yo G


HUSSON (ARG) - LOST IN DUBAI (NZ)

LUKE TARRANT
DARRYL WARD
$41.00
54.0kg
9th
12. REMOVAL (AUS) 6yo G


PLUCK (USA) - ENEMY DRAGLINE (AUS)

ANDREW MALLYON
JOHN SMERDON
$26.00
54.0kg
10th
14. NATCH (NZ) 6yo G


THORN PARK (AUS) - NATURALLY (IRE)

BAYLEE NOTHDURFT
TONY GOLLAN
$61.00
54.0kg
11th
9. KEEN ARRAY (AUS) 7yo G


BEL ESPRIT (AUS) - MOOREA (AUS)

MATTHEW MC GILLIVRAY
A J & T EDMONDS
$10.00
54.5kg
12th
8. RIVER RACER (AUS) 6yo M


HIDDEN DRAGON (AUS) - ROYAL YANGTZE (AUS)

DALE SMITH
LES ROSS
$26.00
55.0kg
13th
2. BRAVE SONG (AUS) 5yo G


YOUR SONG (AUS) - BRAVE CHOICE (AUS)

LARRY CASSIDY
PETER & PAUL SNOWDEN
$6.50
59.5kg
14th
11. DIVINE DICE (AUS) 6yo G


CASINO PRINCE (AUS) - LOVES ATTENTION (AUS)

RON STEWART
J & C MEAGHER
$21.00
54.0kg
15th
5. FIERY HEIGHTS (AUS) 7yo G


HIDDEN DRAGON (AUS) - MOUNTAIN OF LOVE (AUS)

BORIS THORNTON
BARRY LOCKWOOD
$61.00
56.0kg