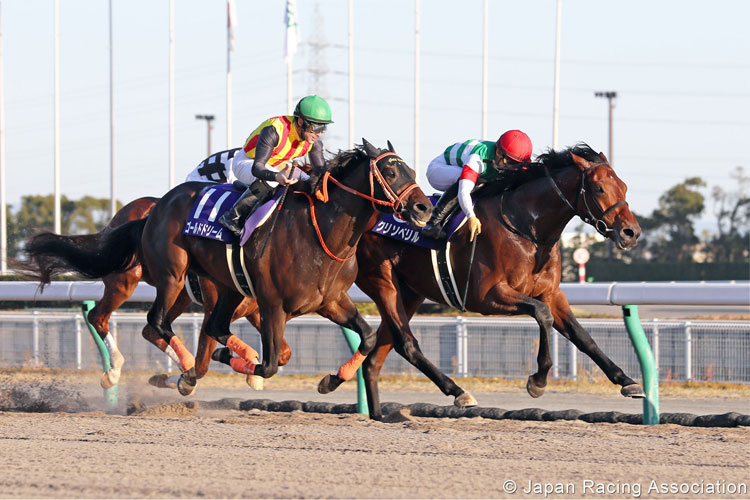 Second pick Chrysoberyl beat strong G1 dirt winners with race record time of 1:48.5 and claimed this year's Champions Cup with an unbeaten six-race winning streak. He is the fifth three-year-old to claim the title following Le Vent Se Leve last year. Half brother to two-time G1 winner Marialite, Chrysoberyl broke his maiden in his debut start in September last year and was sidelined for six months due to a leg problem. The Gold Allure colt won his comeback start in March this year then claimed three major NAR races including the Hyogo Championship (dirt, 1,870m) in May, the Japan Dirt Derby (dirt, 2000m) in July and the Nippon TV Hai (dirt, 1,800m) in September, before making his first JRA G1 challenge. This win gave trainer Hidetaka Otonashi his 12th JRA-G1 victory following his Mile Championship title with Indy Champ last month and jockey Yuga Kawada's 13th JRA-G1 win following last year's Sprinters Stakes victory with Fine Needle.
Chrysoberyl broke sharply from stall five and took an economic trip behind frontrunner Inti in third. The Gold Allure colt, still hugging the rails at the heal of Inti entering the lane, waited patiently and steered slightly to the outside for a clear path around the 200-meter pole where he met the strong challenge of race favorite Gold Dream. As the two sons of Gold Allure dueled fiercely along the lane, Chrysoberyl was the first to nail the frontrunner 100 meters out and accelerated further to cross the wire a neck in front for his title.
"We were able to settle in good position behind Inti and the colt was able to race with good rhythm. Though it was difficult to advance, having to race between Inti and Gold Dream at the stretch, we were able to pull away and win the rally at the end. He is still unbeaten and I'm confident that he will continue to develop and become even stronger," commented jockey Yuga Kawada.
Gold Dream traveled two wide behind Chrysoberyl in fifth and angled out as the field stretched wide entering the homestretch. The 2017 Champions Cup winner produced a powerful burst of speed in the lane, dueled strongly with the eventual winner in the last 200 meters but was a neck short in second. Third pick Inti took the front as usual and, though turning over the lead in the last 100 meters, held on well until the wire to secure third place.
Other Horses :
4th: (3) Chuwa Wizard - hugged rails behind winner, met traffic and switched to outside 200m out, showed
effort but failed to threaten top finishers
5th: (12) King's Guard - raced 2nd from rear, accelerated between horses, timed fastest over last 3 furlongs
6th: (6) Omega Perfume - traveled around 8th, found little room at early stretch, switched to outside then
quickened
7th: (16) Vengeance - settled 3rd from rear, turned wide, passed tired rivals
8th: (1) Time Flyer - saved ground around 10th, checked 300m out, accelerated thereafter
9th: (8) Westerlund - positioned around 10th early, gradually advanced, showed brief effort
10th: (15) London Town - sat forwardly from wide stall, ran gamely until 200m out, weakened
11th: (7) Wonder Lider - settled around 13th, angled out, showed effort but never a threat
12th: (2) Mozu Attraction - trailed in rear, circled wide, showed belated charge
13th: (10) Mitsuba - took economic trip around 12th, even paced at stretch
14th: (13) Wide Pharaoh - raced 4-wide around 9th, checked 200m out, lost momentum
15th: (9) Satono Titan - traveled 3-wide around 7th, outrun in last 400m
16th: (14) T O Energy - tracked leader in 2nd, faded after turning final corner