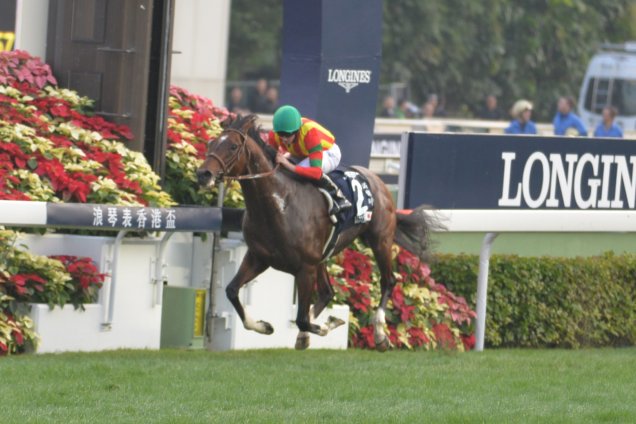 Maurice ended his career in grand style here in 2016. The 2019 Longines Hong Kong Cup (2000m) at Sha Tin on Sunday will be a great contest?
2019 LONGINES HONG KONG CUP - RACE HISTORY AND BACKGROUND
The Longines Hong Kong Cup is a Group 1 race run under Weight For Age conditions for the middle distance horses at Sha Tin conducted by Hong Kong Jockey Club.
It is run as part of the Longines Hong Kong International Races (HKIR) meeting run in December each year.
The Longines Hong Kong Cup is run over 2000m. It was first run in 1988 and was won by Flying Dancer.
The first running was over 1800m and for locals and horses from Singapore and Malaysia too. The Australians and New Zealanders followed.
It was known as the Hong Kong Invitation Cup then Hong Kong International Cup.
The Longines Hong Kong Cup became a Group 3 from 1993 then Group 2 after that until 1999 when it was renamed the Hong Kong Cup and was given Group 1 status.
Most wins by a Trainer (3): Tony Cruz.
Most wins by a Jockey (3): Frankie Dettori.
Two three year olds have won the Longines Hong Kong Cup – both Northern Hemisphere 3yos. They are Alexander Goldrun and Snow Fairy.
California Memory is the only horse to win two Longines Hong Kong Cups.
Before the race truly became international Australian horses won and they were not the elite G1 horses either.
Grey Invader and Kessem were good solid kiwi stakes horses who won. Then Romanee Conti won in 1992. She was Group 1 placed but her claim to fame is being the dam of the Caulfield Cup/Melbourne mare Ethereal.
In 1994 State Taj won with Damien Oliver aboard and is the only Australian winner.
One of the best winners was Snow Fairy. She was six time G1 winner over four different countries.
The Japanese have been to the fore with recent wins by A Shin Hikari and then the champion Maurice who ended his career in grand style.
Glorious Forever was one of Hong Kong's four home trained winners on International Day 2018.
The Longines Hong Kong Cup is worth HK$28m in 2019.
Notable winners of the Longines Hong Kong Cup include Maurice (2016), A Shin Hikari (2015), Designs On Rome (2014), Akeed Mofeed (2013), California Memory (2011/2012), Snow Fairy (2010), Vision d'Etat (2009), Eagle Mountain (2008), Vengeance Of Rain (2005), Falbrav (2003), Fantastic Light (2000), Jim And Tonic (1999), Romanee Conti (1992) and River Verdon (1992).
The 2018 Longines Hong Kong Cup was won by Glorious Forever from Deirdre and Time Warp.