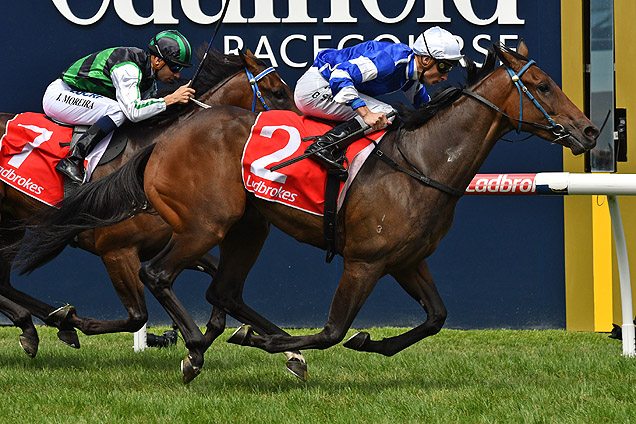 Closing in on three years since his last win, in the Group 3 Zeditave Stakes, Benz had the last say here, stretching his neck late for career win seven. He jumped away quite well but soon began to drift and was fifth last, one out, at the 1000m.
He improved from the 600m and although midfield making the turn into the straight was in the clear, ready to challenge.
He was a while winding up but from the 200m he was going well, third at the 100m and second at the 50m before stretching his neck short of the line for the half neck win.
A good run from Nipperkin who was wide and third last at the 600m, made the straight widest and kept up a strong run, especially the last 100m to nab second on the line. So too Aiguilette who was third-last at the top of the straight and finished well between runners to be a close up third.
Miss Jane was third turning in, grabbed the lead at the 100m, was swamped then held on for fourth.

FP
Silk
Horse, Age & Sex
Sire & Dam
Jockey
Trainer
SP
WT

1st

10. BENZ (AUS) 6yo G


BUSHRANGER (IRE) - MYCEDES (AUS)

KAYLA CROWTHER
GORDON RICHARDS
$16.00
54.0kg
Ms J Heaney, R S Holton, G D Mittiga, N G Holton, P J Mittiga, Mrs E M Mittiga, C A Reynolds, P J Ninnis, Mrs C H Holton, Mrs M T Holton, R M Warnock, G Baker, Mrs J Baker, B Davey, Mrs L A Warnock, P N U (Mgr: G McIntosh), Sundance (Mgr: P R McIntyre) & Bluebloods (Mgr: R M Burke)

2nd

4. NIPPERKIN (AUS) 6yo M


ARTIE SCHILLER (USA) - PIPKIN (AUS)

JASON HOLDER
BARRY BROOK
$11.00
54.0kg
J D Haigh

3rd

9. AIGUILETTE (AUS) 4yo G


EPAULETTE (AUS) - CICARELLI (AUS)

ERAN BOYD
JOHN MACMILLAN
$5.00
54.0kg
Ms T Hartwell, Dr J K Sinclair, N P Cadd, M D Bruggemann, N Stratfold, L K Stratfold, R M Dean, Mrs J B Dean, A G Grantham, G E Ireland, J R Spackman, F R Studd, J Spicer, G C Brown, Ms B J Sinclair & Mrs A K Clayton
4th
11. MISS JANE (AUS) 6yo M


SKILLED (AUS) - SILENT MODE (AUS)

DOM TOURNEUR
PAUL SEATER
$21.00
54.0kg
5th
5. ARROW LANE (AUS) 6yo R


RED ARROW (AUS) - BAGS OF WHEAT (AUS)

SAIRYN FAWKE
JOHN HICKMOTT
$21.00
54.0kg
6th
8. COLUMBIA (AUS) 5yo G


DENMAN (AUS) - MULU MISS (AUS)

TODD PANNELL
WILL CLARKEN
$5.00
54.5kg
7th
7. TATOOSH (AUS) 7yo G


BENETEAU (AUS) - MISS COLUMBUS (AUS)

JUSTIN POTTER
WILL CLARKEN
$10.00
54.0kg
8th
12. REGALO DI GAETANO (AUS) 4yo G


SUPREME CLASS (AUS) - REGALINA (AUS)

JAKE TOEROEK
R & C JOLLY
$21.00
54.0kg
9th
2. ZALMONA (AUS) 6yo G


GOOD JOURNEY (USA) - ROMANDRAMA (AUS)

PAUL GATT
PETER F BLANCH
$10.00
54.0kg
10th
13. AMBLEVE (AUS) 4yo M


HINCHINBROOK (AUS) - AL'S MAGIC MISS (AUS)

NEIL FARLEY
ARCHIE ALEXANDER
$13.00
54.0kg
11th
1. CAPTAIN PUNCH (AUS) 8yo G


CAPTAIN GERRARD (IRE) - PUNCHLINE (AUS)

ETHAN BROWN
GARY CLARKE
$8.00
59.0kg
12th
6. KARLOVASI (AUS) 7yo G


REAAN (AUS) - SHANGHAI MOON (NZ)

JEFFREY MAUND
R & C JOLLY
$26.00
54.0kg
13th
3. GO THE JOURNEY (AUS) 7yo G


GOOD JOURNEY (USA) - SCENE IN PINK (AUS)

GARY LO
R & C JOLLY
$12.00
54.0kg