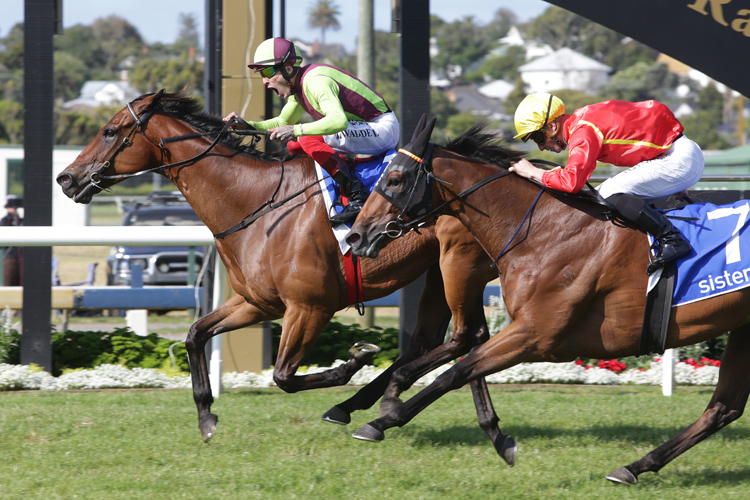 Broken down in October 2018, lightly-raced comeback kid Julius held out the favourite in game fashion to add win nine (fourth stakes) at just start 16 for the gallant 8YO.

He was quickly into stride to co-lead early before taking the sit, one out in second, approaching the 800m. Maintaining his position a length off the pace from the 600m he then moved up to the leader at the top of the straight.

Taking over at the 300m, jockey Jason Waddell held him together and then when challenged asked the question. To the line he kept going strongly and was able to hold out the challenge of the favourite by a neck for a popular win.

Winter Bride rushed forward to fourth at the 800m and sat back and outside the winner from the 600m. She was third and looking a danger at the top of the straight and challenged from the 300m. She kept up a solid run but was unable to get past, lunging again late for a game second.

A super run from Evalina who was last at the 800m, still back at the 400m then threaded her way up the straight, finishing well for third.
Dawn Patrol turned in fourth, was blocked, then found room, and finished well for fourth.

Pretty To Sea had a chequered run from well back at the 350m before a fast finish to nab to fifth.

FP
Silk
Horse, Age & Sex
Sire & Dam
Jockey
Trainer
SP
WT

1st

3. JULIUS (NZ) 8yo G


SWISS ACE (AUS) - OH SO ROYAL (AUS)

JASON WADDELL
JOHN BELL
$6.50
56.0kg
Bill Harris, H Jones, Summer Bell & Randell Bell, G Davey, M Balzer Mnzm, P Smith-Schmidt, R Hawkins, S Read, M Robins, & G & J Boyd

2nd

7. WINTER BRIDE (AUS) 5yo M


NOT A SINGLE DOUBT (AUS) - AMBERINO (AUS)

JAMES MCDONALD
A J & T EDMONDS
$3.50
55.0kg
Segenhoe Thoroughbreds Australia Pty Ltd

3rd

11. EVALINA (AUS) 4yo M


I AM INVINCIBLE (AUS) - TAHNEE TOPAZ (AUS)

DANIELLE JOHNSON
STEPHEN MARSH
$41.00
53.5kg
Jml Bloodstock Ltd (Mgr: L Petagna)
4th
5. DAWN PATROL (NZ) 4yo G


DAWN APPROACH (IRE) - DAZZLING (NZ)

JONATHAN RIDDELL
FRANK RITCHIE
$16.00
56.0kg
5th
13. PRETTY TO SEA (NZ) 5yo M


OCEAN PARK (NZ) - PRETTY (NZ)

SAM WEATHERLEY
STEPHEN MARSH
$21.00
53.0kg
6th
2. VOLPE VELOCE (AUS) 6yo M


FOXWEDGE (AUS) - BARDEGO (AUS)

M MCNAB
GRAHAM RICHARDSON
$9.00
56.0kg
6th
6. SPEEDY MEADY (NZ) 4yo G


SWISS ACE (AUS) - LUCY IN DISGUISE (NZ)

C DELL
JOHN & STEPHEN RALPH
$31.00
55.5kg
8th
12. DAMA ZORRO (AUS) 5yo M


HUSSON (ARG) - KICKEN VIXEN (USA)

TAIKI YANAGIDA
DAVID GREENE
$10.00
53.0kg
9th
10. ITS DESTINYS CHILD (NZ) 6yo M


CASTLEDALE (IRE) - IT'S MY DESTINY (NZ)

A CALDER
JENNY & BOB VANCE
$31.00
53.5kg
10th
9. PRINCESS KERERU (NZ) 6yo M


PINS (AUS) - FLEUR D'AMOUR (NZ)

CAMERON LAMMAS
KEN & BEV KELSO
$9.00
54.0kg
11th
8. MEDIA SENSATION (AUS) 4yo M


I AM INVINCIBLE (AUS) - DIFFERENT TO (NZ)

MICHAEL COLEMAN
PETER & DAWN WILLIAMS
$9.00
54.5kg
12th
4. SANTA MONICA (NZ) 6yo M


PER INCANTO (USA) - MONARCH (NZ)

TRUDY THORNTON
JOHN & STEPHEN RALPH
$41.00
56.0kg
13th
14. KALI (NZ) 3yo F


DARCI BRAHMA (NZ) - RACE EMPRESS (AUS)

MICHAEL DEE
TONY PIKE
$16.00
51.5kg
14th
1. ENDLESS DRAMA (IRE) 8yo H


LOPE DE VEGA (IRE) - DESERT DRAMA (IRE)

LEITH INNES
TONY PIKE
$21.00
58.0kg