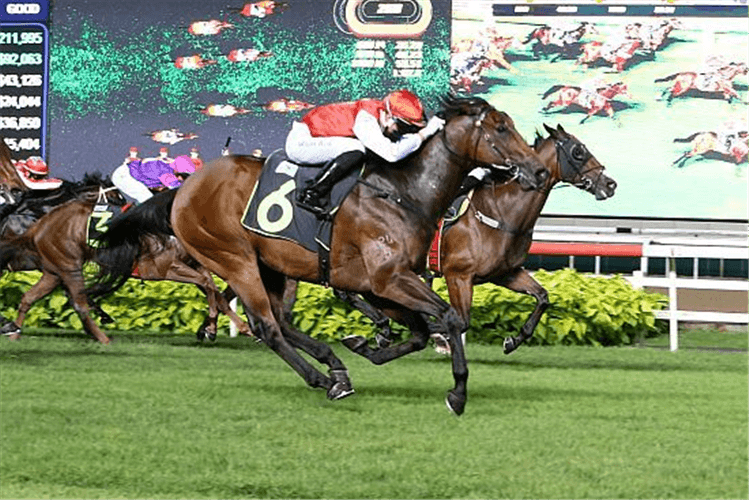 So trainer Shane Baertschiger found out after Galaxy Star , known as Sir Owen in Australia, scored at his fourth Kranji start on Friday night.
Prepared by Peter & Paul Snowden at Randwick, the son of Fastnet Rock won his only Australian race in seven starts in a 1200m race at Wyong in New South Wales with blinkers on.
He then finished out of the placings on heavy track at his next two starts before the Happily Stable purchased him and sent him to Baertschiger in June.
Loath to change a proven recipe, the Australian conditioner kept the shades on, but after three starts, he soon realised the equipment might not be as effective as he thought it would be. Galaxy Star was racing too keenly and not giving his 100%.
He therefore decided to do away with the blinkers at Galaxy Star's next run in Friday's $50,000 Class 4 Division 1 race over 1200m, and the rewards were instantaneous.
Ridden by leading apprentice jockey Simon Kok Wei Hoong, Galaxy Star ($41) saw them all from the start but started to improve noticeably from the 500m before downing $14 favourite Watch Out Boss (Benny Woodworth) for a convincing three-quarter length win.
Tingle Marc (Saifudin Ismail) ran third another 1 ¼ lengths away. The winning time was 1min 10.98secs for the 1200m on the Short Course.
"He actually went good with Alysha (Collett) two runs back. He ran on from the back for fifth," said Baertschiger.
"He didn't do too well at his last start over 1400m, but that's because they went too hard.
"We decided to drop the blinkers even though he wore them at his only win in Australia. He was too keen and he won a nice trial (on December 31) without them.
"Simon has ridden a few times for us before but this is our first win together, and I'm sure there'll be more to come."
Kok was also delighted he had finally sealed a winner from one of the leading yards at Kranji – fifth in the final standings on 49 winners last year.
"It's great to ride my first winner for Shane," said the Ipoh-born rider.
"The horse (Galaxy Star) wanted to overrace at the start, but he was without blinkers tonight and that helped him a lot. Once I eased him at the back, he dropped his head, and showed throughout the race he didn't need them.
"He is a good four-year-old and I think he has a good future here, even if he still has a lot to learn."
Last year's Singapore champion apprentice jockey has been riding in the same rich vein of form in the new season. After Galaxy Star, he went back for more with $13 favourite Karisto in the next race, the $70,000 Kranji Stakes C race over 1600m to take his current score to five winners.
Kok, who just returned from a one-month stint in Australia with top trainers David and Ben Hayes & Tom Dabernig, has already established a healthy three-win lead on Hakim Kamaruddin, Mark Walker's newly-unveiled apprentice jockey who rode his second career winner Luck Mak Mak ($13) in the $30,000 Class 5 Division 2 race over 1100m.