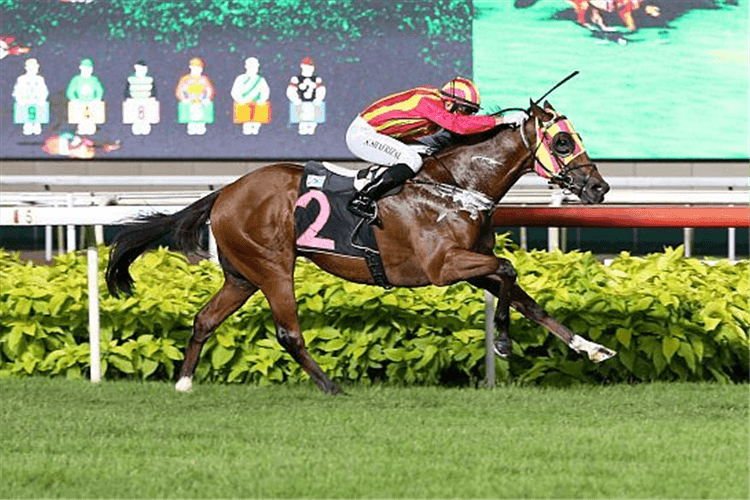 The Snitzel six-year-old, who at his first 19 Kranji starts was known as Paparazzi and was racing under that new moniker for the first time, was ridden a lot more positive by first-time partner Shafrizal Saleh this time, wresting the lead from temporary leader Mr Hooper (Saifudin Ismail) down the back.
Even if Mr Hooper kicked up on the rails, which prevented Passport To Rome ($47) from crossing, the whip hand was still theirs when they swerved into the home straight.
Mr Hooper tried to rally while favourite Wecando (Vlad Duric) also joined in to test Passport To Rome, but at the 300m, it became increasingly clear they would be left chasing shadows.
Baertschiger's smart strategy has humbugged his rivals. Passport To Rome cleared out towards the finishing line for a 2 ¼-length victory with the battle for the minors eagerly contested among five horses.
Wecando and Mr Hooper could not be split for second place, with a trio made up of Hardcore (Juan Paul van der Merwe), Augustus (Benny Woodworth) and McGregor (John Powell) filling in the remaining spots a head apart from each other. The winning time was 1min 22.55secs for the 1400m on the Short Course.
Baertschiger wore the smile of someone who has pulled off a well-laid plan, but did admit, the radical change in tactics was not such a punt into uncharted territory.
"I know this horse well, I had him before and got him again (after a short transfer with Tan Kah Soon)," said the Australian handler who was at a training double after Galaxy Star scored earlier.
"He's mostly a backmarker, but he won a Novice race by leading once and he also led in the Stewards' Cup, and was only run down late.
"There was not much speed in the race and I rang the Stewards and told them he would endeavour to go forward. The boy rode him well, too.
"James Peters' horse (Mr Hooper) made him work, he couldn't cross. They went along and he still won convincingly."
After Singapore champion apprentice jockey Simon Kok Wei Hoong combined with Baertschiger for his first win on Galaxy Star, Shafrizal was actually following suit.
"Thank you to Mr Shane. It's my first winner for him, I hope there will be more to come," said Michael Clements' Malaysian apprentice jockey who finished third to Kok in the junior riding ranks last season.
"The instructions were to try and sit behind the leader, but I then let him roll to the lead.
"I couldn't cross and at the 400m, I thought he'd be gone after a rather tough race. But he just kept going and found the line very well."
Passport To Rome has now seen his stakes earnings pass the $250,000 mark for the Sainsburys Stable.