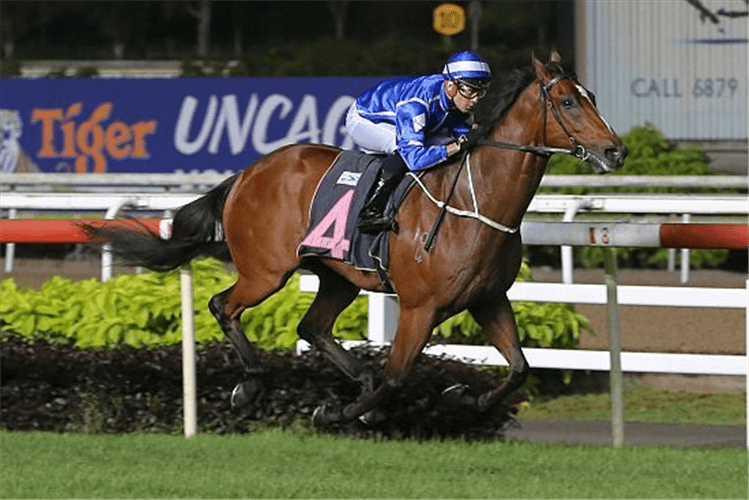 "Near-perfect" because the Australian import, simply named Siam when prepared in Sydney by James Cummings, did enjoy a charmed run in the box-seat from barrier No 1, but the runs didn't quite eventuate at the two-furlong mark.
Champion jockey Vlad Duric had to hold fire for a few strides until the gap appeared at the 300m, much to the relief of many nervous patrons at Kranji.
The rest was exactly how a $8 favourite should wrap up a race. Needing only a few reminders, Siam Warrior skipped clear to go and score easing down.
Bartimaeus (Krisna Thangamani) concluded fairly to take the runner-up spot 2 ½ lengths away, outsprinting Sacred Judgement (Benny Woodworth) into third spot by a short head.
Boom Shakalaka led, and for a second, gave the impression he could give Singapore champion apprentice jockey Simon Kok Wei Hoong a third win (after Galaxy Star and Karisto) for the night, but he folded late. He still fought on valiantly to just miss a podium spot by a short head.
Siam Warrior ran the 1200m on the Short Course in 1min 10.23secs. The Exceed And Excel five-year-old had actually not revisited the winner's circle in nine starts since his victorious debut in a Class 4 race over 1100m on April 19.
Trainer James Peters, who was at his inaugural winner for 2020, for one feels that run of outs should not have been that long.
"He was unlucky towards the back end of last year. He deserved to have won at least once," said the English handler.
"We gave him a freshen-up during the break and he has come back in good order. He has always had ability.
"He had a good barrier tonight and Vlad made good use of that. He was sweating for a run in the straight, but once he saw the gap, he was too good. Hopefully, there is more to come."
Duric, who was at his first sit on Jayven See's galloper, said the tight pocket he was in at the 400m did cast some doubts, but it was nothing a three-time Singapore champion jockey could not handle.
"It was tricky for a couple of strides, but once Copacabana started to roll under pressure, the gap came up," said the Australian ace.
"He quickened very well through it. He was unlucky many times in Class 3 races, but I think that win will give him back the confidence.
"I jumped on him on Track 6 and I told James he was absolutely flying. He was in really great form coming into tonight's race, I knew he'd be hard to beat."
With that second success at Kranji, Siam Warrior has now collected around $75,000 in stakes money for See's Middle Kingdom Stable.
As for Duric, he went on to snare the next race as well, the Lucky Last in the $50,000 Class 4 race over 1600m aboard another $8 odds-on favourite in Spirit Of Big Bang.
Outpaced early behind the breakneck speed set by the duelling pair of Restrained (Krisna) and The Nutter (Yusoff Fadzli), the Michael Clements-trained Irish-bred five-year-old by Intikhab just could not be beaten once he pounced on the weary-legged duo.
Putting a big gap on his rivals, he went on to score with the proverbial leg in the air. The margin on second-placed Implement (Marc Lerner) read 3 ¾ lengths but it could have been wider had Duric not lifted the foot off the pedal half-a-furlong out.
With the brace, Duric sits on top of the ladder on four wins, while Benny Woodworth (his 2019 runner-up) and Marc Lerner are on three wins each.