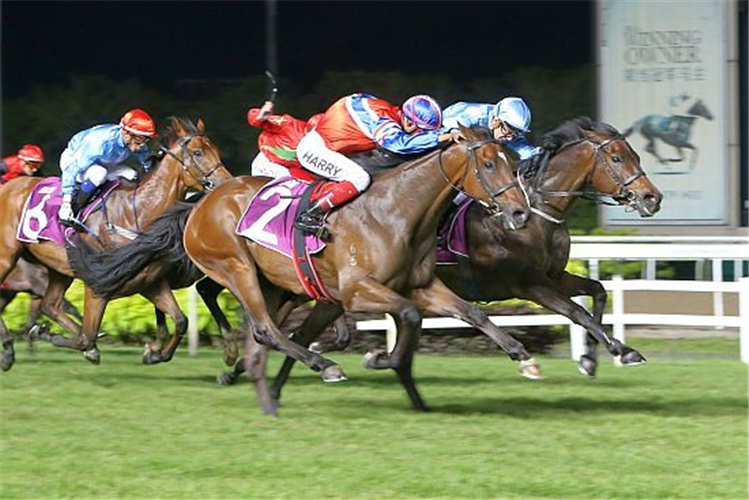 Stable star Top Knight was sent out the $1.80 favourite and looked to have his stablemate cold at the top of the straight, only for Siam Blue Vanda ($6.80) to gun him down right on the line.
Having finished second at all three starts this time in, leading jockey Vlad Duric was not taking any chances, making his move at the 600m aboard Top Knight.
Originally settled behind Siam Blue Vanda, Duric took off around the outside and quickly put Siam Blue Vanda in a pocket.
Forcing the latter to then ease off heels, Top Knight looked to have his measure and set out after the leaders.
Hitting the front inside the 200m, Top Knight looked home, only to have Siam Blue Vanda come off his back.
Although stretching his neck late, Top Knight was no match, going down narrowly.
Another heart breaking loss for Top Knight, however nothing can be taken away from the winner, he had his chance to beat him, but Siam Blue Vanda was simply too good on the night.
The son of Echoes Of Heaven has now won five of his last six starts and is clearly on an upward spiral, setting up a thrilling Singapore Derby [1800m] in four weeks time.
The Group 1 feature will be held on April 18, with nothing separating the Clements' pair.
Both rated 105 by Timeform, luck in running could prove the difference.
Some may criticize Duric's ride, feeling he went to early, but in truth it was a fantastic ride, he couldn't have done anything more.
He pocketed his main rival and got the first run, 9/10 that wins you the race.
Unfortunately for Duric and Top Knight's supporters (including myself), it wasn't enough.
Friday night's event was the first time Siam Blue Vanda had beaten home Top Knight in five attempts.
Prior to the Stewards' Cup, 1.5L was the closest Siam Blue Vanda had finished behind Top Knight, quite a turnaround.
In just his second attempt beyond 1400m, Siam Blue Vanda took a big step forward and no reason to think he can't improve again out to 1800m.
Hard to knock Top Knight, he too has always given the impression he would be better beyond a mile ‑ would be very interested to see if Clements had a lean prior to the Derby.
On current evidence, it's hard to suggest there is much in it.
The market had a 40% difference ($1.80 Vs $6.80) between the pair on Friday night, though suspect they start a lot closer in the Derby.
Would still have to mark Top Knight favourite, though very much doubt he starts in the red.
The barrier draw could play a very important role as to who settles in front of the other, a key advantage that could prove all the difference.
Either way, can't wait to see what happens in a months time.