The two-time Macau Champion jockey began his one-year licence in Singapore back in January, but began riding in Sao Paulo in 2006.
A career that has already amassed over 550 winners, Maia has quickly made Kranji home, having ridden four winning doubles prior to Sunday.
Maia landed the first three races on Sunday aboard El Chapo, The Mareeba Mango and Moon Face before running hot at the back end of the card, claiming four of the last six races.
While hard to pinpoint his best ride, his effort aboard Elite Power was certainly up there, throwing him over the line to land the four-way photo.
Not since the likes of Joao Moreira have Singapore racegoers witnessed such an impressive feat.
In September 2013, Moreira rode eight winners and no doubt would have gone close to riding the card, had it not been an apprentice only race.
All in all, Moreira collected eight winners from eight rides, something I don't think we'll ever see repeated.
In an interview Maia told Mike Lee that Moreira had messaged him to congratulate him on his achievement.
"Moreira texted me and sent me his congratulations. Of course, I know of his eight-from-eight here, and I did think of that when I won the last race," Maia said.

Maia now trails Duric by 10 in the Singapore Jockey Premiership, though he is not getting too carried away.
"But you know, riding seven winners is nice, but it's more important to keep working hard and getting the opportunities," Maid said.
"I am a bit closer to Vlad now, but to be honest, I don't think too much about it. I just let things come naturally."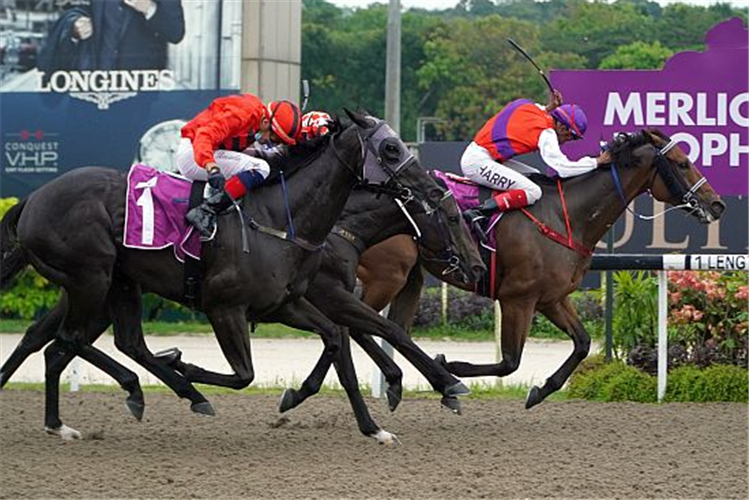 Star sprinter Bold Thruster was surprisingly turned over ($1.30) in the Group 2 Merlion Trophy [1200m], but it highlighted one of the stronger form races we've seen in some time.
The Class 2 event won by Surpass Natural on the 26th of July has produced three subsequent winners - Excelling (5th) , Aramaayo (3rd) & Elite Power (2nd), while Surpass Natural also finished third in the Merlion Trophy.
Interestingly two of the three winners stepped up in grade at their next outing, Aramaayo the most notable when taking out the Group 1 Kranji Mile.
As for Bold Thruster, you just get the feeling he may be better over further now.
He won over 1400m at both starts prior to a break and was certainly doing his best work late.
Conceding a fitness edge is never easy and while well treated under the WFA conditions, I wouldn't be dropping off him just yet.
The main problem being whether the market will drop off, he was very short on Sunday and that SP should anchor him at his next outing.
Either way he is an interesting horse to approach as you know he is much better than the bare form displayed on Sunday.