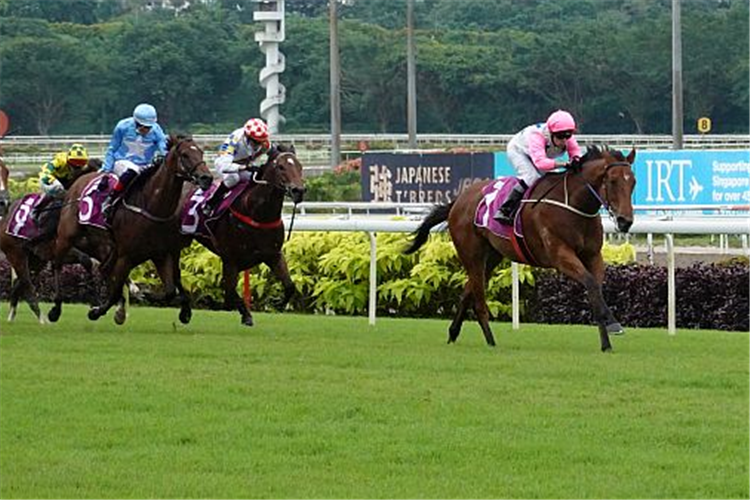 In what was a sit and steer job for Duric, the Cliff Brown trained runner did as expected ($1.20) when winning easily in the Group 1 feature.
Though if there were any doubts about him getting a strong mile, unfortunately they were not answered, with the moderate tempo allowing him to showcase his biggest weapon, his turn of foot.
Beginning well from the inside draw, Inferno travelled strongly early, before dropping his head and settling fifth one off the fence.
In what can only be described as a pedestrian tempo (26.28 for the first 400m), they played right into his hands.
Travelling boldly passing the 500m, Duric pulled Inferno to the outside, barely moving a muscle on the four-year-old.
Clicked up approaching the 300m, Inferno swept to the lead and put the race away in a few strides.
If Duric has ridden an easier Group 1 winner I'd like to hear it, he barely breathed on Inferno.
Ridden hands and heels to the line, Duric gave him a love tap at the 100m, but quickly put the whip away, coasting to the line to score by one-and-a-half lengths.
The Ricardo Le Grange trained Rocket Star found the line well to finish second, but was clearly a level below.
Rated 98 by Timeform prior to Saturday's event, Inferno improved to run a figure of 101+, with a fair bit of confidence he is better than that.
That figure puts him right in line with past winners of the Guineas and notably has him rated marginally the better of his former stablemate, Debt Collector (Debt Agent) who was rated 100+.
Not since War Affair have we seen a horse sent out at such short odds ($1.20), further highlighting the margin he has on his rivals.
War Affair remains the highest rated winner of the Singapore Guineas when running 115p in 2014.
A winner of seven of his eight starts, it will be very interesting to see how high he can progress in the years to come.
Debt Collector went on to be rated 113, a figure which does appear within reach for Inferno.
He's not the highest rated horse in Singapore yet, but I suggest it's only a matter of time before he is.