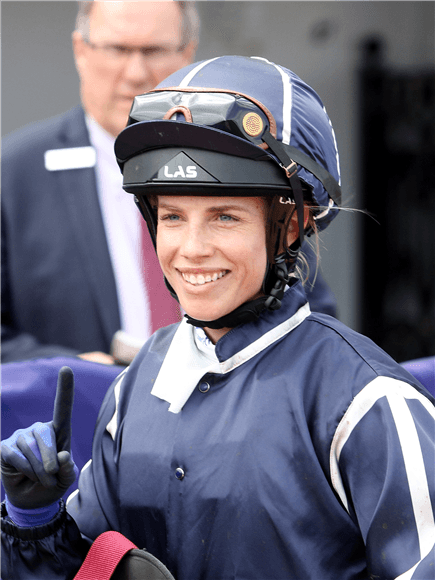 Continuing the good run of trainer Michael Hickmott and having the services of Jessica Eaton Aqueduct led all the way and will have his next start in the listed 1600 metre Murray Bridge Gold Cup on October 21.
The three-year-old filly Amuri broke through for her first win at her second start in the 1000 metre second race.
Coming out of the Tony and Calvin McEvoy stable at Angaston the Barend Vorster ridden Amuri got to the front soon after the start and won comfortably. Her next start will probably be in a stakes race in Melbourne.
Prepared at the Pakenham track by Andrew Homann Darlamax won his second successive race in Adelaide when he took out the 1950 metre third race.
Guided to victory by Jason Holder Darlamax began well before drifting back to a midfield position and then mustered enough speed to go on to win.
Alleboom continued the run of well placed horse to win when he took out the 1000 metre fourth race.
Being under the care of Richard and Chantelle Jolly and having the services of their apprentice Caitlin Jones, Alleboom led all the way.
Morphettville trainer Jon O'Connor was well pleased with the new addition to his stable Saorsa who took out the 1000 metre fifth race.
Guided to victory by Karl Zechner Saorsa, who has only been in O'Connor's stable for three weeks after coming from Victoria, came with a strong run from well back.
Tony and Calvin McEvoy and Barend Vorster scored their second win for the afternoon when Vancity Gem took out the `1300 metre sixth race.
Winning her second race in succession Vancity Gem led throughout to bring up two wins from two starts.
One More Jack continued his good form when he won the 1250 metre seventh race.
Winning his seventh race from eleven starts the Shane Oxlade prepared Justin Potter guided One More Jack was well placed.
Apprentice Jessica Eaton landed her second winner for the day when Extreme Thrill won the 1550 metre eighth race.
Prepared by Strathalbyn co-trainers Wayne Francis and Glen Kent, Extreme Thrill was on the pace throughout the event.
Strathalbyn trainer David Jolly continued the good run of his fellow trainers when Trip took out the 1250 meter final event.
Having the services of leading rider Todd Pannell Trip led all the way.