Race Result:
1st: Classique Legend (K McEvoy/L Bridge) - $4.20
2nd: Bivouac (G Boss/J Cummings) - $9.50
3rd: Gytrash (J Collett/G Richards) - $6
Winning Time: 1:08.27 Last 600m: 35.01
Margins: 2½L x ½L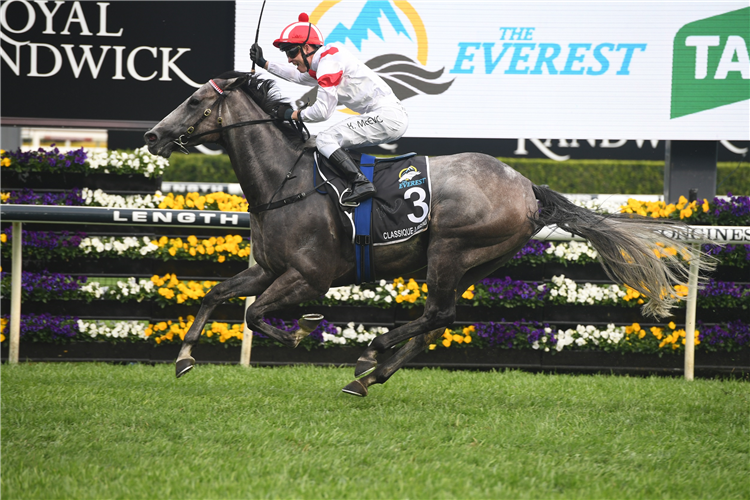 Classique Legend takes out the 2020 #TABEverest! Gun ride from @KPMcEvoy
to take it home again! pic.twitter.com/Zv7HBhoIcw

— Sky Racing (@SkyRacingAU) October 17, 2020

Winning Trainer: Les Bridge
On the win: "I've been telling you for three months, how much start do you want?"
On what makes Classique Legend so good: "One of my greatest friends was Percy Sykes, who I spent a lot of time with, and he said it's all in the genes. Some horses just get all the good genes.
"This horse has got a girth on him that deep and he's just got big a V8 motor. It's unbelievable."
On his future: "He'll still probably go to Hong Kong, we'll see what happens. We kidnapped him last time."
On where the win ranks in his career: "The horse I got the most pleasure out of in my life was Hot Danish, because at the time my wife was dying with cancer and every time that horse won it gave her a lift. So there will never be a horse to replace Hot Danish in my sentiments."
Racing and Bloodstock Manager: Carmel Size
On the horse: "I love him so much, I've been obsessed with him since I laid eyes on him. That is a great horse, we have seen something special today."
"I'm so proud of the horse. To think I bought him as a yearling and I've able to look after him, it's just been the world to me. I might have to retire now."
On the aborted export to Hong Kong: "He was on the flight twice, it got shot down upon me and he came back to me. I just cannot tell you how much this horse means to me."
On Les Bridge: "He has been so confident. We've looked at this horse in the stable since the 21st of March, via a very unorthodox preparation, but gee what a marvel Les Bridge is. He is a legend."
On Kerrin McEvoy: "He is a world class jockey, that's why he's on the horse. I'm just so pleased."

Winning Jockey: Kerrin McEvoy
Thoughts in run: "It was a funny one because I needed to come back behind Trekking to get a slot and then they went quicker. I just had to ride my race. I looked up at the 600m and they were well in front, they were off. I thought 'far out, if Nature Strip and his companions are back to their best they are going to take a bit of running down."
"Full credit to my horse with that cover and that soft time of it early, he was really able to power when I asked him. Soon after straightening I was confident I was going to pick them up."
Thoughts on winning the Everest aboard Classique Legend: "Thrilled to get the horse over the line. Les (Bridge) has pulled a masterstroke off. He has kept him in training from the middle of since July and Carmel has attended to him like a baby. It has been fantastic. It is an unbelievable feeling to win another one."
"Every big win is special. I was lucky enough to team up with Redzel soon after he got racing with the Snowden's. This is a horse that Carmel (Size) threw me on and Les (Bridge) threw me on really early in his career and he showed instant brilliance. I backed him to the hilt from then on to win a good race. Last year was a tough call, I had to stick solid with Redzel and the Snowdens and this horse was a little bit unlucky."
"We've all been on the same page that the horse has come back bigger and better. It is extra special."
Thanking his family/team: "It is great to have the kids growing up and understanding what goes on and what Dad tries to achieve. Kathy (wife) has been fantastic all week. She has been flat out with them (kids) and has allowed me to do my prep and get ready. I've got a big team behind me, I'd like to thank all of them and they know who they are. It is an extra special day."
Thoughts on Les Bridge: "He is a marvel. He has been great. He doesn't say too much, he gave me no instructions. I said what I planned to do which is fantastic from a jockeys' point of view if you've got backing from the trainer and he has trained some champions. This horse is at the top of his list."
Beaten Jockeys:
James McDonald (Nature Strip): "We went good. Crazy tactics by the leader."
Josh Parr (Trekking): "What a fantastic effort from him again. He is an underrated sprinter. He just keeps performing at the highest level. Little rippa."
Sam Clipperton (Santa Ana Lane): "He went super. They nearly went too quick for me. I was in back part of the field probably in the right part of the race. Had too much ground to make up. His last furlong was better than anything in the race."
Nash Rawiller (Behemoth): "Probably didn't around the home turn completely. He was quite disappointing in the run home. He's a better horse than that."
Glen Boss (Bivouac): "He went outstanding my horse. Full credit to the winner. I followed him. He put 3 lengths on me when I was quickening. We couldn't have beaten the winner today."
Jason Collett (Gytrash): "Great run. He was tardy to begin. Tracked into it nicely. I was in top gear most of the way. Really good effort."
Rachel King (Eduardo): "Just burnt himself early."
Tim Clark (Dollar For Dollar): "We were outclassed but we tried hard."
Tommy Berry (Tofane): "Pulled up very bad in the wind. I had the back of Bivouac and I thought they went quick enough to be in the race but there was a clear excuse."
Regan Bayliss (Libertini): "I was in the right spot where the winner was following Classique Legend. We we lined up he put 3 lengths on us. Best horse won the race today."
Brenton Avdulla (Haut Brion Her): "She ran out of her skin. We went along at a brilliant speed. She has a big race in her."