Race Result:
1st: Verry Elleegant (M Zahra/C Waller) - $5F
2nd: Anthony Van Dyck (H Bowman/A O'Brien) - $6
3rd: The Chosen One (D Stackhouse/M Baker & A Forsman) - $61
Winning Time: 2:31.97 Last 600m: 36.97
Margins: Short Neck x ¾L
She's a sensational mare. @cwallerracing gets his first Caulfield Cup as Verry Elleegant wins in stylish fashion from Anthony Van Dyck. pic.twitter.com/RZtnFy9vH0

— Racing.com (@Racing) October 17, 2020
Winning Trainer: Chris Waller
"You think of all the negatives when you've got good horses around you and and I thought that weight, 55 kilos, might not sound a lot to those at home, but I can assure you, Caulfield Cup history would suggest mares with 55 kilos, they don't win very often.
"That just tells you how good she is."
Jo Taylor (Melbourne representative): "I can't stress enough what a big team effort it is. Sydney (team) have done a fantastic job getting her to where she was to get her down here and the team down here has worked tirelessly and really deserve a big win like this."
Endurance athlete: "She's just kept maturing with age. You would imagine she will continue to do that as she steps up and hopefully this year we will head on to a Melbourne Cup. The further she goes, the stronger she seems. She is a phenomenal endurance athlete.
"Mark did a great job. At one stage we were looking like being caught on the fence but he made sure he stayed off. They went really slow through those mid-sections and he kept her out of trouble and she's certainly very tough."
Gives Chris a lot of satisfaction: "Absolutely. It's a race everyone wants to win and it's alluded us. To have this win today it certainly means a lot."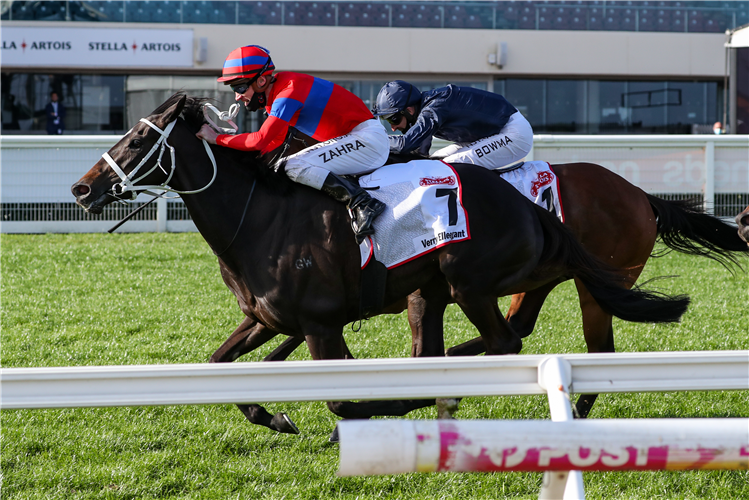 Winning Jockey: Mark Zahra
"All I was thinking across the line was, I took my rein in, this is going to look shithouse. But, nah, it's a great feeling. Gee she's tough when the other horse joined her.
"To win a Caulfield Cup, unfortunately no crowd, but to win a Cup is amazing.
"I don't know if it was my soft hands that did the job. When she gets to 2400 metres the main thing is to get her in a rhythm. I wasn't in a bad spot but the stablemate was putting some pressure on me to go to the fence, which she didn't like, but all I wanted to do was get to the outside and I tried to be a bit cheeky from (barrier) ten trying getting out there but I didn't get there so I had wait.
"I had to give her a razzle up on the turn but, like a say, she was very tough."
How will he celebrate: "Tell the missus to put ten bottles of champagne on ice and I suppose all we can do is drink it together."
Michael Walker on Dashing Willoughby: "Might've injured a muscle or something when he jumped out, he knuckled down. Disappointing."
Jye McNeil on Chapada: "With the weight, I thought with the weight that I'd get going a bit earlier and see if that helps but probably the wrong thing to do in hindsight, but he still ran honest."
Craig Williams on Master Of Wine: "He got into a lovely position. He might've been doing it a little bit keen where he was. I thought we came under fire at the 600 (metre mark), a bit too early for his ability but he made himself feel a bit vulnerable where he was today."
Ben Melham on Buckhurst: "I thought he ran well."
Damian Lane on Finche: "Really good run. The midrace slacken really went against him because I had to get going on him too early into the race because he's not a sit-and-sprint horse. He was so honest. Ran well."
John Allen on Avilius: "He's going super. Had a beautiful run to the home straight and just needed at gap at the top of the straight and it didn't open."
Damien Oliver on Vow And Declare: "He's just not quickening now. He's very one-paced. I think we have to ride him a bit more forward to see if he can keep grinding away that way, because he's just not showing any change of speed."
Billy Egan on Mustajeer: "I thought he ran super. He ran on very nicely. I think he's going well, just not quite up to them."
Daniel Moor on Raheen House: "We had a beautiful run, but not quite wet enough today."
Daniel Stackhouse on The Chosen One: "He ran absolutely super. We probably got the gap a little bit late but he stuck to his guns. Full credit to the trainer and owners."
Willie Pike on Dalasan: "Didn't get a good run but he tried."
Craig Newitt on Mirage Dancer: "He travelled really good but he got put out of the race at 600 (metres). He got stood on his head and wasn't able to recover from it."
Huge Bowman on Anthony Van Dyck: "Great run, superb effort. We had a beautiful run in transit and I got going when it suited me. I thought I had the race at my mercy at the 300 (metres) but all credit to the winner. She's so tough."
Jamie Kah on Prince Of Arran: "Absolutely super. He didn't ealy at all to get across so I had to cop and go back on him, but god he was a big run from the rear of the field."
Declan Bates on True Self: "Travelled great but didn't let down on that soft shifty ground and will improve from the run."
Michael Dee on Toffee Tongue: "We ended up in a nice enough spot. On a steady tempo just travelled quite keen the whole way."
Luke Currie on Warning: "They were just a bit sharp for him around Caulfield. He'll be better on the bigger, flat track at Flemington."