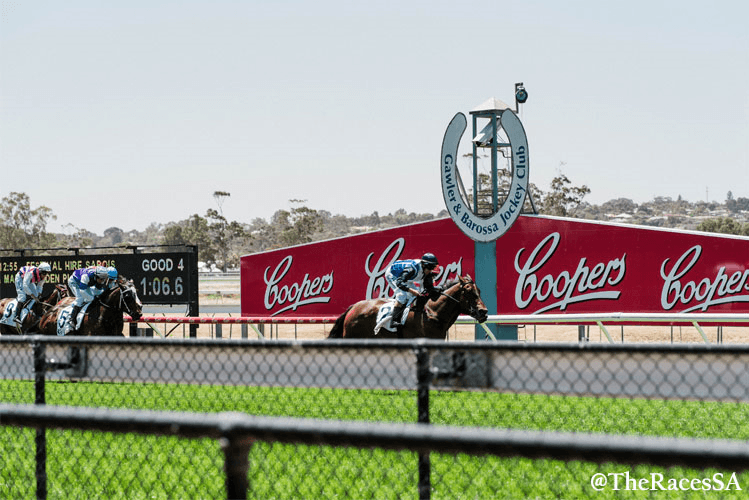 Being under the care of Leon Macdonald and Andrew Gluyas, Another Reward , first up after a spell, will now head towards the Clare Lindop Stakes of 1600 metres during the Adelaide autumn carnival.
After preparing a double at Port Lincoln on Friday trainer Travis Doudle brought up his third winner in twenty-four hours when Brother's Shadow won the 1100 metre two-year-old plate.
Bought as a weanling in New Zealand as a weanling the Kayla Crowther ridden Brother's Shadow was not far off the pace for the entire journey.
Morphettville trainer Jon O'Connor was well pleased with the win of Motell in the 1712 metre third race.
Having the services of hoop Karl Zechner who has ridden the gelding at his three career wins, Motell came from a worse than midfield position with a strong run late in he event.
After putting in a late nomination for the event trainer Peter Nolan was rewarded when his charge Hankstar made it two wins in two starts in the 1506 metre fourth race.
Giving apprentice Stacey Metcalfe her third win since she relocated from NSW Hankstar came from last with a strong run right to win narrowly.
Apprentice Stacey Metcalfe made it a running double when she rode Rock Hard to victory in the 1100 metre fifth race.
Making it two wins in succession the Byron Cozamanis prepared Rock Hard settled well before going on to win.
Trainer Michael Hickmott was full of praise for apprentice Jamie Opperman after he guided Cotillion to victory in the 1200 metre sixth race.
Riding his second city winner Opperman, who shows plenty of promise, brought Cotillion from last to win his sixth race from thirty-four starts.
Stacey Metcalfe is making every post a winning post after bringing up her third winner for the day when May Be Fate took out the 1200 metre seventh race.
A former Victorian performer in the care of trainer Jim Smith for the past twelve months May Be Fate began well and continued in a midfield position before going on to win.
Mount Gambier based trainer Peter Hardacre was all smiles when Damascus Moment took out the 1100 metre eighth race.
Continuing the good run of apprentices at the meeting Sophie Logan put Damascus Moment into a good position before the gelding brought up his fifth win from thirteen starts.
Trainer Jon O'Connor made it two wins for the day when Issara took out the 1506 metre final event.
Giving apprentice Scarlet So her second winner in twenty-four hours after riding Roxy Blue to a win at Port Lincoln on Friday, Issara led all the way.