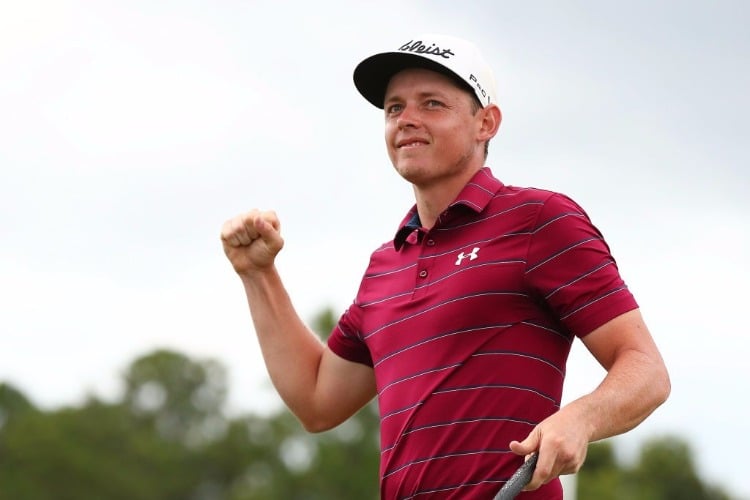 He had power dressed in his Sunday best light maroon but Cameron Smith's distant dream of winning the British Open then sank without trace at Royal St George's as comprehensively as his beloved Queensland's State of Origin hopes.
Recording one double bogey in Sunday's climax might have been considered unfortunate but three proved absolutely shattering for Australia's No.1, who admitted he was left "heartbroken" after suffering a bad break in the bunker at the fifth hole which left him realising his Open dream was over for another year.
Australia's last hope, lying six shots off the lead going into Sunday at six-under par, had been clinging on to the thought that a roaring start might see him take a leaf out of Greg Norman's old book and shoot a score in the low 60s that could even challenge for the Claret Jug.
Smith, who'd put on his traditional Penguin maroon shirt to particularly mark Queensland's mid-week consolation Origin game three win, had reckoned he'd need a 62 to win; alas, he shot 74, the joint-second worst score by anyone on the whole day.
His pipedream began to turn into a nightmare as he first hit double trouble at the fifth hole.
"I made a poor swing (on my drive), just caught a trap and the ball got right up in the lip and I literally couldn't hit it out," he said.
"I even tried to hit it left handed! It stayed in the bunker and then I hit it out in the fairway.
"After that happened, I was almost heartbroken - I knew it was gone."
One double bogey may be considered unfortunate; but three, he reckoned, was probably a car crash, as he made two more at the 10th and at the 15th.
All told, he ended up with four sixes on his card, as he also bogeyed the par-five 14th and the par-four fourth, where his woes all began when a decent approach caught the bowl down at the front of the green and he couldn't get up and down for par.
Smith, to his credit, did keep battling and recovered amid the carnage to also shoot four birdies, including a pair at the 17th and 18th, which was just as well because it looked as if he might even lose his spot as the Open's top Australian to Adam Scott.
Smith's two-under par total of 278 eventually at least earned him that consolation at the 149th edition of the Championships, with Scott, who'd earlier shot a final round 68, ending a couple of strokes behind.
They were the only two Aussies out of the 11 who started the event to even make the cut on what's been a dismal Open for the Oceanian challengers.
He knew it might sound odd after a day like this, but Smith said: "I feel like I'm playing really good golf, like my game's in a really good spot."
Which, Australia's Olympic team must hope, is good news going into Tokyo, where Smith will heading with his mate Marc Leishman after a brief break back at his home in Jacksonville, Florida.
It would, he reckoned, be the perfect place to rebound from this huge anti-climax.