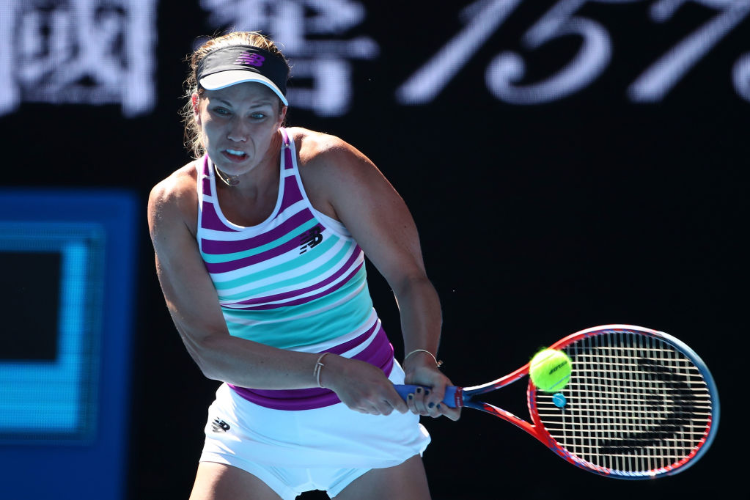 An emotional Madison Keys is relishing the chance to finally cash in on her rich potential after continuing her spectacular summer renaissance at Melbourne Park.
The former US Open runner-up upset Czech fourth seed Barbora Krejcikova 6-3 6-2 on Tuesday to continue her giant-killing run and reach the Australian Open semi-finals for a second time.
Keys had snapped Paula Badosa's unbeaten start to the year in the fourth round and will next face title favourite Ash Barty for a place in the final.
That clash comes after the Australian top seed blew past Jessica Pegula 6-2 6-0 in their quarter-final meeting on Tuesday night.
Keys, a one-time world No.7, slumped to 81st in the rankings after a forgettable 2021 season dogged by injury and self-doubt.
But the 26-year-old is now riding a 10-match winning streak after launching her revival with a drought-breaking sixth career title at this month's Adelaide International 2.
She stands within two wins of an elusive grand slam crown which many tipped the precocious talent would win years ago.
"I think I'm going to cry. It means a lot," Keys said.
"Last year was really hard and I did really everything I could with my team in the off-season to re-set.
"Really to start on zero and be fresh and not worry about last season and, wow, it's gone well so far.
"I'm really proud of myself."
Keys first made the Open semi-finals as a teenager in 2015.
Two years later she lost to great friend and fellow American Sloane Stephens in the US Open title match.
With Barty next on the card, the more mature 26-year-old said she feels much better placed entering her second chance to reach an Australian Open final.
"It mostly feels different because I'm seven years older and it's not my first semi-final of a slam," Keys said.
"I'm a little bit more prepared this time around than I was all those years ago.
"You take the experience out of it. I know I'm going to feel nervous. I know I'm going to be excited. I know all of those feelings are going to be there.
"But it's also a completely different situation, time and person, all of that.
"Take the experience that you have from those moments and you try to apply it, but you also know that it's going to be a completely different challenge."