Kiwi Raider The Bostonian maintained his unbeaten record in Australia by taking out the Kingsford-Smith Cup (1300m).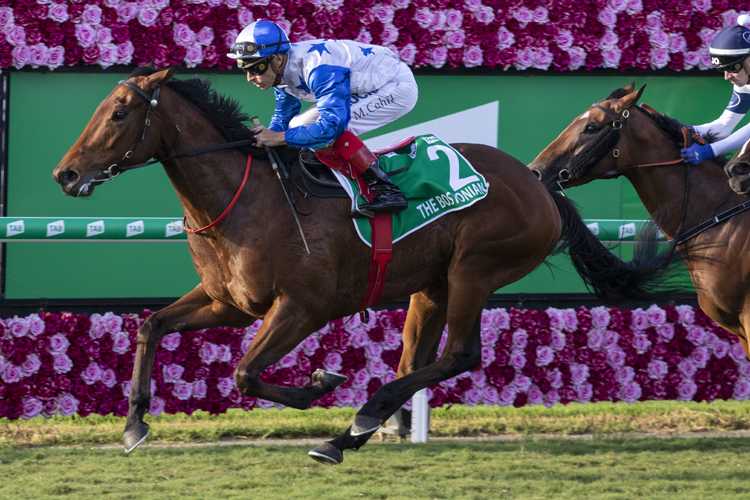 The Bostonian will now look to become the first horse since Thorn Park in 2004 to claim the Kingsford-Smith Cup - Stradbroke Handicap double since Thorn Park in 2004 and the first horse ever to claim all three of Queensland's Group 1 sprint features after resuming with success in the Doomben 10,000.
Connections of Strasbourg are expected to pay the late entry fee for the J.J Atkins Stakes next fortnight after he claimed the Group 2 BRC Sires' Produce Stakes (1400m) while his stablemate Military Zone is surprisingly off to the spelling paddock after an impressive win in the Group 3 Fred Best Classic (1400m).

FP
Silk
Horse, Age & Sex
Sire & Dam
Jockey
Trainer
SP
WT

1st

2. THE BOSTONIAN (NZ) 4yo G


JIMMY CHOUX (NZ) - KEEPA CHEVAL (NZ)

MICHAEL CAHILL
TONY PIKE
$10.00
59.0kg
D L Archer, S C Archer, D J Wright & N N Micarone

2nd

13. PRINCESS POSH (AUS) 5yo M


CANFORD CLIFFS (IRE) - THE BARONESS (AUS)

LARRY CASSIDY
KRIS LEES
$151.00
57.0kg
Australian Bloodstock (L Murrell), Australian Bloodstock No 2 (J Lovett), G Smith, J Mibus, P Harbrow, K Brian, D Doyle, A Jenkyns, S Humphries, W Cook, T Marczenko, K Milne, J Milne, G Howland, Dr P Jeffery, J Cahill, M Harbrow, Pat-Rick Racing (R Tierney) & Bfp Thoroughbreds (J Fairbanks)

3rd

6. TREKKING (AUS) 4yo G


STREET CRY (IRE) - OUTDOOR (AUS)

KERRIN MCEVOY
JAMES CUMMINGS
$5.50
59.0kg
Godolphin
4th
15. IRITHEA (AUS) 5yo M


SNITZEL (AUS) - KIROVSKAYA (AUS)

JAMES ORMAN
BJORN BAKER
$41.00
57.0kg
5th
18. DUBIOUS (AUS) 2yo C


NOT A SINGLE DOUBT (AUS) - SUSPICIEUSE (FR)

MS NIKITA BERIMAN
CIARON MAHER & DAVID EUSTACE
$8.50
48.5kg
6th
8. ENDLESS DRAMA (IRE) 7yo H


LOPE DE VEGA (IRE) - DESERT DRAMA (IRE)

LEITH INNES
TONY PIKE
$61.00
59.0kg
7th
17. OUTBACK BARBIE (AUS) 3yo F


SPIRIT OF BOOM (AUS) - PURE PURRFECTION (AUS)

J LLOYD
TONY GOLLAN
$16.00
55.0kg
8th
3. VICTOREM (AUS) 4yo G


I AM INVINCIBLE (AUS) - PLAYFUL MISS (AUS)

BEN LOOKER
JENNY GRAHAM
$8.50
59.0kg
9th
11. ENCRYPTION (AUS) 3yo C


LONHRO (AUS) - GUELPH (AUS)

COREY BROWN
JAMES CUMMINGS
$17.00
57.0kg
10th
10. PROMPT RESPONSE (AUS) 5yo M


BENETEAU (AUS) - PROMPT (AUS)

R FRADD
CHRIS WALLER
$13.00
57.0kg
11th
14. RINGERDINGDING (AUS) 3yo C


SEBRING (AUS) - MAYBE I (AUS)

JAMES MCDONALD
CHRIS WALLER
$9.00
57.0kg
12th
12. I AM EXCITED (AUS) 4yo M


SNITZEL (AUS) - LADY BECKWORTH (AUS)

BLAKE SHINN
DAVID PFIEFFER
$13.00
57.0kg
13th
9. MAN BOOKER (AUS) 6yo G


DISCORSI (AUS) - MORINE (AUS)

JAKE BAYLISS
D MORTON
$21.00
59.0kg
14th
16. WHITE MOSS (AUS) 5yo M


MOSSMAN (AUS) - PAY MY BAIL (NZ)

KATHY O'HARA
JASON COYLE
$31.00
57.0kg
15th
1. REDOUBLE (AUS) 5yo G


REDOUTE'S CHOICE (AUS) - SPECIAL MISSION (NZ)

BRAD RAWILLER
BJORN BAKER
$51.00
59.0kg
16th
4. CHAPTER AND VERSE (AUS) 4yo G


ROTHESAY (AUS) - MCFLY (AUS)

MARK DU PLESSIS
DESLEIGH FORSTER
$31.00
59.0kg
17th
5. DOLLAR FOR DOLLAR (AUS) 6yo G


HIGH CHAPARRAL (IRE) - PRETTY PENNY (AUS)

JAMIE KAH
TONY MCEVOY
$10.00
59.0kg