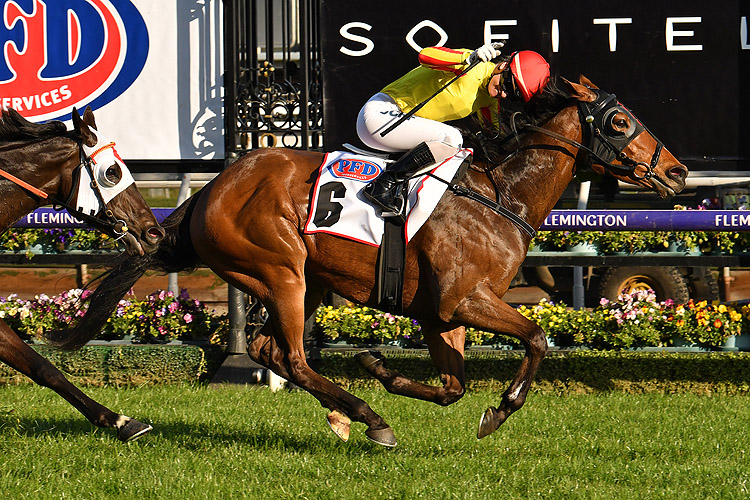 The first thing we all tend to do when something well outside the expected happens - like a 100-1 shot winning the Makybe Diva in good time with an established smart one looking to be without excuses in second - is scramble for the formguide.
Find a pattern or a cause and wrap it all up in a neat little story to help us sleep at night, knowing how this happened. It was obvious! We will back the next Gatting!
Alas, it wasn't, and we probably won't.
That won't do for our recap of the Makybe Diva, though, and so (if only for entertainment purposes) we scramble to the formguide and start sticking some pins in the likely causes.
Gatting ran to a Timeform rating of 120 in winning the Makybe Diva, up 4lbs on his previous peak, which is a little bit surprising but hardly a topple-from-the-chair shocker.
That prior peak was within the last 12 months. A 12 months during which his ratings have been extremely consistent, with a median of 113. Far from the worst in the Makybe Diva field viewed through that lens.
What made it tougher to foresee was that his lead-up run to the Makybe Diva was (judged on Timeform ratings) his worst performance in 24 runs dating back to June 2017. Hardly a harbinger of a new career peak!
But peak he did, and the tempo of the race and star filly Mystic Journey couldn't match either Gatting or her previous Flemington mile form.
We discussed Mystic Journey's fresh win in the Lawrence here.
Ignoring adjustments for pace, that Lawrence win resulted in an overall timefigure of 87. Her time on Saturday was 107. That's a big leap in overall pressure and it may just have caught her out.
The result, back-to-back 114 ratings to start her campaign, well shy of her 124-rated best. But the clock tells us more. We said in the Lawrence Recap that "the bare result indicated and her 124 from the autumn is still within range as she heads into her spring campaign." and we can stand by that for now as she will go into her third up run with a platform, a strong timefigure underpinning her form which should spike.
The eye-catcher in the Makybe Diva was the third-placed Mr Quickie who finished fast and improved from 114 to 116p. His closing speed was more than just a visual. He boomed home and looks capable of breaking into the 120's this spring which is going to see him competitive in a race like the Caulfield Cup if he remains on the rails.
Rostropovich (further) and Night's Watch (easier) were the other two ticks in a race that was Group 1 in name only and probably threw more out of the spring focus than it put into it.
The other performance worthy of scrutiny on the card was the Danehill-winning run of Dalasan - rated 114.
114 feels like little more than a pass mark on the back of the eyebrow raiser first-up in Adelaide but he wobbled about, hardly appearing to use himself efficiently, and it was easy to walk away under the impression that he is learning on the job.
He is bred to get over more ground and that is the path that we will see him on towards the Caulfield Guineas. A rating around 120 is typically required there these days and statistically he is well placed to get right up around there with the ratings profile he has right now.