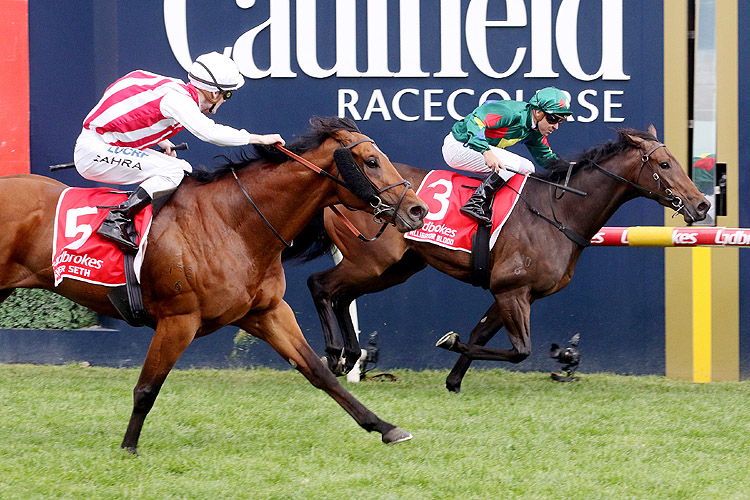 The racing program is evolving fairly quickly at present with races such as The Everest, All Star Mile and a range of metallic Eagles bursting onto the scene alongside races such as the Golden Rose and Ascot Vale (Coolmore) Stakes which are becoming increasingly trendy.
These new and/or evolving races have financial pull not unlike a gravitational pull, dragging large sections of a decreasing horse population into their orbit. Races like the Premiere Stakes in Sydney or the Blamey Stakes in Melbourne have copped a gravitational kick, finding new meaning, but other races are no longer in vogue, and the Caulfield Guineas may be one of them.
The 2019 Caulfield Guineas delivered as a racing spectacle, the talented Super Seth launching late to run down Alligator Blood who looked to have the race in his keeping inside the final 100 yards. But from a ratings point of view it was a substandard edition. Super Seth ran to a Timeform rating of 118. That is good - even very good - but the Guineas has a history littered with winners deep into the 120's.
The writing was on the wall pre-race. Dalasan went in as the favourite and highest rated horse in the field at 114p - the lowest "top-rater" in the modern history of the race.
In fact, since Mahogany headlined things at 118 (and quickly established himself a 128-rated megastar) back in 1993 only one other Guineas has lacked for at least one rated 120 or higher. That was two years ago when Catchy and Royal Symphony headed the field, rated 116.
Mighty Boss won that Guineas, running the lowest winning rating in the modern history of the race, and while Super Seth topped his mark, and looks far more promising, it still speaks to the Caulfield Guineas losing it's place as the spring's three-year-old showpiece.
It's not for a lack of talented horses. The first three home in the Golden Rose are all rated higher than 120, Shadow Hero looks sure to join them sooner rather than later with strong time measures underpinning his current rating of 117p. Castelvecchio and Microphone are still rated higher than 120 on the strength of their juvenile deeds and Funstar and Libertini are part of a group of fillies that look at least up to scratch if not a bit better.
But none of them chose to aim towards the Guineas - formerly an essential stop on the path of any talented three-year-old, regardless of whether their optimum was destined to be over 1200m or 2400m.
Other options are on the table now and there can be a knock-on effect in play. The loss of the sporting contest. Trainers managing their horses towards a flattering C.V. is smart business but it does nothing for contest-hungry punters. Punters want the best against the best as well as the best against a test. A test over trip or ground, or differing formlines.
The other knock on effect might have been in evidence 40 minutes earlier where Cape Of Good Hope, rated 114 in Europe, surged over the top of a much-loved veteran in Black Heart Bart to win a low-rating Caulfield Stakes.
Cape Of Good Hope had posted that peak mark of 114 in a strong and fast French Derby earlier in the year and Saturday's rating of 120 is easy enough to believe on the back of that. What is disappointing is that there was nothing from the home team that could leap that relatively low bar.
Avilius is the best we can muster and he was unable to run to his peak of 125 with the run of the race going against him somewhat. It wasn't a total black mark against his name, even though punters who backed him could be excused for thinking so, but it was a bit of a black mark for our middle-distance ranks.
The question of course, is where is the new blood? The answer - they have "popped up" in Sydney. The three four-year-olds rated higher than 120 ignored the call of the Caulfield Stakes and/or Cox Plate to climb mountains and chase eagles elsewhere.