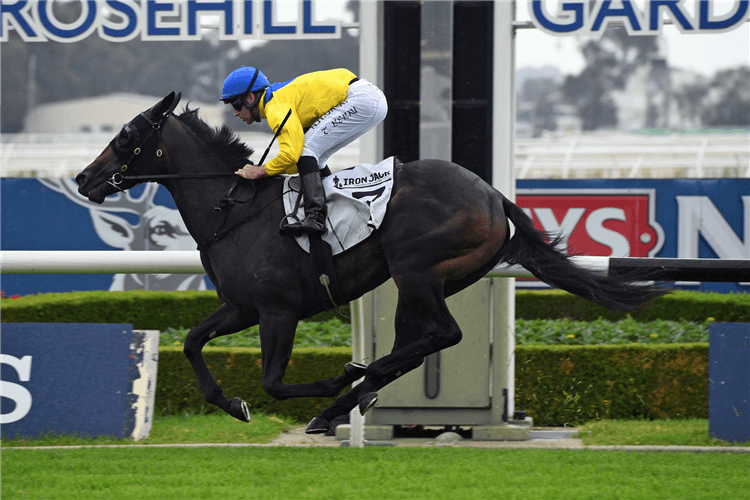 Cellsabeel ran to a Timeform rating of 111+, the best recorded by a two-year-old this season, and she did it as though she had gears to spare - ominous for the rest of the division as the season starts to hot up towards the Golden Slipper.
In the preceeding decade just four two-year-olds have posted a greater winning margin on Sydney metropolitan racecourses which, simple a stat as it may be, does a good job of illuminating the dominance of Cellsabeel's Rosehill performance.
Those two-year-olds were Cosmic Force, Furnaces, Romantic Touch and Saramenha. The last named failed to train on, but the other three were group winners subsequent to their wide margin wins.
That's a small sample, and not something to draw up conclusive opinions on the back of, but those of a Bayesian bent can use that sample to arrive at an estimated prior chance of Cellsabeel going on to win a group race of 75%.
If we bring Melbourne metropolitan tracks into the fold we add just one more beyond Cellsabeel's six lengths, Mulaazem, and two that equalled the six-length winning margin in Petits Filous and Fontiton. Three more subsequent group winners and a prior heading up over 85%.
Of course, a Timeform rating of 111+ also goes a long way to predicting group success. Many group races are won with lower ratings than that and Cellsabeel hardly looks maxed out at that level having had just two starts.
Not only did Cellsabeel rocket to the top of the juvenile leaderboard on Saturday but she added another high quality mare to the table in the process.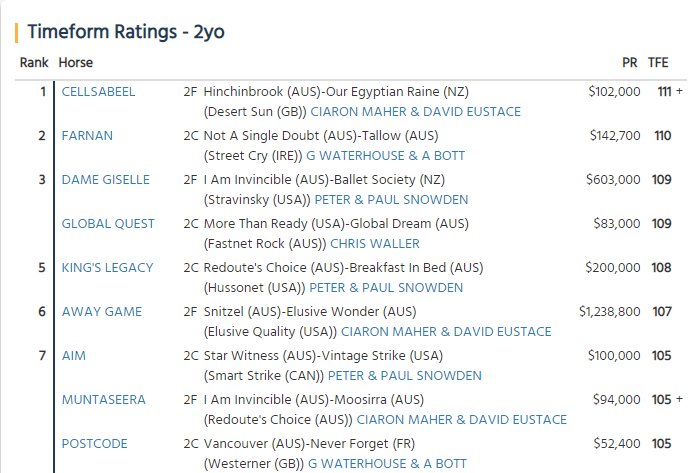 Cellsabeel is out of the 119-rated Our Egyptian Raine who was a Group One winner in New Zealand placed at the top level nine times in Australia for Grahame Begg.
The addition of Our Egyptian Raine to the leaderboard drags the average rating of dams at the top of the current two-year-old tree beyond two standard deviations from the overall dam average.
We can say that the top ten two-year-olds (with raced dams) are exclusively the product of the top 2% of the dam population as judged by Timeform ratings.
This highlights the importance of dams who have a much wider range than the stallion population which is almost exclusively made up of high-quality racehorses.
Having a consistent and thorough measure of the racecourse performance of dams may well be one of the most important variables when looking for future talent.