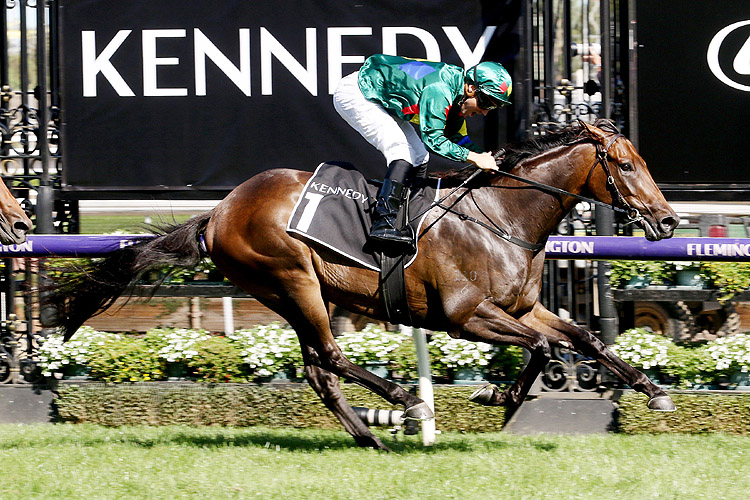 The 2020 Australian Guineas was billed as a rematch between C.S Hayes 1-2 Alligator Blood and Catalyst, but the kiwi faultered and left the occasion to turn into a coronation for Alligator Blood, who made all the running to record his tenth win in eleven starts and further pump up his Timeform rating to 123.
Only Heart Of Dreams and Reset (and Starcraft running second in the same year) have posted a better number in the Australian Guineas - so it stands up as a performance of note.
The last time we checked in with Alligator Blood - which you can read here - we were referring to him as part of the 'next wave' and guessing as to whether or not he could make the step into the top handful on our leaderboard.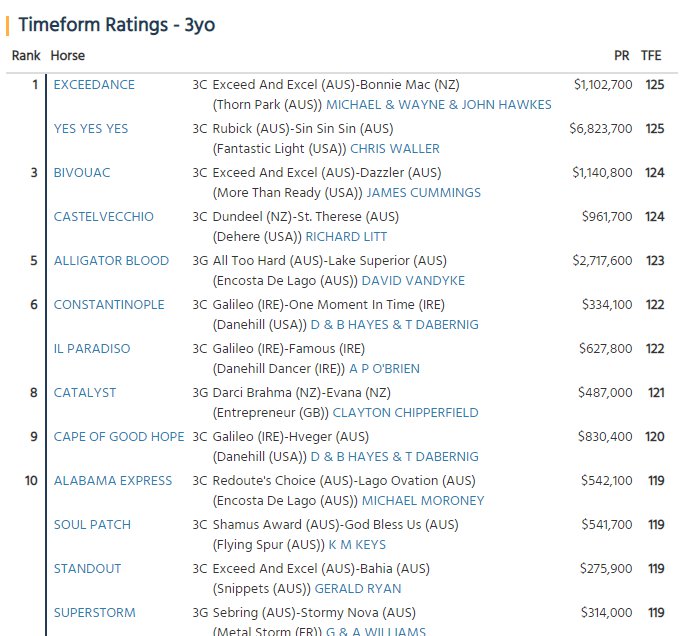 There is now little doubt that Alligator Blood belongs at the top table but for many he should be seated at the head of it not still sitting on the heels of the big sprinters. Traditionally this would be fairly normal - that we sprint well in Australia is well known to the point that it is largely overplayed - but the Alligator is front of mind. What have you done for me lately Exceedance?
In our earlier look at Alligator Blood we used the idea of the Monte Carlo Method to change the way we looked at these rankings, attempting to reward consistency as well as peak performance, and when Alligator Blood played with the top end of town he came out on top just 2% of the time.
Since then Yes Yes Yes has turned it in and Bivouac has made an unconvincing return - albeit with excuses and he was far from terrible - in an Oakleigh Plate - while Alligator Blood has gone from strength to strength.
10,000 races later, using the same method, and we see Alligator Blood on the rise.

As Matt Hill pointed out in his typically wonderful call on Saturday, Alligator Blood had a 'pocket full of aces' when the chips went down in the Guineas, but when it comes to our mythical match race it's Exceedance who holds the trump card. When his 125-rated Coolmore-winning marble gets pulled from the pot the rest can't match him - he wins.
Consistency gave Bivouac the edge over Exceedance when we ran this in January but his run in the Oakleigh Plate puts another very beatable marble into his pot and sees him slide back behind Exceedance ahead of what is hopefully a return clash in Saturday's Newmarket. The ledger in the real world sits at two apiece and now the Monte Carlo Model falls in line.
Exceedance benefits here not just from his 125-rated trump card but also the fact that he has been sparingly raced. That front-of-mind factor (more trendily labelled 'recency bias' but that is becoming trite (a bit like Monte Carlo perhaps...)) no doubt plays a role in Alligator Blood being held in higher regard by many but it's a meaningful factor. Recent form should carry a bit more weight.
And so the stage is set for the sprinters this weekend. There's an Alligator lurking, he is on the rise and he wants top spot - and he might just deserve it.