To call the Newmarket one of Australia's great races undersells it. It is one of the world's great sprint races and has been home to a string of globally significant performances in recent times. Black Caviar and Hay List won the race with ratings of 135 and 132 respectively - good enough to be champion sprinters in any jurisdiction - while Lankan Rupee's 129 and Miss Andretti's 126 are others that spring off the page as being 'world class' for whatever that means.
Miss Andretti went on from Newmarket success to win away from home, as did Scenic Blast and Takeover Target, while Merchant Navy, Buffering and Starspangledbanner all came up short in the Newmarket before advertising the strength of the form with wins around the world.
That sets the scene for Bivouac. His winning performance on Saturday returned a Timeform rating of 127, a match for every three-year-old to have contested the race since Placid Arc ran to 129 all the way back in 1987.
2008 winner Weekend Hussler also ran to 127, as did Fastnet Rock in 2005, despite running second to Alinghi, but none have been better in the last 33 editions of the great race.
Schillaci, Exceed And Excel and Brazen Beau all ran to 126 and Schillaci did that while rated 128 - so there have been others essentially as good or better - but it doesn't take away from Bivouac who posted a performance of historical note.
As well as marking Bivouac down as one of the best Newmarket winners, a rating of 127 also sees him regain his place at the top of the three-year-old leaderboard in what continues to prove a hot year for the classic generation.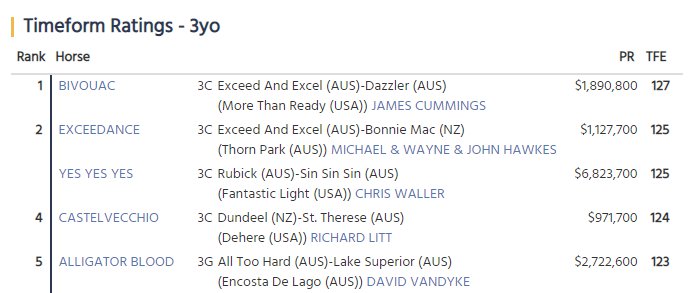 We've written plenty about the strength of the current three-year-old group, and that cat is well out of the bag now, but it is worth noting that they are maintaining the positive trends identified here and there is no reason to think that they won't continue to do so.
The trends of the past don't gaurantee anything in the future but as Mark Twain said (or didn't say, depending on what website you check) "History doesn't repeat itself but it often rhymes". If the three-year-olds continue to rhyme with the past we can expect to see a few more burst through the 120 barrier in the coming weeks, perhaps another joining Bivouac and co at 125 and beyond, and that is going to equate to quite a few more major wins against the older horses.