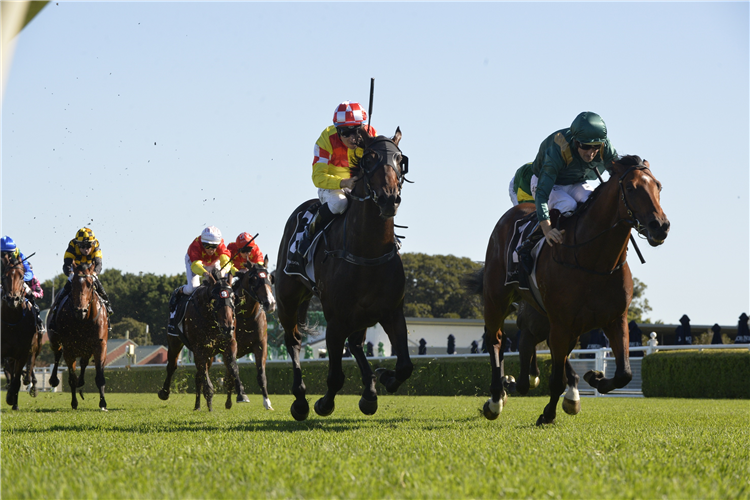 Five races for two-year-olds over the three weeks went the way of four horses. King's Legacy (rated 116) won the Sires and the Champagne, while Away Game (114+), Doubtland (112+) and Untamed (107) picked up the Percy Skyes, Kindergarten and Fernhill respectively.
With those performances front of mind, the Champion Two-Year-Old debate ignited and once again the poor ratings nerds are in line for a public bashing.
Fair enough, ratings nerds have a shocking habit of acting as though a rating (essentially a translated race result) is a product of their personal genuis rather than the product of a framework driven by simple axioms.
Timeform's current two-year-old leaderboard stands as follows: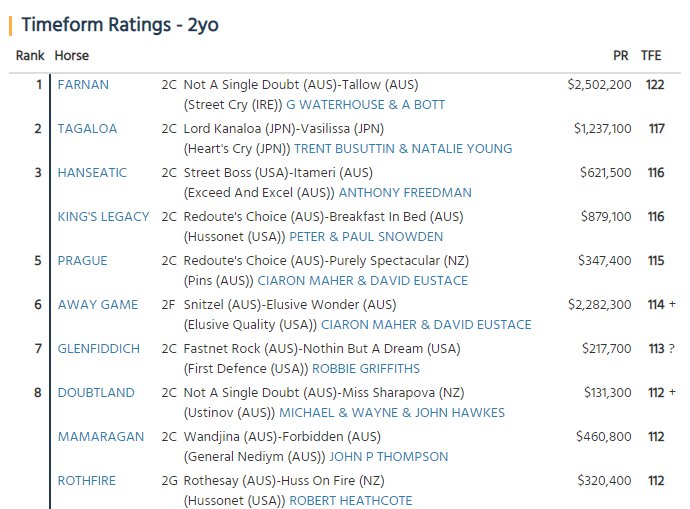 Many point to Away Game's consistency and would find it outrageous that Hanseatic (or even Tagaloa) could be rated above her. She's an iron filly for goodness sake - can't you ratings geeks see that?!?
Our Australian Guineas Recap - which you can read here - looked at the idea of picking randomly from each horses array of ratings to come up with a set of rankings that goes a little deeper than just peak performance.
Taking our top two-year-olds and simulating 10,000 races, where each rating from their last five is equally likely to be picked at random, recognises that there is more to these horses than their best performance. They are a series of performances and there is something to be taken from each of them.
Farnan is still the Champion Two-Year-Old viewed through this lens. He pays the price for his off day at the Gold Coast, losing each time his Magic Millions marble is randomly drawn, but he but he wins each time his table-topping Slipper marble comes out and he wins plenty of races with his high-rating Silver Slipper and Todman performances as well.
Away Game is rewarded for her consistency. She was beaten by the two colts in the Blue Diamond (funky track, can't be taken literally etc etc etc) but kept turned the tables on them in the Slipper and she keeps on keeping on. They get their wins when things fall their way, as Caulfield showed, but she wins more than they do - as subsequent form has gone a long way to showing.
Ultimately, this seems a more robust and thorough way of looking at the ratings and coming to a meaningful conclusion. Barring something happening between now and August 1, Farnan is the Champion Two-Year-Old. The ratings nerds are right, (cut them some slack, they are punters too...) but it may not be as black and white as their lists and rankings appear. There are some shades of grey about - especially when we consider more than just peak performance.