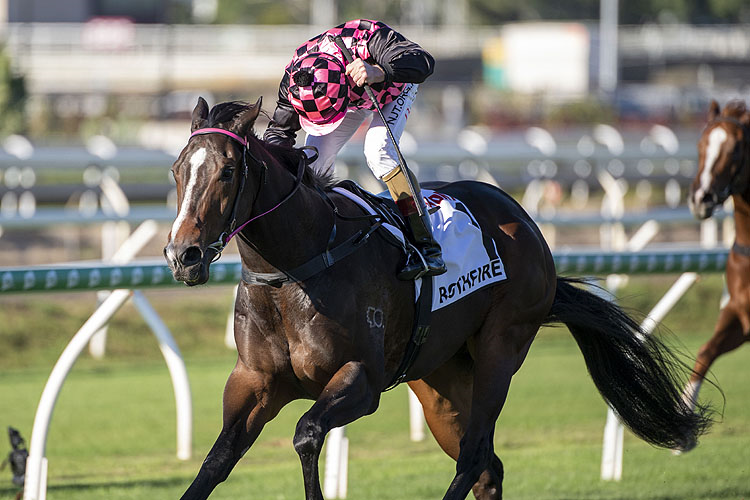 2020 Stradbroke Day was a good one for the locals. Not only did they dominate their famous handicap, with Tyzone a popular winner, but they also uncovered a potential star for the state in Rothfire who returned a Timeform rating of 117+ in winning the J J Atkins by a wide margin and in slick overall time.
Uncovered is probably a stretch. The Rothfire cat has been out of the bag from very early in the season when he strung wins (and fast times) together over the summer before being aimed at the Brisbane winter carnival - a move that went from smart to genius when a global pandemic shrunk the Atkins by 200m to a more Rothfire-friendly 1400m.
But we did uncover something important on Saturday. We found that Rothfire is more than just summer speed. He is a sprinter of substance. Not just for winning over 1400m but for doing it the way he did - with strength. They went fast and he kept going, putting a gap between first and second that has been bettered just once in the 20 years since Show A Heart. In the process he recorded a time figure of 117 which underpins a good looking piece of form, adds a plus to his rating, and adds more than just hope that he is one destined for the top shelf for the Queenslanders who have been crying out for a good one.
A rating of 117 matches the Blue Diamond winner Tagaloa and, barring something way out of the box in the next six weeks, leaves just Farnan rated higher among the two-year-olds.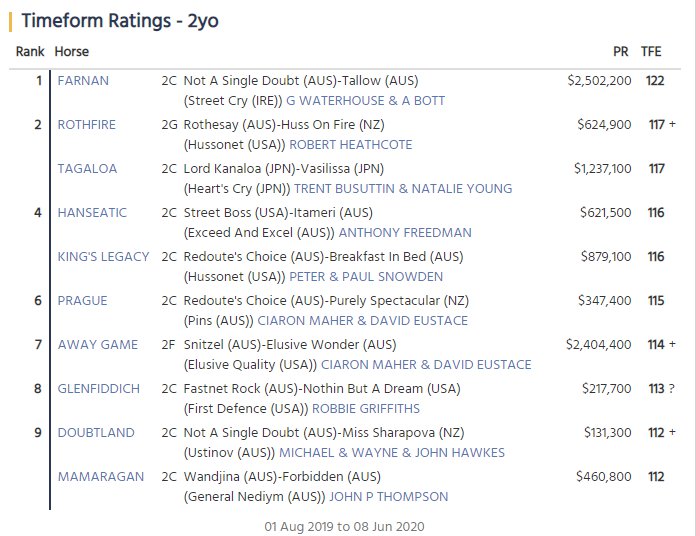 That 117 also makes him the best winner of the JJ Atkins since Benfica back in 2011 and there have been plenty of good ones come through the race in recent years. The Atkins has been doing its job, throwing up half-a-dozen that have gone on to win a Group 1 in the following season, in the past decade.
That output is still below the other four juvenile Group 1s. The Golden Slipper has produced eighteen subsequent Group 1 winners in that time. The Champagne fourteen, ATC Sires thirteen and Blue Diamond nine. But the Atkins' six (Shadow Hero, The Autumn Sun, Aloisia, Press Statement, Brazen Beau and Zoustar) have all been noteworthy and Rothfire has outrun them all in the Atkins itself - he also hasn't been bettered in Brisbane's Sires Produce in that timespan which is made more relevant by the change in distance this season.
We can see the further significance of that 117 rating when casting our gaze beyond the Tweed.
In the ten preceeding seasons there have been 33 two-year-olds rated 117 or better, the vast majority earning their place on that list via the Golden Slipper, Blue Diamond and ATC Sires. The exceptions, a subset now joined by Rothfire, are an interesting lot.
There are six of them. Three went on to win Group 1 races the following season. Three did not. Hits and misses, as expected, but the hits appear to hit hard. Epaulette and Kiss And Make Up are part of this group via the Todman. Hit and a miss here - though Kiss And Make Up was injured and never had a chance to join the hit list.
All Too Hard and Exosphere are there off wins in the Pago Pago and the Skyline and both developed into top class three-year-olds rated 129 and 127 respectively.
Rubick is the lone runner to make the list with a run outside of stakes company, running to a sizzling 119 in a Randwick handicap on debut. He was unable to win at Group 1 level but did still manage to improve to be rated 122 at three.
Perhaps the member of this group most relevant to Rothfire is fellow Queenslander Sizzling who ran to 117 winning the BRC Sires before winning the Atkins.
He was the one that couldn't match his two-year-old rating at three where he was unplaced in four attempts at Group 1 level and rated 114.
Looking at this group, and a slightly wider set of similar, the expected change in rating from two to three would be between 5 and 6 pounds to the positive. Such improvement would see Rothfire land between 122-123 next term and if he's that good it's fairly likely that his trainer will find a Group 1 out there for him. After all, he was clever enough (and patient enough) to find seven such opportunities (hunting across six racing juristictions to do so) for his stable champ Buffering. And that was with a couple of fairly large road blocks (more commonly referred to as Black Caviar and Hay List) getting in his way.
Getting back to this season, one drum we have been beating on these pages is the value of considering more than just a peak rating before throwing around labels such as best or champion.
Farnan is the Champion Two-Year-Old in Timeform's view and he earned that title by producing the best performance by a juvenile in Australia this season in the Golden Slipper.
However, as we discussed here there is more to be considered than a single peak performance and there is merit in taking a complete series of performances and viewing them via Monte Carlo simulation.

Taking this season's Group 1 winning two-year-olds and simulating 10,000 races, where each rating from their last five is equally likely to be picked at random, Farnan remains our champ. But this method paints Rothfire in a good light.
These percentages could of course be considered (roughly) prices in a mythical race. Farnan ~evens, Rothfire 7/2, Tagaloa 11/2 and King's Legacy 7/1.
That's a race worth tuning in for and I suspect Rothfire would be as popular as any at that price.