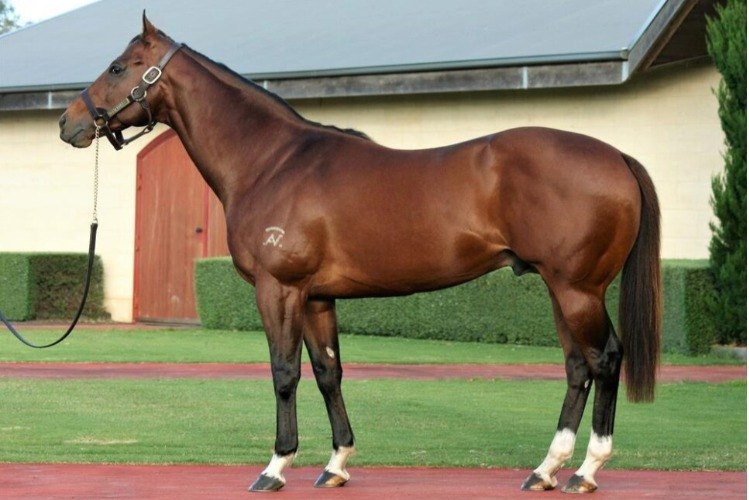 The first meeting of the new season and still in essence a 2YO (DOB: 25/08/2017), Clairvoyance proceeded to dominate her rivals and didn't miss the clock either.
A handy debut winner back in July, she did it easily and while still quite raw, I don't think many, if any anticipated the improvement she showed on Saturday.
Rated 78 off her debut win, she improved significantly to run 105 on Saturday, a very high figure this early in the season.
Click her to read the WA 2YO recap
At the same point that sees her rated above Kay Cee, Arcadia Queen and Perfect Reflection, all of which went on to win the Group 1 Kingston Town Classic as three-year-olds.
The pronounced first winner for Rosemont freshman stallion Nostradamus, Clairvoyance is one of only a handful to step out, 17 so far.
While a fairly low Winter meeting, her time stood out like a beacon and however you slice it, it was fast, very fast.
Ridden perfectly by Chris Parnham, she led throughout, giving her rivals little chance.
The well supported Panzdown ($1.50) was given a gun ride by Pike, but found little when Clarivoyance put on the afterburners.
Panzdown stuck on well to finish second, five lengths adrift with a further two lengths back to Starfield Impact in third.
One of the better two-year-old fillies last season (rated 97), Starfield Impact won the Group 3 Gimcrack Stakes [1100m] and while giving weight away, Clairvoyance still beat her by 20 pounds.
The only slight niggle is that we are yet to see her beyond 1000m, it is a specialist distance range.
If she is able to replicate this level of form out to 1200m, Darren McAuliffe has a very promising filly on his hands and could find herself in the Winterbottom Stakes at the end of the year if able to continue her upward spiral.
An easy comparison to make is the Jim Taylor trained Barakey who won the Group 1 Winterbottom Stakes [1200m] back in 2012.
Unbeaten from his first 11 starts, Barakey rounded out his career rated 121 by Timeform, it took him six starts before he was rated 105.
Another comparison is the Simon Miller trained Whispering Brook, she started her career earlier than Clairvoyance and was rated 109p when unbeaten after her two-year-old season, she was rated 103 after two starts.
She went on to be Group 1 placed in the Thousand Guineas [1600m] and rounded out her career rated 114.
Stevie Wonder marked Clairvoyance down as one to follow after Saturday, we get it, but the historical significance of her rating is evident, can't wait to see her step out again!

Vale Harvey Crossman Plate
Age: 3yo Type: OPEN
FP
Silk
Horse, Age & Sex
Sire & Dam
Jockey
Trainer
SP
WT

1st

4. CLAIRVOYANCE (AUS) 3yo F


NOSTRADAMUS (AUS) - DANCE ON AIR (AUS)

CHRIS PARNHAM
DARREN MCAULIFFE
$4.25
56.0kg
Impressive Racing Pty Ltd (Mgr: K S Berry), C Flett, C S Harms, T L Murray, Mrs D R Abel, S J Artemis, C M Perkins, Ms S M Carroll, Ms K J Reid, B M Wood, Ms A Evans, I J Townsend, W Watson, K A Sheppard, Mrs C Sheppard, Mrs D N Pratt, E Pratt & E W Pratt

2nd

2. PANZDOWN (AUS) 3yo G


PANZER DIVISION (AUS) - MOONRUSH (AUS)

WILLIAM PIKE
SIMON A MILLER
$1.53
57.0kg
R A Griffiths, M J Griffiths, J Zito, G Zito, M Zito, R Zito, R C Castle, Ms R A Fitzgerald, B M Lyon, Ms M L Stephenson, B Jokich, Mrs L L Sinclair, B R Sinclair, J P Brennan, Mrs E P Brennan, P D Sangalli, W M Jolly & J Sangalli

3rd

1. STARFIELD IMPACT (AUS) 3yo F


DEMERIT (AUS) - STARFIELD IMAGE (AUS)

JASON WHITING
M SANTICH
$12.00
60.0kg
M Santich & Miss T A Brown
4th
8. HOW'S THE SERENITY (AUS) 3yo F


MAGNUS (AUS) - SWEET SERENITY (AUS)

CHLOE AZZOPARDI
SIMON A MILLER
$9.00
53.0kg
5th
9. REGUARDLESS (AUS) 3yo F


SAFEGUARD (AUS) - HART TO TRADE (AUS)

BRAD PARNHAM
ADAM FAIREY
$51.00
54.0kg
6th
7. JANAURA (AUS) 3yo F


SAFEGUARD (AUS) - COMME CI (AUS)

RYAN HILL
P H JORDAN
$21.00
55.0kg
7th
6. RACE FOR GOLD (AUS) 3yo G


SEALYNX (AUS) - LADY GIGGLES (AUS)

SHAUN O'DONNELL
CAMPBELL MCCALLUM
$101.00
56.0kg
8th
3. MINDARIE (AUS) 3yo F


SAFEGUARD (AUS) - CLARECASTLE (AUS)

CRAIG STAPLES
P H JORDAN
$61.00
56.0kg