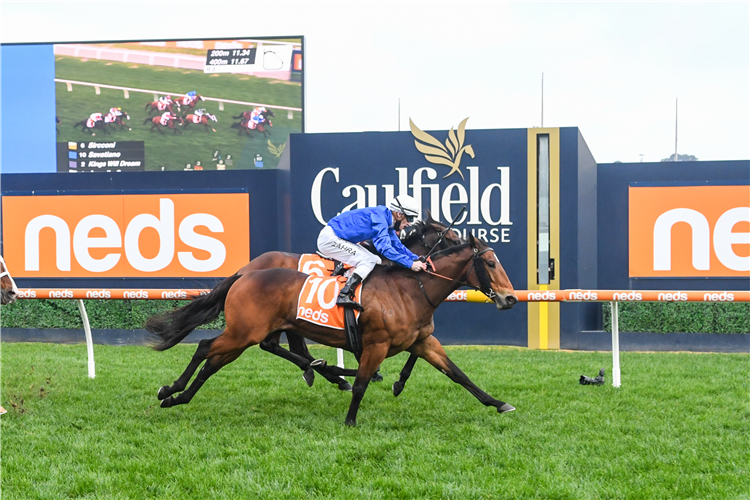 There isn't a great deal to be taken away from the 2020 P.B Lawrence Stakes which clocked in as a substandard edition of the race despite having the make up of a much better contest than that.
Pace makes the race they say ('they' are on to something) and it made for a muddling contest this time - several noted 'on pacers' being waited with rather than pressing on allowing for a slow/fast(ish) pattern to unfold.
Such a set-up plays against superior horses - if we take superior to mean those who can sustain maximum effort for longer. If I was going to race the (slightly) superior runner Usain Bolt I would expect to finish closer to him in a race where we walked side-by-side for 95m and dashed the last 5m than in an end-to-end gallop over the full 100m.
Of course, this is hardly uncommon in these early season contests which are typically loaded with good horses running below their best.
In fact, 2012 winner Second Effort is the only horse in the past decade to win the Lawrence with a new career peak rating while Miss Rose De Lago and Shoot Out matched their prior peaks in 2016 and 2010 respectively.
The 2020 winner, Savatiano, is rated 117 but only had to run to 111 to edge out Sircconi who was about as good as he has ever been running a race-high 114.
Pace or no pace, that Sircconi was the highest rated performance in the race is some sort of query on the form.
That's no pot shot at Sircconi. His career-best 115 came over the Caulfield 1400m beating a subsequent Group One winner in Dreamforce in a fast race and trainer Nick Ryan has got him purring at present. But the Lawrence is set up as a lauching pad to the top. The expected improvers from behind him are being aimed at Cups and Plates not Winter Championships.
Closing splits point to King's Will Dream and Cascadian being every bit as good as the first two home, but drift further back than fourth and there really isn't a great deal to get excited about.
Arcadia Queen was hardly fancied to be at her best off an extended, setback-enforced stint on the sidelines but deep down most must have been hopeful that the mare (rated 121 with the promise of more to come at the peak of her powers) would surprise on the upside. Grabbing the 105-rated Morrissy late on didn't do that. Solid but certainly unspectacular.
Similarly, Mystic Journey was out to stamp herself back in business for the spring but failed to do so. The race hardly panned out for her but she was beaten well before an awkward spot in-running was taking it's toll. She produced a rating below 100 for the first time in two years.
And the second All-Star Mile winner in the line up, Regal Power, posted his first rating below 100 in 18 months - back when he was promising but a winner of just one from nine and a long way from establishing himself as the horse that we saw peak at 122 in the summer.
And so the best horses from the Lawrence charge on into the spring with a lot of ground to make up and perhaps thankful that the international challenge will be tamed by the pandemic.
They may also take some comfort in seeing the early three-year-old contests also largely underwhelm. On the whole last seasons two-year-olds were a thin bunch. Farnan was a good champion but there wasn't a great deal below him and nothing from the Vain or Quezette looks obviously better than the early-season sparring we saw on Saturday.
Our Playboy closed like he might be a bit better than the result, but that result was a rating of 101 which is lower than all bar one of the ten preceeding editions of the race and a lazy 18lbs slower than Bivouac 12 months ago.
Coincidentally, it's also just one of the past ten Quezzettes that have been won with a lower figure than the 103 that Bella Nipotina produced to beat an evenly-matched lot of fillies fairly decisively on Saturday.
Her win was backed up by a relatively good overall time in a well-run heat but she was the most exposed filly in the race having her eighth start and the runner-up River Night was next in terms of prior opportunity having her seventh start. Neither look like developing into a top-liner in the near future and none of those behind them have any reason to think that the result didn't do them justice - with the possible exception of the bunny-hoppin' Parlophone. Though even with her manners her peak rating of 102 makes her no better than Bella Nipotina.
So that's a lot of cold water thrown on a meeting that set out to launch the spring carnival. But the positive vibes came strong in the last with the sharps, shrewdies and sectionalistas pinning their hopes on the cerise, the white and Willie Pike. Showmanship blasted home to win the last and stamp himself as a spring force. Or did he?
Maybe... Showmanship is rated 102+ but he was rated 93+ after just one start. He is heading the right way, but it's not a vertical spiral, and the handicapper has allowed him to play the bully up to this point.
He was good late on on Saturday, and looks better than the level - but that level was an off-season BM84 and Junipal (rated 105 at his best and fairly useful) is just about as good as him based purely on Saturday's result.
If he is to give up the comfort of a friendly handicapper and take on the Memsie at weight-for-age he won't be able to leave promise on the sidelines. The '+' in 102+ will need to be put to work - and fast.
As it stands, Showmanship is grabbing more headlines than his stablemates, the Brothers Storm. But those brothers (who aren't brothers...), Superstorm and Windstorm, are springs coiled far tighter than Showmanship in our view and heading into a carnival where (as the above article has pointed out ad nauseam) there is a gaping hole at an underwhelming top end of town they are the ones most likely to carry punters (and the great W. Pike) to glory.