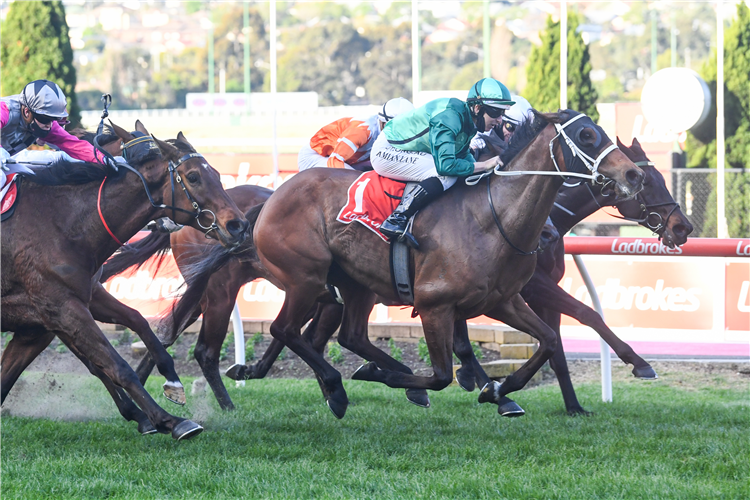 The Feehan Stakes has evolved in recent years. Pattern changes, upgrading the Memsie and the Makybe Diva Stakes, have seen the Feehan slip into a poor-cousin role among the early spring weight-for-age races.
For many, that the 2020 edition was won by an eight-year-old Humidor, long in the tooth and surely well past his best, was another knock on the race.
The Feehan, like horse racing in general, footy, and music, just ain't what it used to be. Well, either that or we're just getting older, fatter and nostalgic. Our sight is going and so we must look through glasses. Typically rose coloured ones.
Every generation finds themselves yearning for yesteryear at some point. Back in 2007 (just before music was broken) the Kaiser Chiefs released the cracking little tune Everything is average nowadays, bemoaning everything 'going down the pan'. Google tells me this was specifically about modern franchise pubs and if that's the case they were right to complain about it, but they were wrong about the Feehan at least, which was in the midst of a golden age.
2007 saw El Segundo produce a high-rating performance to knock off Haradasun en route to winning the Cox Plate. He was the fifth Cox Plate winner through the Feehan in eight years and in 2008 Maldivian made it six from nine.
Whobegotyou didn't win the Cox Plate but he produced two of the biggest winning ratings in the modern history of the Feehan in 2009 and 2010, capping that vintage era for the race.
In nine years since it hasn't looked like throwing up a Cox Plate winner. It just ain't what it used to be - especially through those rose-tinted glasses.
But what if we take them off? All of a sudden an aging Humidor winning the Feehan isn't such a blight on Australian racing. It's the opposite. He's a throwback.
Before the Feehan's 'golden age' began with Sunline in 2000 there was another Cox Plateless decade right back to Better Loosen Up in 1990.
That decade played host to plenty of the racing that the 'back in my day' brigade hold dear. Including me it must be said...
What made it great? Australian racing at the time was built on the back of the tough and the versatile. Ageless warriors that would front up for everything. Horses like Humidor...
The greatest race of all, the 1992 Cox Plate, was won by a star in Super Impose. Like Humidor he was eight and he had just snapped a losing streak of nine winning the Canberra Cup (in front of an impressionable young me, a full year younger than Super...)
Three times in his career Super Impose was able to come back from droughts of nine to return to winning ways. A blight on the weight-for-age ranks of the time? Only through rose-tinted glasses. "Tulloch would have belted him..."
Black Caviar and Winx may have changed the way we view horses slightly. Twitter (the modern betting ring complete with touts, punters and pundits) lights up with bursting bubble memes if a good horse loses once let alone nine times. How many times would the modern punter have tried to put the pen through Super?
Humidor may not quite be Super Impose (so please don't write in) but he's a Group One winner at 1400m, 1600m and 2000m, he's placed in two Cox Plates and tackled Caulfield and Melbourne Cups as well as Doncasters. And he's still going.
In spite of all of this it seems inevitable that the Humidor equivalent of 2040 (Chinese Year Of The Cox Plate I believe...) will be scoffed at by those who are in their formative horse racing years now. "These horses couldn't hold a candle to the horses back in my day, when Cox Plates were real races between real horses like Winx and Humidor!"
Saturday's win wasn't the high point of his career (his Cox Plate second, under as good a losing ride as you will ever see from Blake Shinn, behind Winx holds that honour) but a Timeform rating of 116 is up to standard for the modern Feehan.
There was a 'swap the runs, swap the result' feel about Humidor and Surprise Baby who kicked off his spring with an eye-catcher in the Feehan for the second straight year. Surprise Baby ran to 112+ last year and 115 this time around. He looks to be back at least as well as ever.
Third placed Harbour Views also ran well, taking a step forward on his form to date, and his closing speed says he was anything but flattered by his close up finish. Talk of Cox Plates seems fanciful but this return says he is still on the rise and he should be up to mauling a nice handicap or two over the carnival given the way he saw this out.
Ultimately, those closing splits point to Humidor being full value for his win. It's unlikely that he will recapture his very best but his strongest piece of form in two years puts it within range which is a big bonus for the spring carnival. A carnival where his addition is a boon not a blight.