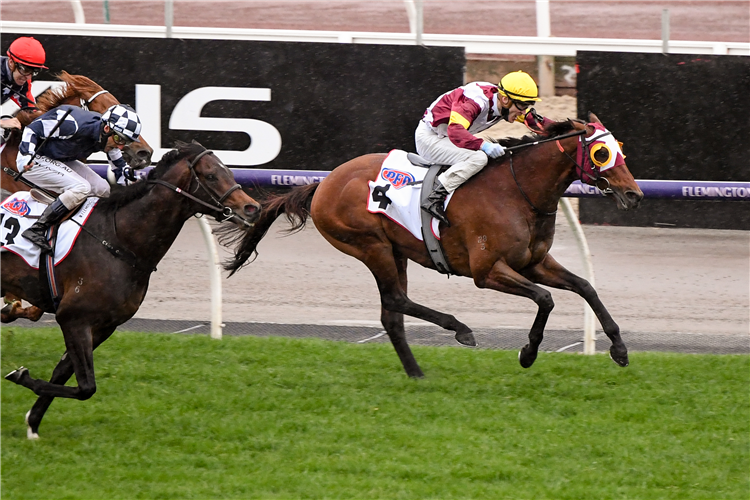 We're now a month in to what we could loosely call the Spring Carnival. From the Lawrence to the Makybe Diva.
Some things have changed. It's getting much harder to win - a month ago a Timeform rating of 111 was good enough to see Savatiano win the Lawrence and on Saturday Fierce Impact ran to 121 to win the Makybe Diva.
And some things have stayed the same. The Lawrence was run at a crawl and so was the Makybe Diva.
A steady tempo didn't prevent the 2020 Makybe Diva Stakes from rating well up-to-scratch. Fierce Impact completed a clean sweep of Melbourne's open Group One miles having also won the Toorak and Cantala in a 12 month stretch where he has established himself as one of the country's premier milers. Five runs over the mile in that timespan have returned Timeform ratings of 118, 118, 121, 118 and 121.
Despite this hugely impressive body of work the story of the 2020 Makybe Diva Stakes casts Fierce Impact in the supporting role. The leading man was Russian Camelot - a slight difference in weight-for-age scales seeing him rated 123 and the best horse in the race.
Fierce Impact is consistent, reliable, familiar. Russian Camelot is flash and flair.
"People spend too much time on the last 24 hours and not enough time on the last 6,000 years" bemoans historian Will Durant. He's probably right, but change is exciting.
Russian Camelot is exciting because he comes packed with the potential to surprise. He could be anything. From, "that SA Derby winner that Danny O trained who never really went on with it - what was his name again?" To, "the great Russian Camelot, the horse that won the Cox Plate and Melbourne Cup in front of empty stands in 2020 and went on to conquer the world."
It could be argued that this is the most exciting time of the spring due to the rapid change that takes place and over the past few days we have seen the Cox Plate picture move fast.
Russian Camelot's exciting return saw him take control of early Cox Plate markets - early markets seem another example of our love of change. One moves nicely through the morning sandroll and firms from $26 to $13 these days. It's just a shame none change the other way...
And, to go with that, we saw the announcement of several key internationals with their eyes on Moonee Valley's number one prize. This seems as good a time as any to pause for a moment and survey the lay of the land as it stands after a weekend of changes.
The home defence is led by Russian Camelot, who now sits atop the betting as a general 5-1 chance, and Verry Elleegant who is also rated 123 by Timeform and has a mares allowance as something of a secret weapon.
The next local in the betting is also a weekend mover - Arcadia Queen. She is rated 121 at her best but setbacks have meant that we haven't seen her at that peak for over 18 months now. Saturday threw up a glimmer of hope. She only ran to 108 when second in the Let's Elope but, after looking beaten for pace she warmed strongly into the contest and her late splits pointed to her being the best horse in the race. Better than that 108 rating. She's open to change again. She's exciting again.
The announcements from afar stack up. Armory is the same age as Russian Camelot, a Northern Hemisphere three-year-old, and after a strong third behind two of the best in the world in the Irish Champion Stakes comes across rated 124. Adelaide came across with a similar profile to win the race in 2014 - comparisons are reasonable.
Sir Dragonet has been purchased out of the same barn to target the race. A rating of 121 hints at him being a rung off Armory but he's got a bigger bank of ratings. Armory has one and at 66-1 - regression anyone?
Sir Dragonet started favourite in an Epsom Derby and finished about as close to Magical as Armory did last time. Albeit in a much slower race.
The other to sort out the logistics and confirm his place in the race this weekend is the York Stakes winner Aspetar. Another rated 124.
Aspetar won the Grand Prix at Chantilly and a Group One in Germany last season but has been better than ever in 2020 and put some strong names (Telecaster and Regal Reality both hosed up in good Group races subsequently) to the sword at York.
Based on these ratings, early markets may undersell him a bit. He's not like other Cox Plate winners we have seen. He's something different, but things do change.
Of course, plenty more can and will change between now and Cox Plate Day, but plenty will stay the same, and if this sextet can make it there then we have ourselves a race to look forward to.