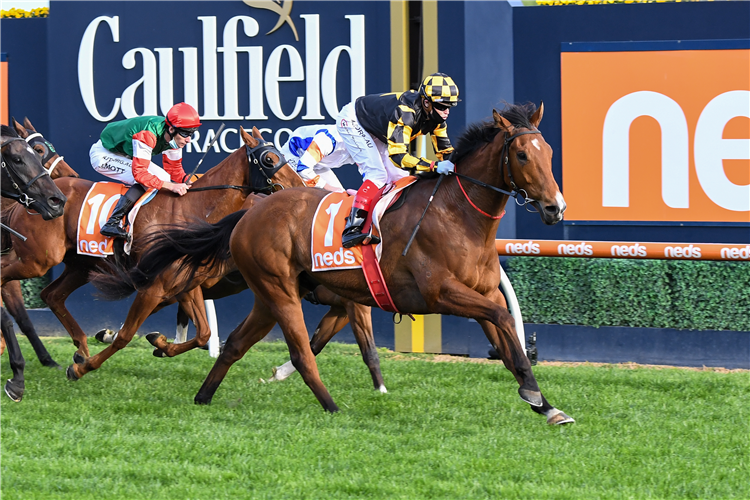 The 2020 Rupert Clarke Stakes went the way of the punters - who landed a strong blow on the chin of the dirty, filthy bookmakers - and Behemoth. The Memsie winner. The heavily-supported favourite. And the second coming of Regal Roller.
The Memsie and the Rupert Clarke were part of a string of four straight wins for five-year-old gelding Regal Roller in the spring of 2004 that left him rated 123. Some 16 years on and five-year-old gelding Behemoth did the same double and is now rated 122 and with the hope of more to come.
Behemoth's performance can be considered one of the best in the race this century which started with a bang as Testa Rossa ran to 125 winning it in 2000.
Exceed And Excel also ran to 125 when winning the race in record time in 2003. Toorak Toff and Jungle Cat, both rated 123, are the other winners to better Behemoth in that time while Bel Esprit (124) and Dissident (127) posted better ratings in defeat.
That's a set of big and fast names, and Behemoth is riding right up on their coat tails. Coat tails that should be lightweight and weatherproof. Some sort of Gore-Tex set up perhaps, as Behemoth's next stop should be down to his local Kathmandu store (tipping they have a sale on...) with a spot on the latest Everest trek surely in the offing.
That's not to say that a rating of 122, taken in isolation, makes Behemoth a particularly likely winner of the Everest which in its short history has been won with ratings of 125, 126, and 125.
But, as we have banged on about ad nauseam in these Timeform Recaps over the past couple of years, judging horses on their peak rating alone (while interesting) is a flawed play. In these pages we have gone down the path of random simulation from an array of ratings, which seems a fair fit for the purpose of retrospective assessment but has it's limitations for forecasting.
Other clever cats out there are regressing arrays of ratings to a rolling notional mean and coming up with something far more valuable than just a single data point standing all out on its own.
A single rating all alone is a very noisy point of reference. The optimal point perhaps, given available information and a robust framework, but still a noisy point.
Edging back from this tangent and to what this means for Behemoth and The Everest; Behemoth hasn't quite got the peak but he's got other things in his favour - the here-and-now factor being one of them.
That can't be said for those with the big pointy peaks heading towards the biggest pointiest peak of them all - Everest.
Of those headed to the mountain, the 129-rated Nature Strip and the 127-rated Bivouac have scaled highest in the past. But neither could be stamped 'here-and-now'.
Nature Strip ran to 117 first-up and was comfortably handled by South Australian Gytrash. Gytrash doesn't have the 129 peak to match Nature Strip but he's stitched him up twice, which speaks to this noisy nature of individual ratings.
Bivouac ran to 127 when thrashing Loving Gaby and Gytrash in the Newmarket but since then he has run 115, 117, 113, 119. He might be better described as Bivouac 120 (+/- 7) as opposed to Bivouac (127).
The most recent, and most (but not only) relevant of those Bivouac ratings is the 119 that he produced on Saturday in The Shorts - a key Everest lead up which was well won by another horse that gets a stamp for the here-and-now in Classique Legend.
Six horses finished within 2/5ths of a second with varying degrees of luck and at varying stages of their campaign - hello noisy data points - but none finished as fast as Classique Legend and a rating of 121+ will probably undersell him before the spring is out - hence the '+'.
Rothfire is another with a '+' hooked to his current peak rating of 122. His age and relative lack of exposure add to the noise around that 122. Those clever cats we spoke of can use that mark alongside his overall profile to infer a range of potential values for Rothfire.
Some of those values may win him the Everest. Some will come up short, as Classique Legend runs to the highest points of his potential range, or Bivouac 120 +/-7 runs to the +7, or Nature Strip decides to take James McDonald around with him and wins doing cartwheels. And sometimes those big ratings will fail to eventuate and leave the race open for one who is fit and firing. One well set-up right here and now like Behemoth.