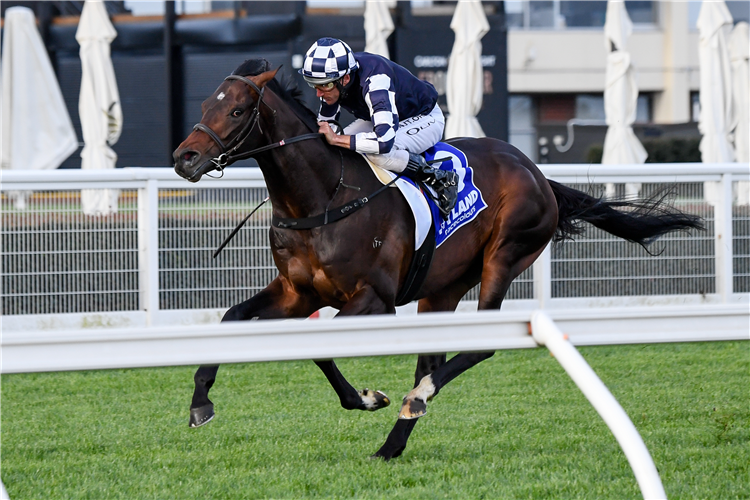 Russian Camelot set down a marker for the season ahead in Saturday's Underwood Stakes at Caulfield. A Timeform rating of 126 probably won't be good enough to see him named Australia's Champion Racehorse at the season's end but it is good enough to make him the clubhouse leader two months in.
It may also be good enough to win him a Cox Plate where he now dominates the early betting. We surveyed the Cox Plate scene, and Russian Camelot's place in it, following the Makybe Diva Stakes two weeks ago and not much has changed.
To save going over the same ground you can read that here.
We can also save covering old ground by posting our recap of the South Australian Derby here, as the nuts and bolts behind Russian Camelot's Underwood Stakes win are by and large the same.
A rating of 126 sounds quite grand but it doesn't mean much without some context wrapped around it. How things are framed counts for plenty. Framed by this century's best Underwood Stakes winning performances Russian Camelot looks very good indeed.
So You Think 130+
Weekend Hussler 129
Russian Camelot 126
Dundeel 125+
Another context-creating list is Russian Camelot's place among horses trained by Danny O'Brien, as tweeted out by a rather handsome form analyst below.
Danny O stamps Russian Camelot the best he's trained. TF concurs. Good list!
Russian Camelot - 126
Star Witness - 124
Shamus Award - 124
Shamexpress - 124
Master O'Reilly - 124
Douro Valley - 121
Barbaricus - 121
Vigor - 120
Shamrocker - 120
Ferocity - 120https://t.co/gqM7ChTZiP

— Adam Blencowe (@NoverreMan) September 28, 2020
Many will choose to frame things differently. "He beat an ancient Humidor and whatever is left of Arcadia Queen - and they were in the slower lanes!"
By Timeform's measure a gap of 7lbs back to Humidor in second is the biggest margin in the race since So You Think ten years back. That margin sees Humidor rated 119. Better than his win in the Feehan but still at the low end of his range and on the soft side for a typical Underwood Stakes runner up.
Typical is a key word here. Typical gives us expectation. Expectation against which we compare realisation on the path to the optimal fit.
What ran second is a certainly a relevant point of reference (the most relevant perhaps) but it is just one point of reference among many and, as we outlined in the recap of the South Australian Derby, to find the optimal rating we want to touch on as many reference points as possible.
More data leads to better decisions. Except when it doesn't. This is a key takeaway from Rory Sutherland's ripping read Alchemy (available in all good bookstores and some bad ones etc etc) and it seems very relevant to punters in the era of big data and information overload.
Processing loads of information like this is a job for machines. We humans (ratings nerds are a strange subset of humans but humans all the same) are not much good at that. We are much better at intuitive thinking - biases and all.
Bias is a loaded word, a lot of our biases exist for a reason, and there is often huge value in our intuitive thought - it is when we try to attach reasoning to it that we tend to come unstuck.
There is something to be said for dropping the form book and breathing in Russian Camelot in full flight. This is another, and perfectly reasonable, point of expectation to consider and compare to reality.
We can bog down our brains trying to overfit and overthink fast-lanes and form-lines but ultimately, if it looks like a good horse, and wins Underwoods like a good horse, it's probably not a zebra. And Russian Camelot ain't no zebra.