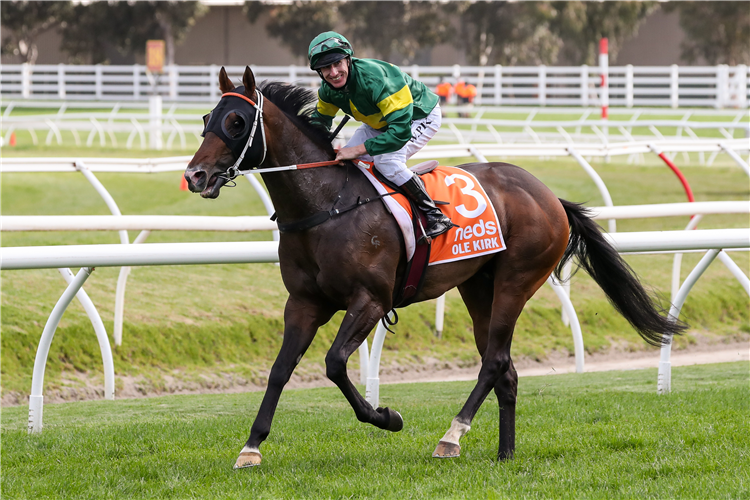 Ole Kirk essentially replicated his Golden Rose form to add the Caulfield Guineas to his C.V. - a rating of 120 a nominal step up on the 119 he produced when winning at Rosehill and bang in line with expectations for a win of its type in the Caulfield Guineas. Its type being typical. Not any better than that, but not any worse.
That isn't going to make the stallion ad. "Ole Kirk, a typical Guineas winner!"
Suggestions post race - however tongue in cheek - that he had nothing left to prove, and sending him straight to stud would be justified, are of course ridiculous. So far what Ole Kirk has proved is that he is a breath faster than North Pacific, a long neck faster than Aysar, and a good bit slower than Rothfire.
Ole Kirk is a fast horse, and with a horse rated 120 there is a good deal more to be won than there is to be lost, but unfortuntely we humans are loss averse and perhaps the recent record of Caulfield Guineas winners is pressing on that emotional lever.
Since the same stable sent out the anything-but-typical All Too Hard to win a vintage edition in 2012, seven Caulfield Guineas winners have teamed up to win six races combined.
The first three home in 2012, All Too Hard (rated 129), Pierro (128) and Epaulette (126) won six Group Ones between them in back half of that single season.
If Ole Kirk only has one thing left to prove it is that he is more like the Guineas 1-2-3 of 2012 than he is the seven subsequent winners.
Subsequent wins are of course just one metric and it's a noisy one. It would be unfair to move on from this point without saying that The Autumn Sun was a good winner of a bad Guineas and, while only able to win a Hobartville following his Caulfield Guineas, Press Statement did run at least as well when third to Winx in the George Ryder.
That pair were good horses but they departed the game with bigger moments left on the table. It was all there to be won but seemingly the idea that defeat would diminish their reputation before a career at stud meant that they were not afforded the chance to put their obvious and rare potential to use.
That potential is worth a lot more than the downside costs. A key underlying theme of sport (which Racing claims to be) is the quest to be the best you can be. To take risks to exploit potential.
To call time at the first sign of approaching the limits of that potential is hardly about to make the next ESPN 30-for-30...
But there was a man at Caulfield on Saturday that should. The great Wizard from the West - Sir William Pike.
Ole Kirk won the Caulfield Guineas but Willie Pike won Caulfield Guineas Day with four winners from six rides including a pair of Group Ones.
Pike silenced the knockers - but were there knockers?
There's very little point in listening to what people say. It's what people do that uncovers their true opinions.
In Taleb speak "don't tell me what you think, just tell me what is in your portfolio." Or tweaked for punters - "don't tell me who you like, just tell me what you've backed - and for how much!"
Taking this a step further, when it comes to opinions, markets are far smarter than the individual opinions that comprise them.
It's far better to take feedback from markets than individuals (particularly those masquerading as experts (but still read my articles at Racing and Sports)) and markets on Saturday gave William Pike six very good chances, hardly anti-Pike, though a case could be made that he was a little bit undervalued.
Pike's six rides equated to ~1.4 expected wins using Betfair SP and Pike delivered four. As we said earlier, wins are a noisy metric, but even opening up the points we are looking at to all runners we see Pike beating home 50 of 53 rivals. 94%.
With a sample as small as one card, pulling apart luck and skill is so near impossible that we may as well be guessing, but it seems very reasonable to guess that Pike's big day had a fair bit to do with skill - something we can expect to see the market give him credit for over the remaining weeks of the spring carnival.