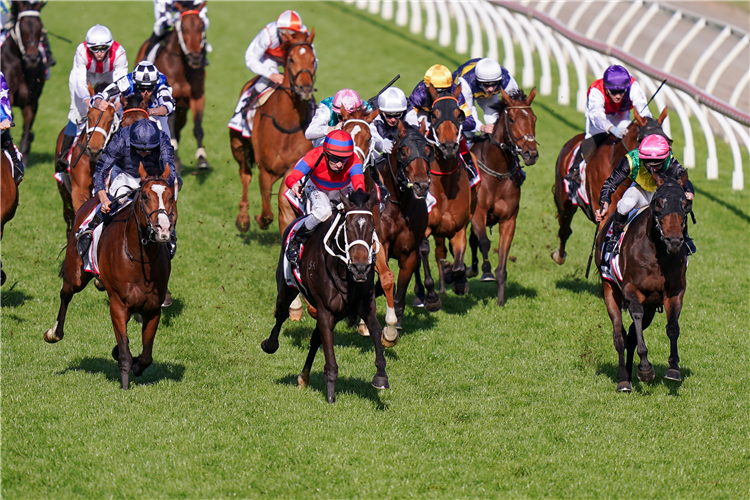 "History doesn't repeat itself but it often rhymes," Mark Twain (supposedly) said. Twain would have undoubtedly loved the Caulfield Cup, which back in 1992 was won by five-year-old mare Mannerism who beat a wide-scouting Veandercross in a famous edition of the race, recording a Timeform rating of 120 in the process.
28 years and 32 unsuccessful older mares later and Verry Elleegant, a mare bred to be bounding over birch on the south island of New Zealand, ran to a Timeform rating of 120 to see off a wide-scouting Anthony Van Dyck.
This was hardly 1992 all over again but bits of the 2020 Caulfield Cup do rhyme with that memorable heat.
After a few fairly nondescript years this felt like a Caulfield Cup that will be remembered. Perhaps not so much as 1992 when Shane Dye took Veandercross on that famous sight-seeing expedition of Caulfield, but watching the quirky Verry Elleegant, a daughter of Zed, sire of twig-hoppers, pull Mark Zahra around the Heath, wobbling and bobbling all the while, before ripping home and fending off a regally-bred son of the great Galileo, one that had won THE Derby (the Derby of which all other Derbys are merely a tribute to), for the most powerful stable on the planet should live long in the memory.
Both the 1992 and the 2020 Caulfield Cup were a spectacle, that is for sure, and both could be labelled as strong editions of the great race - stamped by a high class performance from the runner-up.
Veandercross was the highest rated horse in the 1992 Caulfield Cup and went on to win five Group Ones (and place in another two) before the season was out. It's unlikely that we will see so much of Anthony Van Dyck, here or abroad, over the next twelve months but he can be credited with a high quality performance in Caulfield Cup defeat. His rating of 127 has only been bettered in the race three times in recent history by Dunaden, Northerly and Might And Power. A handy trio!
Only six horses had gone into the Caulfield Cup with a higher rating than Anthony Van Dyck's 125 this century - as below.
Just six have gone into a #CaulfieldCup with a higher rating than 125-rated Anthony Van Dyck this century:
130 - Weekend Hussler (wot iz u doing here?)
129 - Americain 4th
128 - Northerly W
127 -Hartnell 7th
126 - Humidor/Shocking 5th/4th

— Adam Blencowe (@NoverreMan) October 14, 2020
And only Americain had run so well in a Caulfield Cup and failed to walk away with the trophy. Best loser is perhaps one category AVD isn't so keen on heading up but it's still something.
Our next best loser was the 2006 third placegetter Delta Blues who ran to 125 at Caulfield before going on to match that mark and win the Melbourne Cup.
Anthony Van Dyck will roll on to Flemington hoping to do the same, and he has a chance, but that 58.5kgs, a steadier at 2400m, leaves him straight up vulnerable over two miles.
There is something lurking at Flemington that Anthony Van Dyck and Verry Elleegant didn't have to deal with at Caulfield - three-year-olds.
Three-year-olds from the Northern Hemisphere have a remarkable record in the Melbourne Cup and while history may not repeat itself there is a rhyme and there is a reason for this.
The handicapper can only hit what he can see and chances are we haven't seen the best of either Tiger Moth or Russian Camelot.
Tiger Moth is rated 120p. From where he is in the handicap that gives him a good chance but he is almost certainly better than that.
Russian Camelot is rated 126. With 53.5kgs he has a bit more to carry than Cup winners Rekindling and Cross Counter and a last year's unlucky Il Paradiso, but a rating of 126 says that he is a bit better than them at the same point.
Some prefer their runs on the board, and the 2020 Caulfield Cup 1-2 Verry Elleegant and Anthony Van Dyck have that in spades. They are established stars and their Caulfield Cup runs confirmed as much. But others will prefer tomorrow's stars - a mould that Russian Camelot and Tiger Moth fit perfectly.
As Caulfield Cup fan Mark Twain once (supposedly) said, "It were not best that we should all think alike; it is difference of opinion that makes horse races."