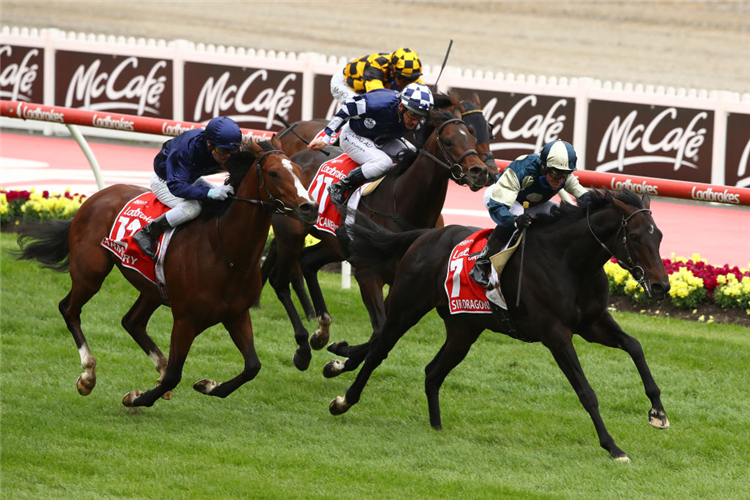 The 100th running of the Cox Plate was run in conditions as testing as we have seen in the recent history of the great race, and they were conditions that the winner, Sir Dragonet, thrived in, his late strength shining through the Valley gloom under an anything-but-gloomy Glen Boss.
Sir Dragonet posted a Timeform rating 123. The lowest winning rating since Pinker Pinker ran to 122 in 2011. Only Makybe Diva has won the Cox Plate in slower overall time in recent history and she was the best part of the three seconds faster over the last 600m - this was a grind.
Under such conditions local formlines failed to flourish. Russian Camelot ran well but his Underwood rating has been revised down from 126 to 124 on the back of his 121-rated third.
Arcadia Queen, dynamic in the Caulfield Stakes running to 121+, was very easy in the betting following the rain and ended up awkwardly placed in the run. She stuck on okay in the circumstances but ran to 111 - a full 10lbs below her Caulfield performance where the emphasis was on speed not stamina.
Probabeel, the Epsom winner, travelled into the race nicely but was outstayed and unable to replicate her 118 rating from a quick track Randwick mile under much more testing circusmtances.
When the going got heavy the Irish suffix got going. 1-2-3-4 all carried the (IRE) brand after their name.
And of course, this brought on the now annual bemoaning of the fact that these horses were not bred here.
Outsourcing the rearing of our middle distance ranks leads to better competition on the track. Better racing and better betting. It makes a good deal more sense than equine patriotism...
It certainly didn't upset Australian punters. The clever ones (alas, this time I cannot count myself among them...) clearly figured out that things had set up to suit Sir Dragonet. That he had roared around the tight left-handed Chester in soft-to-heavy conditions to win the Vase there by eight lengths, a performance good enough to have him installed favourite in the Derby at the time, mattered a good deal more to punters than the location of the paddock he was born in.
Competition is the driver of improvement. The rise of quality in Japan, to the point where it can stand toe-to-toe with any racing juristiction in the world, came on the back of encouraging international competition and importing talent, on the track but most famously in the breeding barn.
The 123-rated Sir Dragonet is not about to become Australia's Sunday Silence but he adds depth. He creates competition. The success of Russian Camelot, a horse learning from competing with strong horses like Sir Dragonet and Armory, is likely to see others follow suit and buy yearlings from abroad which will only strengthen our autumn classics.
Both Russian Camelot and Sir Dragonet were bred in Ireland but they are racing here. They will clash again in the Melbourne Cup, and then hopefully again and again in the autumn. Races like the Tancred and QEII will be bolstered by them. Addeybb may return from the UK and hopefully the Japanese will be back - thriving on competition as they do.
Russian Camelot and Sir Dragonet will have to get better. As is the case in all such endeavours, the way to do that is through competing.
They will race and we will bet, and while this great autumn racing is taking place, back in England and Ireland it will be spring and the next wave of competition will be being reared for Australia.
A positive feedback loop is in play. The opposite may be true back in the UK where this outsourcing leads to less competitive racing. Sir Dragonet is the fifth consecutive Chester Vase winner to end up calling Australia home, along with three of the runners up. Most don't make any significant splash, but some become Nathaniel or Papal Bull or Ruler Of The World. They aren't the Frankels of British racing, but they are the depth. Depth that is now making its way down under.
The Geelong Cup featured the last two winners of Deauville's Prix De Reux. A race that serves as a foundation for improving stayers into France's major autumn staying events has now seen nine of its last ten winners head to Australia to race and 22% of all of its runners head this way.
What many seem to see as a problem may actually be the antithesis of one.
International competition also creates something of a positive feedback loop for handicappers.
Direct competition between international form lines broadens the points of reference. As these reference points grow so can our confidence in the point estimate that we call a rating. Like statistical inference, an increase in the sample has a mathematical relationship with increases in confidence/knowledge.
What we knew about Verry Elleegant based on her competition in Australia was tested against Anthony Van Dyck from afar. Russian Camelot tested against Armory. Grandslam against Buckhurst, and so on.
Of course, these points on their own are very noisy, but in their hundreds and thousands we begin to see the signal and our confidence grows.
The handicapper, that rare breed of racing nerd, learns from competition just like the horses.