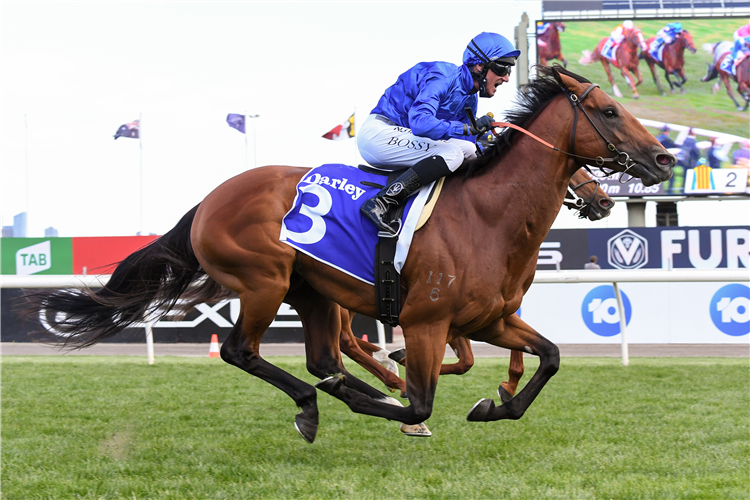 Vanessa Williams penned the words "just when I thought our chance had passed, you go and save the best for last" following Shaftesbury Avenue's Cup week-topping rating (in defeat) on the final day of the 1991 Melbourne Cup Carnival. 29 years on and Godolphin's Bivouac may well have given Williams the inspiration to return to the top of the charts with a Carnival-saving 128 rating in the VRC Classic.
After three days, the Cup Carnival had been very competitive but was lacking for top level performances. The Derby and the Ascot Vale were below typical standards on the opening day and the Linlithgow is yet another sprint ravaged by a changing calendar. The Melbourne Cup assembled an oustanding line up but Twilight Payment (rated 121) was not an outstanding winner.
23 horses ran to 115 or higher over the four days of the 2020 Cup Carnival, down on 30 and 31 in the past two seasons, while seven ran to 120 or higher which is in line with 2018 but slightly down on last year's nine.
The VRC Classic, however, is not suffering. In fact, it may be benefitting from the revamped calendar judged on ratings.
The week needed a big world-class win and Bivouac delivered it under a head-shaking Boss who auditioned for a leading role in the film clip for Vanessa Williams' upcoming Bivouac-inspired hit by spending the last 50m dancing for the benefit of the empty grandstands.
Bivouac's winning rating of 128 (a pound better than his Newmarket winning 127) was the best of the week and by a long way.
Bivouac 128
Tiger Moth 123
Arcadia Queen 121+
Fifty Stars 121
Twilight Payment 121
Not only was a rating of 128 the highest rating of Cup Week but it was also the highest rating of the spring carnival overall.
If we were land on an arbitrary point labelled 'Group One performance', relative to racing globally, it would be 125 or thereabouts. Bivouac is one of just two to rated at that level over the spring in Melbourne and three nationwide.
Classique Legend ran to a rating of 128 when beating Bivouac in the Everest and Anthony Van Dyck ran to 127 when runner up in the Caulfield Cup when beaten by Verry Elleegant in the Caulfield Cup.
Verry Elleegant is an interesting case in spring reflections. She won three Group Ones over the carnival and now this ratings square is trying to tell me she is not up to Group One standard... Sheesh.
Fair enough, it is worth mentioning (and this may see me shunned at the next meeting of the Society of Racing Nerds (SRN)) that the models typically used to rate horses, good and effective as they may be, tend to undervalue winners and overvalue losers. As a rule of thumb, a rating of 120 for a winner should be considered a bit better than a rating of 120 in second, which in turn would be a bit better than a rating of 120 in third and so on.
Add to this the fact that mares get a very generous allowance, particularly in Australia, which means that a 120-rated mare wins more races than her 120-rated male equivilent. They feel better, and they have (on average) better C.Vs.
Verry Elleegant is rated 123 but never hit that peak in the spring, running to 120 in the Caulfield Cup with what was clearly her best performance. Narrow wins over Star Of The Seas and Toffee Tongue returned ratings of just 114 and 115.
Two races after Bivouac had stamped Cup Week as his Arcadia Queen landed her second Group One for the campaign, her late speed as lethal at Flemington as it had been in the Caulfield Stakes, and she again returned a rating of 121 - again marked with a '+' as that late speed screamed that she has more there if and when it is required.
Peak ratings of 120 and 121 don't get Verry Elleegant and Arcadia Queen into Australia's top five following the spring - which sits like this.
Bivouac 128
Classique Legend 128
Russian Camelot 124
Sir Dragonet 123
Gytrash 123
This will not sit right with a lot of punters. The standard response from the S.R.N would be 'you mugs don't get it' but that is wrong (again I'm going to be ostracised when at the convention in Cancun later this year for this...). The truth is that ratings come with a degree of uncertainty and a margin for error, and ranking horses based on their best effort alone is imperfect - horse races are stochastic and best analysed as such.
We've been banging on in these pages about the value of ranking horses based on an array of ratings as opposed to just one noisy peak performance for some time now.
Taking into account an array of ratings, done via random simulation, makes some allowance for the noise around winners, mares allowances, and consistency.
10,000 random clashes between our peak-performing ratings toppers and our more regularly successful mares comes out as follows.

This paints a better picture of the spring, albeit still skewed to our peak performers.
When one of either Classique Legend or Bivouac pull out a 128-rated marble from our simulator the mares are left playing for placings, but that's not always.
So while peak ratings paint a picture in black and white, better or worse, this assessment opts for a more granular outlook, brushing away in shades of grey.
Classique Legend is currently standing in Werribee's departure lounge, ready to give up his title as Australia's best horse just two weeks into his tenure and take up the role as Hong Kong's best horse, at least until they run elections at their International Meeting in December, and so Bivouac can be considered Australia's best racehorse as it stands.