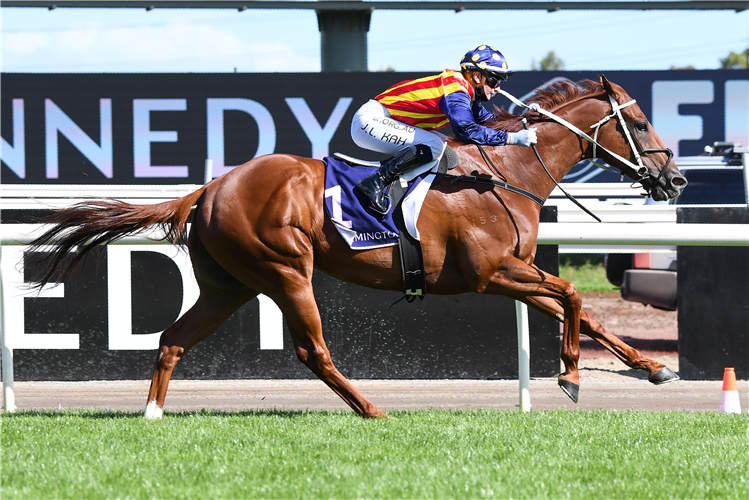 Nature Strip is back. Again... Everyone's favourite sprinting enigma put a disappointing spring campaign behind him by winning his fifth Group One in the Lightning Stakes at Flemington on Saturday.
A Timeform rating of 126 isn't Nature Strip at his absolute best but it is close enough to say that his 129-rated peak is still within his reach and a fair measure of the man.
Nature Strip has long been not just a powerful sprinter but a powerful opinion generator.
Pattern-thirsty punters have been trying to squeeze Nature Strip into a box for years now but he seems to defy every narrative that the pundits pin on him.
"He won't stay 1200m!" became "He needs 1200m!" "He is fresh only!" became "He takes a run!" Then there was the old "He's a wettie!" usually reserved for any horse that happens to win on a wet track. And my personal favourite, "Fact is THE HORSE isn't good enough" from legendary trainer (and perhaps not so legendary forecaster) Lee Freedman.
Nature Strip seems to polarise due to his knack of making his failures high profile. Like all horses his form fluctuates but when he misses he has tended to miss big. As punters this should suit us just fine. We get paid on that volatility and Nature Strip has paid punters $1.34 for every dollar they have had on him over the 28-start journey. $1.98 for every dollar in his 10 starts at Group One level. Chautauqua, as one random example, returned punters $1.26.
Punters can be too hard on failure and the likes of Black Caviar, Winx and Frankel have perhaps only amplified that. Apple founder Steve Jobs famously said "you've got to be willing to fail. You've got to be willing to crash and burn. If you're afraid of failing you won't get very far." He was one hell of a punter.
The other key part of the story was jockey Jamie Kah who was winning her fourth Group One on far and away the best horse she has ridden (at least on race day). We attempted to put some context around the now much publicised (publicised with good reason) rise of Jamie Kah back in December - which you can read here - and unsurprisingly that trend has continued.
Kah, on average, has improved horses by between 2 and 3 pounds when switching aboard this season. The bound-for-comparison Rachel King is doing something similar in Sydney though not quite as glaring viewed through this lens.
As we pointed out in our ode to Jamie Kah, that improvement can't be simply put down to jockey skill. There are a number of factors that impact a horse from run-to-run, but when we combine this with other measures such as outperforming market expection and a plausible narrative, it becomes clearer, and in the case of Kah undeniable, that there is a good chunk of skill involved.
A recap of the 2021 Lightning wouldn't be complete without mention of the runner-up, September Run, who finished like an absolute rocket to post a rating of 119+ which gives her a stranglehold on the Newmarket in two weeks time.
A rating of 119 sees her widen her margin atop the three-year-old fillies where she holds a clear advantage over the 114-rated Montefilia and Swats That who is also rated 114 after her game Lightning third.
With 113-raters Dame Giselle and Hungry Heart making plain returns and Away Game (who was rated 114 at two) well below her peak in three runs this season, there is certainly room for new blood in the ranks.
Perth filly Clairvoyance (rated 110) and Written Beauty (107p) might be the most exciting of those poised at the forefront of the next wave along with Zou Dancer who joined Written Beauty at 107 after she won the Vanity by a space on Saturday.
Using the clock as a reference point, the fillies in The Vanity were blown out of the water by the colts in the CS Hayes, Tagaloa another back in business with a peak of 118 (backed up by a fast timefigure) after a couple of below form runs, paying those punters willing and able to ride out a couple of failures.