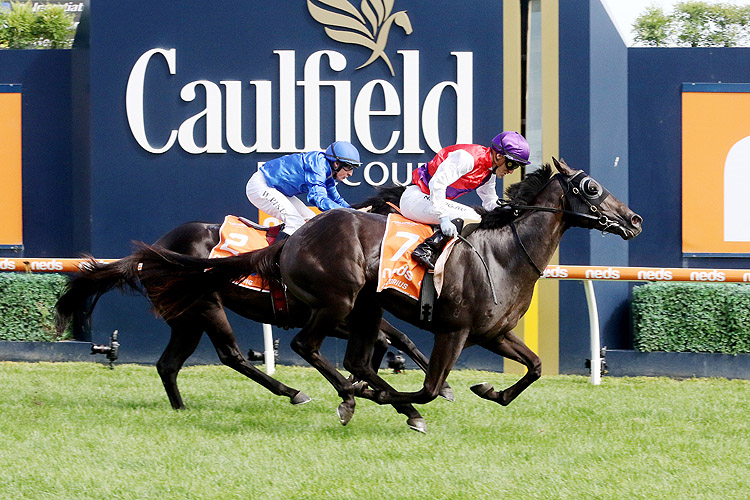 Melbourne's two-year-old Grand Final, the Blue Diamond, went the way of a stable that seemingly have the race completely figured out. Artorius won Anthony Freedman the Blue Diamond for the second time in three years - with a nose second in between.
This was his first Group One officially in partnership with his son Sam, and it won't be their last. For an extra little kicker, they knocked brothers and uncles Richard and Michael Freedman, and their smart colt Stay Inside, off the top of Timeform's two-year-old leaderboard in the process.
A Timeform rating of 118 betters Stay Inside's 111-rated effort by some way though that isn't unusual. The Blue Diamond is the first top-line test for the two-year-olds. High pressure and horses set to peak equates to high ratings and the Diamond runners get that opportunity before those aimed solely at the Golden Slipper have played their hand.
So positions on the leaderboard in February are not just about talent but also about opportunity. Artorius had that on Saturday, tuned up for a valuable target race and with a strong pace to run at, but he still needed the talent to deliver.
In the ten preceding years the Blue Diamond had been split down the middle, five colts, five fillies, and a rating of 118 sees Artorius split those colts down the middle. Below Sepoy, Extreme Choice and Written By, but above Pride Of Dubai and last year's winner Tagaloa who ran to 117.
The colts were dominant on Saturday, filling the first five places, something that has happened just once since the foundation of the pattern in 1978 and we have to go back 21 years to 1999, when Redoute's Choice led in six colts before the first filly got home, to find it. Fillies filled the first five back in 1983.
The first filly home in 2021 was the favourite Enthaar who led but got the death wobbles through the corner and folded up. A finishing speed (expressed as a % of overall race speed) of 94.8% from the 400m mark tells her tale. She did too much too soon and paid for it late on.
A finishing speed of 98.5% for Artorius from the same point tells the tale of a perfectly-timed Luke Currie ride. For whatever reason, Currie is one of those jocks that everyone likes but tends to slap the underrated tag upon. Underrated in this setting is not the opposite of overrated. Underrated here is pundits code for 'good but not quite one of the big guns'.
However, using the method we discussed here we find Currie improving his horses by ~2lbs this season. He is a value add.
So, in Blue Diamond terms Artorius is well up to scratch. A strong winner with a rating that is underpinned by a fast timefigure. But that is in Blue Diamond terms. The punters' focus has shifted. The Blue Diamond is yesterday's news and now we need to know not what Artorius means in Blue Diamond terms, but rather what does he mean in Golden Slipper terms.
The Blue Diamond hasn't produced a Golden Slipper winner since Sepoy did the double 10 years ago and so the friends of trends - a quirky little bunch of punters who like to find little bits of pub trivia and call them statistics - will be quick to tell you that the Blue Diamond is a bad lead up to the Slipper before reminding you which random barrier hasn't won the race since Vain etc etc.
Golden Slippers are very hard to win and wins alone are just not frequent enough to draw any meaningful conclusions from. Casting the net a bit wider shows the Blue Diamond in a better light.
Sepoy was one of just 36 horses to run in the Golden Slipper via the Blue Diamond in the last 10 years. Including Sepoy's win they have provided a placegetter in nine out of those ten years. The lone miss in 2013 saw them running fourth and fifth from just two runners.
We can think of this in the same way we might think of expected goals which has taken over as the statistic du jour in soccer. Shots predict goals and are more frequent than goals. Therefore shot data is not as noisy as goal data.
Keep taking good shots and goals will come. If the Blue Diamond keeps taking good shots the wins will come.
With just 3.6 shots per year they are typically hitting the board between second and third. They are hitting the bar hard and they are hitting it often.
Those 36 runners have on average slid four places from the Diamond to the Slipper. So the typical Diamond winner runs fourth in the Slipper. That may not seem anything particularly flash but we have to consider that the horses that press on to the Slipper from the Diamond do so having well at Caulfield. The average Diamond finishing position for those Slipper runners is third which leaves a lot more downside than upside.
For some context, the Silver Slipper - which has proven an outstanding Golden Slipper reference in recent times providing 5 of the past 10 winners - has seen runners slide 4.5 places on average. No better than the Blue Diamond on that (admittedly flimsy) measure.
The Silver Slipper has stood right up to the Blue Diamond in terms of ratings in recent years but that isn't the case in 2021. Home Affairs won the Silver Slipper with a rating of 104 - leaving him with a lot of ground to make up on Artorius and he won't make that ground up just by flashing his Silver-Slipper-Winner badge. Being fast will win you a Silver Slipper. But being a Silver Slipper winner will not make you fast. Home Affairs will need to run faster.
We often hear the narrative about how hard it is for a horse to run two peaks in a campaign, but the counter narrative, that the best way to practice running in Group One 1200m races is to run in a Group One 1200m race, seems equally plausible.
If I want to improve my golf game then it's fairly logical to include playing golf as part of that practice and if I want to win a G1 horse race over 1200m then it is fairly logical to include a G1 horse race over 1200m as part of that practice.
Artorius is well-practiced and he has great coaches. It's not easy to win a Golden Slipper but being a Blue Diamond winner won't stop him if he is good enough and as it stands he is the best around.