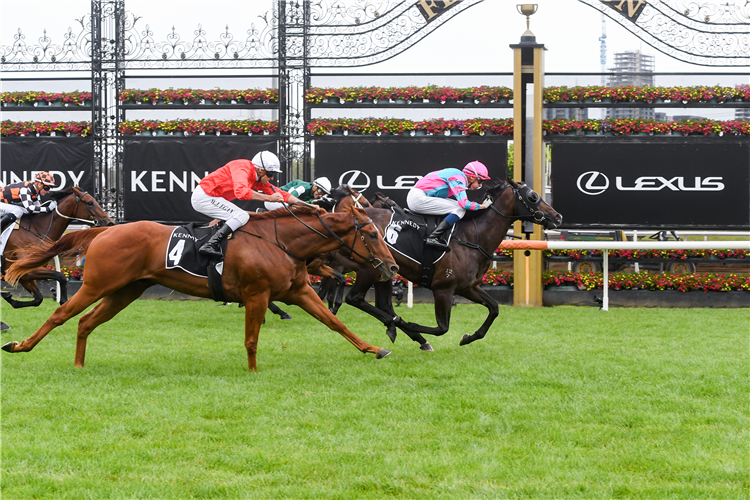 300/1 is the longest recorded price for a Group One winner in Australia and that winner is the 2021 Australian Guineas hero (of sorts) Lunar Fox.
Lunar Fox sent punters scrambling for their form guides to find the clue that they had missed. What pattern of variables could have steered us all into this inevitable winner?
They say hindsight is 20/20 but perhaps what is really does is focus our sights on the wrong targets. Hindsight, like a few other bad habits, may send us blind.
This is well explained by the famous Israeli psychologist Daniel Kahneman who has a knack for saying clever things:
"Hindsight is a big deal. It allows us to keep a coherent view of the world, it blinds us to surprises, it prevents us from learning the right thing, it allows us to learn the wrong thing — whenever we are surprised by something, even if we admit that we made a mistake, we say, 'Oh I'll never make that mistake again.' But, in fact, what you should learn when you make a mistake because you did not anticipate something is that the world is difficult to anticipate. That's the correct lesson to learn from surprises: that the world is surprising."
It's tempting to try and make the lesson of the 2021 Australian Guineas specific to the 2021 Australian Guineas. Lunar Fox had won a good race at Flemington at big odds before. Perhaps course form is the answer, or that history repeats itself. He had beaten Ole Kirk in the Sires that day too. Perhaps we need to dial in on head-to-head form lines.
One of the (many) little quirks we humans carry is that we love to gravitate to the specific.
Here Daniel Kahneman gives us more to ponder. Kahneman's, and long time partner Amos Tversky's, book Thinking, Fast and Slow throws up this example:
"Steve is very shy and withdrawn, invariably helpful but with very little interest in people or in the world of reality. A meek and tidy soul, he has a need for order and structure, and a passion for detail.
Is Steve more likely to be a librarian or a farmer?"
Most, according to the authors' research, gravitate to the specifics and answer librarian despite the fact that there are something like 20 farmers to every librarian out there. Such a starting point overwhelms our specific knowledge of Steve who is much more likely to be a farmer.
Here fits another neat quote (stricken with a nasty hangover I spent Sunday afternoon lost down a rabbit hole reading old wisdoms...) this time from Brit philosopher Carveth Read: "It is better to be vaguely right than exactly wrong."
The lesson from the Lunar Fox's surprise win can be that racing is surprising. It's one of the great things about the great game. A game where we try and accurately forecast a surprising future armed only with the past.
A quick look through the record of similar prices shows that the market is fairly well calibrated. There is no trick or hack to be learned here. No key takeaway to help us find the next Lunar Fox. And even if there was, the second a punter thinks she has found the key the market changes the locks.
Getting back on track, Lunar Fox returned a new peak Timeform rating of 113 when winning the Australian Guineas, up five pounds on his previous peak which had come in the Caulfield Guineas. Five of the past eight Australian Guineas winners had run between second and fifth in the Caulfield Guineas. Maybe that is the key!
A rating of 113 is very low for an Australian Guineas - something like four lengths shy of the level of form that has typically won the race. Going back to its inception in 1986 only Kenny's Best Pal and Ferlax have won the race with lower ratings, both running 112, in 1993 and 2013 respectively.
Tagaloa had run to 118 winning the lead-up but he failed to repeat. Ole Kirk (rated 118) and Aysar (117) are the other two in the race that are rated higher than the winner. They ran 1-2 in the Caulfield Guineas in the spring but failed to fire here.
They are part of a weak crop overall. Just one locally bred three-year-old has managed to break through the 120-barrier this season. Rothfire ran to 122 back in September and he's been waiting for one to knock him off the top of the table since.
September Run is rated 119+ and Aegon 117+. They look the horses most likely to topple Rothfire before the season is out. Cherry Tortoni is the one most likely out of the Australian Guineas where he ran to 111+ after being set too big a task in the running - and not for the first time.
Cherry Tortoni's closing splits mark him down as the best horse on the day and with nothing (much) to show for it. A case could be made that he should be a winner of both the VRC Derby and the Australian Guineas and it's tempting to make that the lesson we learn from the Guineas. That Cherry Tortoni was the best horse there and looks sure to win a good race before the season is out. But that specific lesson has proven costly to this point.