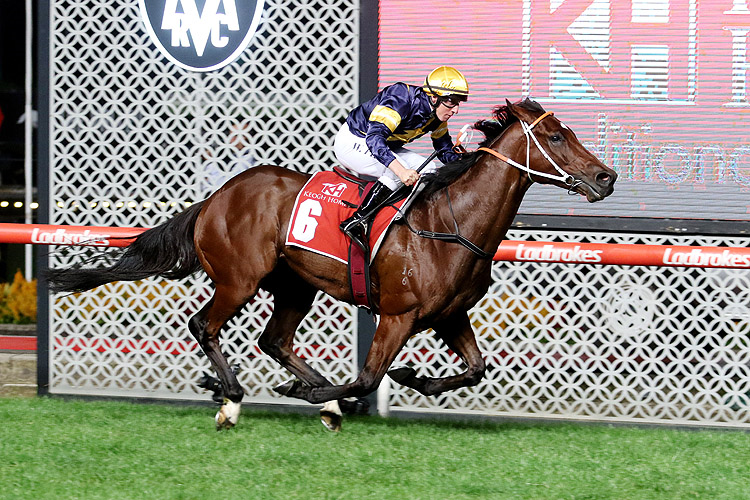 The story of the weekend could well have been Masked Crusader, the horse that produced the highest rating anywhere around the country when winning the William Reid by a margin only bettered by Black Caviar and Apache Cat this century.
Apache Cat ran to 126 and Black Caviar 131+ when both were winning the William Reid for the second time but Masked Crusader's Timeform rating of 121 sits in line with more typical recent winners of the race. The wide margin on this occasion looks as much a case of several others running below their best as it does a case of Masked Crusader putting up a performance in the region of that pair of sprinting greats.
After the Golden Slipper card was washed away at Rosehill, Masked Crusader's rating of 121 stood alone as the best in the land across the weekend, and Mornington was left to stand alone as Saturday's feature meeting.
Mount Popa won the feature on the card for Team Hawkes for the second day running. The story of the weekend could well have been one of Team Hawkes producing two horses to run big new peaks in well-targetted races.
Masked Crusader improved from a rating of 115 in the Canterbury Stakes to produce that 121 on Friday night while Mount Popa hit the Mornington Cup poised to better a last-start 111+ and he did just that, a rating of 115 good enough to earn him a free ticket into a Caulfield Cup and a reasonable shot at winning that.
But Team Hawkes wasn't the story either. The story was William Pike, the man who steered both of those feature winners home and added three more on the Mornington card for good measure.
Pike lit up pubs around Australia where punters, via the SP, asked for ~1.5 winners from Pike across the weekend. He gave them 5, over-delivering by 3.3x.
Of course, we punters are a demanding bunch and we will continue to demand more of Pike until it's impossible for him to deliver. That is the way of markets where optimism overshoots in order to find the limit of what can be exploited.
As Morgan Housel, who wrote the particularly worthwhile Psychology Of Money, puts it; "like a blind man who doesn't know where a wall is until he bumps into it, markets cannot know exactly how much people are willing to pay until they go a little too far and say, "Ah, in hindsight, that was the limit.""
There is a limit to what Pike can offer punters, diminishing returns kick in as more winners leads to the market demanding even more winners, and Pike's market stats will become a victim of his own success. But Pike's true value, his skill in the saddle, is going nowhere.
At the end of last year we wrote about indentifying the skill of Jamie Kah - which you can read here - and we could probably run a simple 'find and replace' on this piece, changing Jamie Kah to William Pike.
The measure we looked at was the improvement (or otherwise) of horse performance, as described by Timeform ratings, when jockeys switch aboard.
How ratings change from run-to-run is extremely noisy but, as the count goes into the 100s and 1000s, skill begins to come into view. It remains an imperfect measure but what we observe lines up well with what we would expect. The jockeys that score well on this measure tend to win a lot and perform well against the market.
Pike was switching on to six of his seven rides over the weekend (Dom To Shoot the odd one out) and all six improved their rating from last start, including Masked Crusader's 6lb spike and Mount Popa's 4lb rise.
Of course, a lot of that improvement comes via factors beyond just jockey skill. Team Hawkes deserve plenty of credit for the training and placement of Masked Crusader and Mount Popa, and luck always plays a massive role when it comes to running large groups of horses around a circle, but as the sample grows the law of large numbers begins to get involved and all that luck and noise starts to cancel itself out.
What we are left with is Pike being a value add of 3lbs. Around a length over a well-run mile on good ground.
For punters in the pubs it may not be quite as simple as the popular catch cry 'back Pike and drink what you like!' but he is delivering and measurably so. His market stats can't overperform forever but he looks set to remain a positive variable for punters to consider in the right situation for a long while yet.
At the Valley and Mornington, Pike was three times as effective as his already outstanding long term average and, despite the noteworthy efforts of the horses and trainers he linked up with, the story of the weekend just gone is a story about Sir William Pike.